Mountain Golf in Asheville, N.C.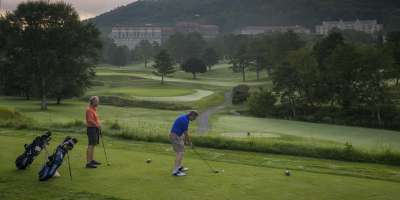 Get in the swing at Asheville-area golf courses
Mountain golf courses offer spectacular scenery as well as unique playing experiences that coastal and flat-land courses just can't duplicate. The area is home to many challenging courses that follow the undulating curves of the Blue Ridge and Great Smoky Mountains. Many of these courses are known for their tight, narrow fairways with steep slopes and tall trees on each side that make the playing experience a thrill.
The Western North Carolina region boasts more than 40 championship golf courses. These include resort courses, like the Donald Ross-designed course at The Omni Grove Park Inn and the Crowne Plaza Resort golf course that features views of downtown Asheville, as well as municipal and daily play courses. Most golf courses are within a one-hour leisurely mountain drive from Asheville. If you're looking for a way to combine your game with your stay, check out our Golf Travel Packages.
Want to improve your game while you're here? Many mountain resorts offer golf schools for beginner players who want to learn and experienced players who want to take their game up a notch. You can find 3, 5, and 7-day schools packaged with lodging and dining to provide a perfect educational vacation.
Golf: A Four-Season Activity
In the late 19th century, visitors escaped the heat of Southern summers by traveling to the mountains and brought their love of golf with them. The game's popularity has grown since then, and while summer is still the best-known season for golf in the mountains, it truly has become a four-season activity at courses all over the area.
Autumn provides a spectacular display of leaves on the mountain slopes and bright sunny days that last well into November at the lower elevations.
Winter is the greatest surprise for the visiting golfer. Snows rarely cover the courses for more than a few occasional days and the sun often warms daytime temperatures into the 40s and 50s.
As spring approaches, golfers tired of the long winter and ready to get out their clubs find that the season of play begins in late March, with cool temperatures and colorful spring flowers through May.
Golf Legends
The challenge of course design in the mountains brought Donald Ross from Pinehurst in 1925. He re-designed the 1899 course at The Omni Grove Park Inn to provide a challenge to players of all abilities. Renowned golf course designer Tom Fazio retired to nearby Hendersonville and lives at the Champion Hills Course, one of his great design achievements.
The lure of the mountains has also attracted many golf "greats," including Jimmy Demaret, Ben Hogan, Sam Snead, Tiger Woods and others.
Golf & Touring Go Together In The Mountains
While golf is a major attraction to the area, there are plenty of other things to do and see on your golf vacation. The Blue Ridge Parkway, the nation's most popular scenic highway, winds through Western North Carolina and passes within an hour drive of all the region's courses. The beautiful scenery, unique mountain crafts, vibrant small towns, abundant antique shops, pleasant weather, and fine dining provide plenty of diversion.
Those looking for a little something different may consider the Black Mountain Golf Club -- known for its record-length par 6 -- and the charming town nearby. And movie lovers can visit (and play) the 16th hole of the Bald Mountain Course at Lake Lure, which appeared in the hit movie Dirty Dancing.