A Local's Guide to Running in Asheville, NC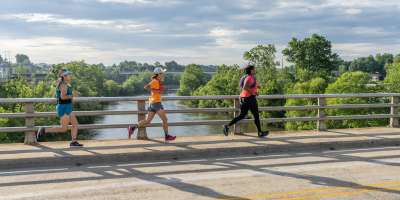 Running routes, events, group runs and local shops await!
Pack your running shoes if you're coming to Asheville because we have a ton of great running routes, events, group runs and more waiting for you. The two of us have been runners for over 20 years and we're excited to share some of our favorite places to run in Asheville, North Carolina!
There are a surprising number of running routes in Asheville that include both downhill and flat sections. (In other words, yes, you can get in some 'easy' miles here.) Regardless of your fitness or experience, Asheville has something for ya. Come on, lace up and let's go!
Great Running Routes Near Asheville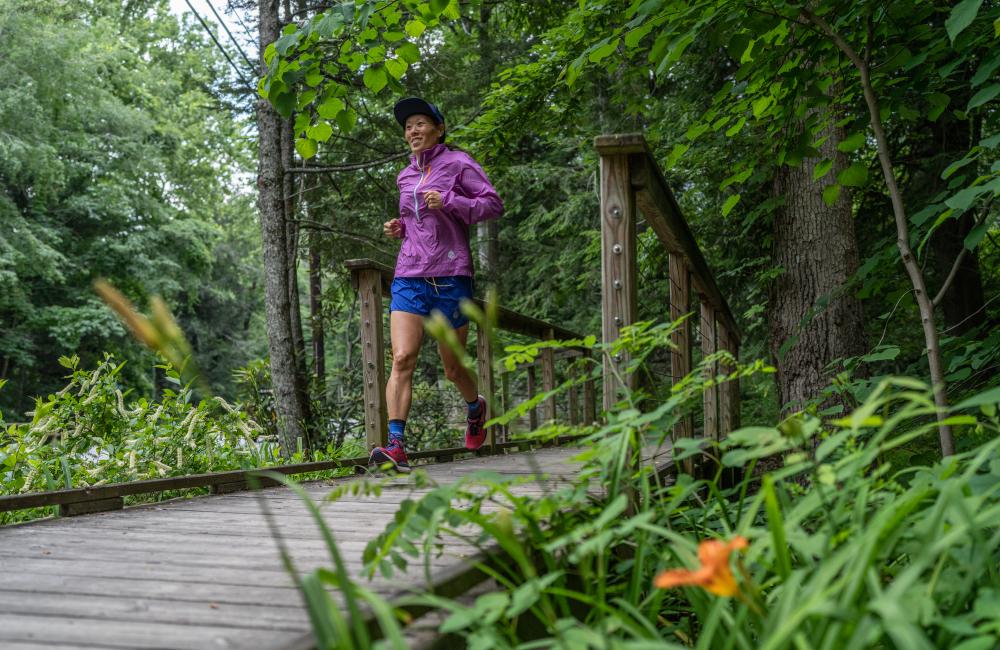 There are so many great running trails and routes to choose from in Asheville. And, due to its elevation and mountainous landscape, runners have the luxury of choosing between several different surfaces: dirt trails, wide gravel roads, sidewalks, blacktop, and grass. Check out some of these good runs near Asheville.
Urban Running in Downtown Asheville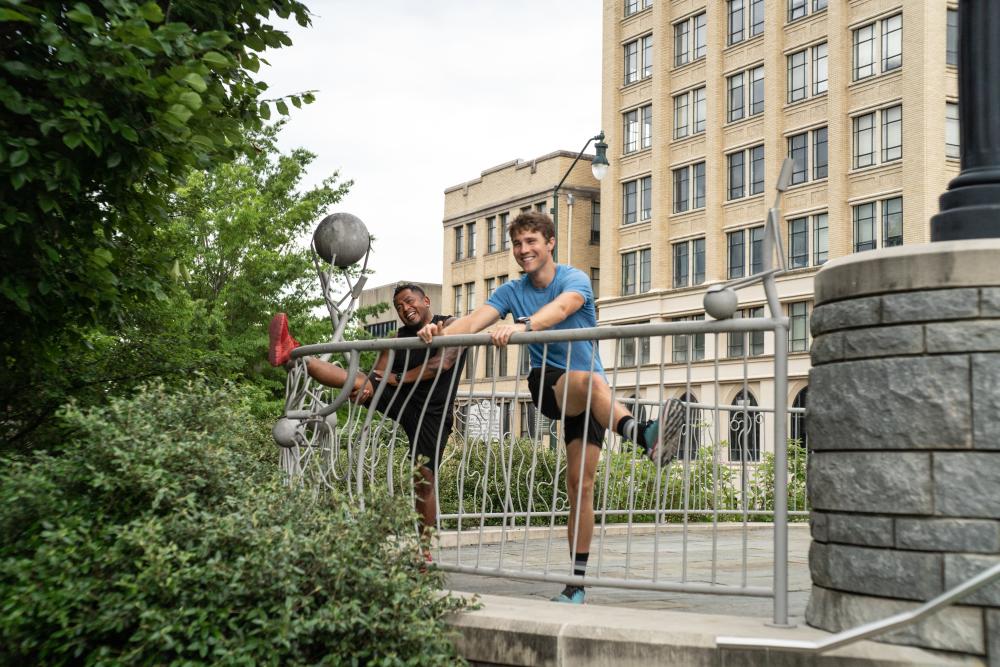 One of our favorite running routes takes place in downtown Asheville. You'll be on sidewalks for most of the run but you'll need to keep an eye out for vehicles at intersections. That said, if you go early before the city wakes up, you'll be able to get into a decent flow without too many stops.
Highlights include: A selfie in front of the newly revamped Asheville Art Museum, and a lap through South Slope (make note of where you want to return to later for a beer - we love Wicked Weed Brewing's Funkatorium and Burial Beer Co.), a spin through Pack Square, and the mural in Chicken Alley. If you want to extend your run, you can also link up with the nearby Reed Creek Greenway and run through the historic Montford neighborhood.
Bent Creek Experimental Forest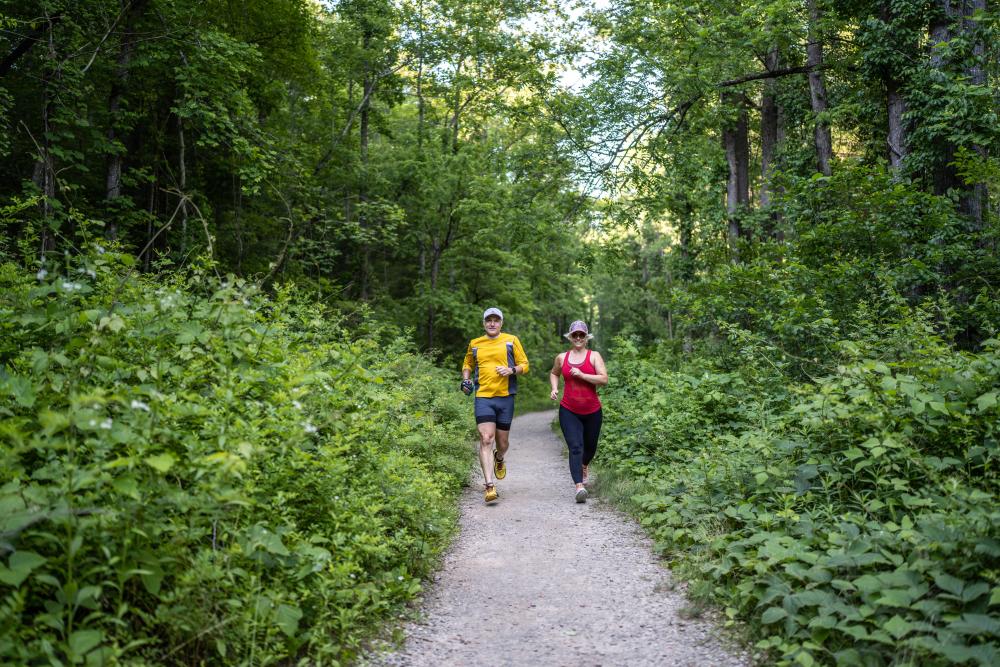 One of Asheville's favorite running trails is located in Bent Creek Experimental Forest within Pisgah National Forest. Hikers and mountain bikers have been recreating in Bent Creek for a long time but it's also beloved by the trail running community. Your options range from twisty, technical singletrack trails to wide gravel fire roads that roll for miles and miles.
From downtown Asheville, it's only a 20-minute drive to reach the Hard Times Trailhead parking lot and from there runners have lots of options including the 6-mile Hard Times Trail Loop for which the lot is named, as well as the fairly flat Bent Creek Gap Trail that takes you into the North Carolina Arboretum.
Trail Running in Montreat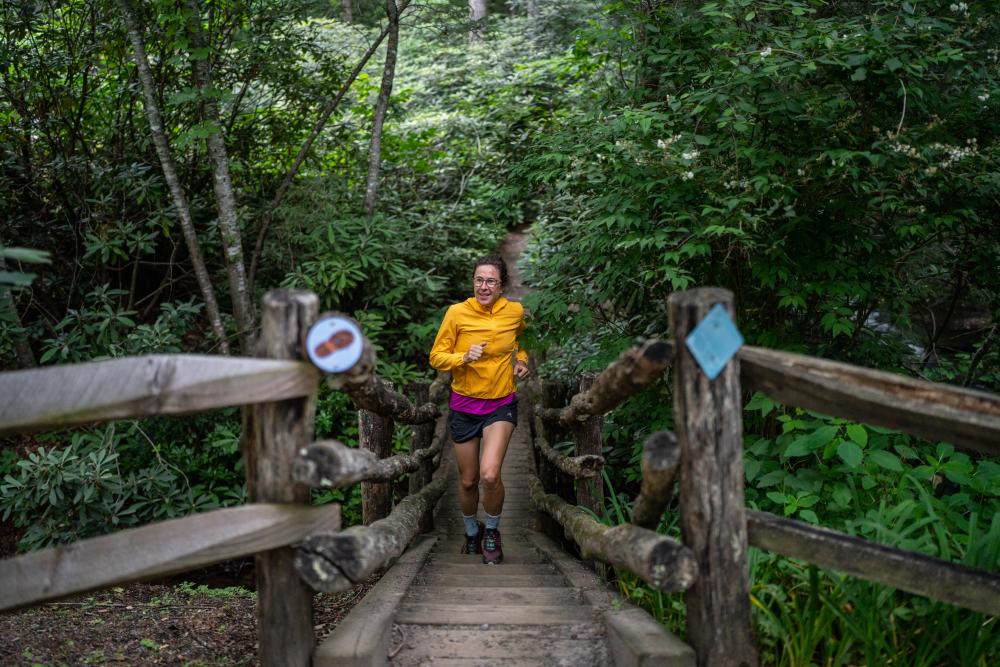 Montreat, a small mountain community that sits at the base of Greybeard Mountain just 30 minutes east of Asheville, is a trail runner's paradise. The Montreat Wilderness, part of the Montreat Conference Center, offers a trail network of 21 trails of varying distances that cover over 40 miles, which should be plenty of distance for even the most enthusiastic runner among us.
Asheville Greenway in the River Arts District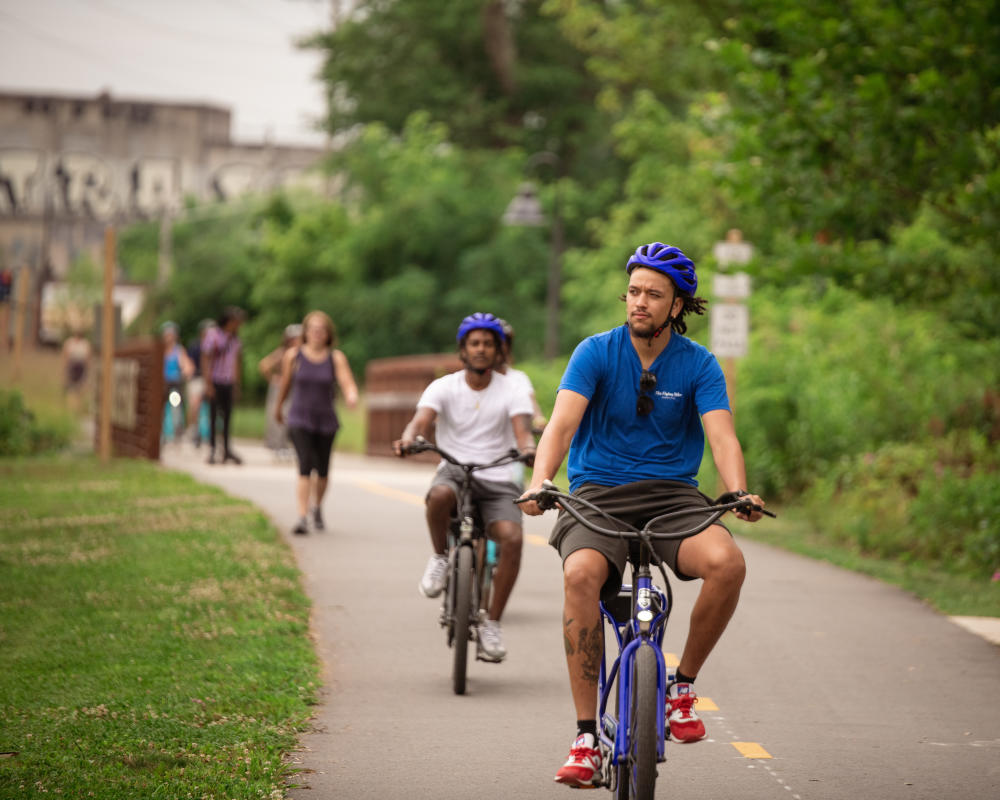 One of our personal favorite running routes takes place in the River Arts District. There's free street parking along Riverside Drive, a free parking lot near the Craven Street Bridge and a larger, also free, parking lot with a public restroom along River Arts Place. Runners can start from any number of places in this area and run along Asheville's recently completed greenway Wilma Dykeman Greenway which parallels the French Broad River.
Its flat, paved, 2.2-mile path is great for runners, even those pushing a baby jogger or running with a dog. Post-run there are a ton of local spots for a post-run beverage (Summit Coffee, Hi-Wire Brewing, the Wedge Brewing Co. and more are located in this area).
Asheville's Running Events & Races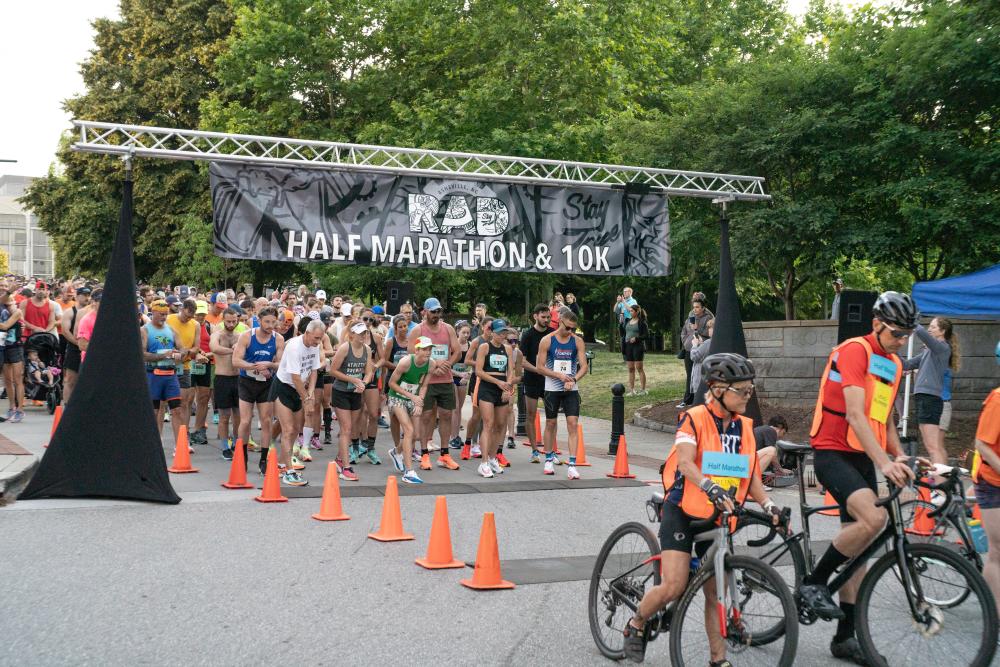 Though Asheville is already a destination for so many reasons (the food, live music, and beer scene are world-class) you can add running events to the list, too. Runners are sure to find everything from small 5k's to the marathon to relays. These are just a few of Asheville's running races. Check out the Running in the USA website for a list of year-round and upcoming events.
One of the newest races in the Asheville running community is the RAD Half Marathon and 10K. The inaugural race took place in June 2022 and looks to be a fan favorite for years to come due to its downtown start, scenic course with lots of downhill and flat sections, and post-run party (yep, there's live music) at the finish line near 12 Bones Smokehouse in the River Arts District. Participants each receive a medal, a free beer, and a tech t-shirt, as well as a premium racing experience from iDaph Events + Timing.
The amazing team at Kick It Events produces the Art Dash 5K and it's a fundraiser for LEAF Global Arts. Race Director Leslie Grotenhuis says, "The Art Dash 5K combines the athletic spirit of Western North Carolina along with its artistic side. The course is lined with performing artists that entertain you during your run." Previous years have featured everyone from jugglers to breakdancers to circus artists along the route. If you want to experience a one-of-a-kind race, this is it.
For the past several years the Highland Brewing Night Flight race has been produced with 100% of the proceeds going towards the building and support of greenways in the Asheville area. So far roughly $40,000 has been raised. The course takes place on the Asheville Municipal Golf Course, in the Beverly Hills neighborhood, past the WNC Nature Center, and ends at Highland Brewing. The start time is 7:30 p.m. so runners are advised to wear reflective gear!
If the marathon distance is a bucket list goal of yours, consider running the one in Asheville. It's a fast course where a PR is not unheard of and a USATF Certified Boston Qualifier Course for those looking to get into one of the most, if not the most, prestigious events in the U.S. and its early spring date means you'll be running in ideal temps. Bonus: The event has teamed up with Fleet Feet of Asheville to offer a training program with group runs to help get you to the finish line.
Running Groups Around Asheville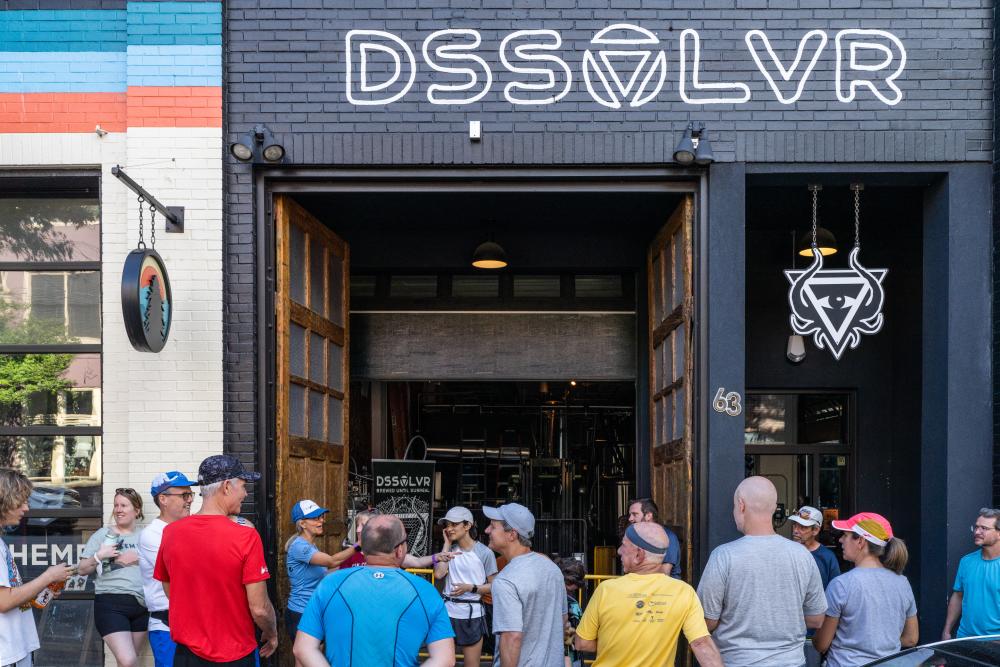 Though one of the things we love about running is that you can put your shoes on and go any old time by yourself, we LOVE having running buddies. If you do, too, be sure to check out any one of these group runs.
As the name suggests, this group meets every Tuesday at 6:15 p.m. at one of Asheville's local breweries, goes for a run and then meets back up for a beer. There are typically two different distances to select from each Tuesday. The group is fun, laid-back and about as welcoming as they come. All paces, ages, fitness levels, and abilities are welcome. The location changes each month so check out their Meetup page to see where they are before you head out.
Wednesday Night West AVL Pub Run
Jus' Running, one of the best local running stores in all of Asheville, hosts a Wednesday night Pub Run from Archetype Brewing in West Asheville. There's a 2.5-mile option and a 4.5-mile option, both of which start and finish at the brewery. The start time is 6:15 p.m. and dogs on a leash are welcome!
Your Tuesday and Wednesday groups are covered and, guess what, so is your Thursday! Head on down to the Wedge Brewing Co.'s Foundation Location in the River Arts District and meet up with the Asheville Running Collective at 6:15 p.m. This run is open to anyone though it has a reputation for being a fast workout. Still, anyone can come and run at their own pace. It's the same route every time, a 7.5-mile out and back run, that can be shortened at any point.
If you are the kind of runner who gets nostalgic about their old high school track days, you're in luck because there's a local track workout every Tuesday. Runners meet at Jus' Running's shop at 6:30 p.m. and then jog up to UNCA's track where they do several interval-based workouts.
Asheville Running Stores & Local Outfitters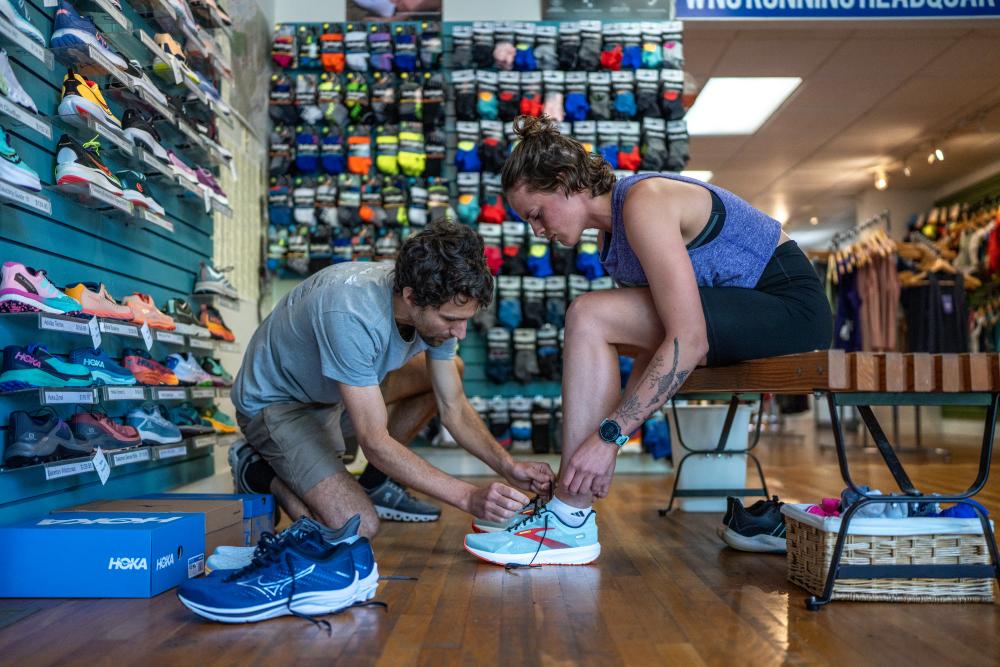 While the perfect running shoes won't necessarily run the miles for you, they most certainly help you run your miles in comfort. New runners, upon visiting a specialty running store, will often find that they've been training in the wrong shoe or wrong size. Stepping into a pair that fits well can be life-changing. Asheville is lucky to have several locally-owned small businesses in the area. These are our favorites:
Jus' Running | 523 Merrimon Avenue
This local business has been serving the Asheville running community since 1998 and has earned a reputation as being one of the best places to get your running gear. They have a trained staff who will help you figure out which shoes are the best for you based on a biomechanical analysis (allow roughly 30 minutes but no appointment is necessary). Jus' Running also hosts quite a few events and group runs, mentioned above.
Fleet Feet Asheville | 8 Town Square Boulevard
The Fleet Feet brand is well-known throughout the country with over a dozen locations in North Carolina alone. Runners can purchase best-selling shoes and apparel from the store and also join the shop staff for a group run on Tuesday nights. The run meets at the shop and the route takes place around Biltmore Park.
Foot RX Running | 2 locations: 1979 Hendersonville Rd, Suite A and 69 Hendersonville Hwy, Suite 5
This locally-owned specialty running store will help you find not only a great pair of running shoes but also if you need them, a pair of orthotics. They recently opened a second location and while an appointment is required to meet with one of their certified Pedorthists, no appointment is necessary for a shoe fitting.
Mountain Running Company | 4 South Tunnel Road, Suite 230
In addition to the Asheville shop location (address above) you can also find the Mountain Running Company in nearby Black Mountain. This local business has all of the latest shoes, gear, GPS watches, hydration systems, etc. for both road and trail running. They also have a weekly group run that meets at 6 p.m. at Catawba Brewing.