8 Ways Asheville Sparkles for the Holidays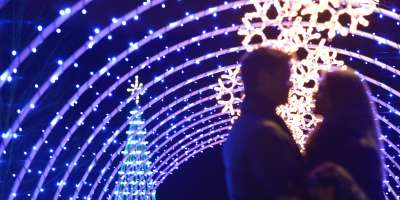 Every holiday season needs a little bit of sparkle—the twinkle of lights, the flicker of a fireplace, the shimmer of sugarplums or the glow of candlelight. Asheville, North Carolina brings all the sparkle—and gorgeous Blue Ridge Mountain views—to your holiday season this year with festive ways to play, indulge and get away from it all.
Discover how Asheville shines for the holidays:
1. Go to town.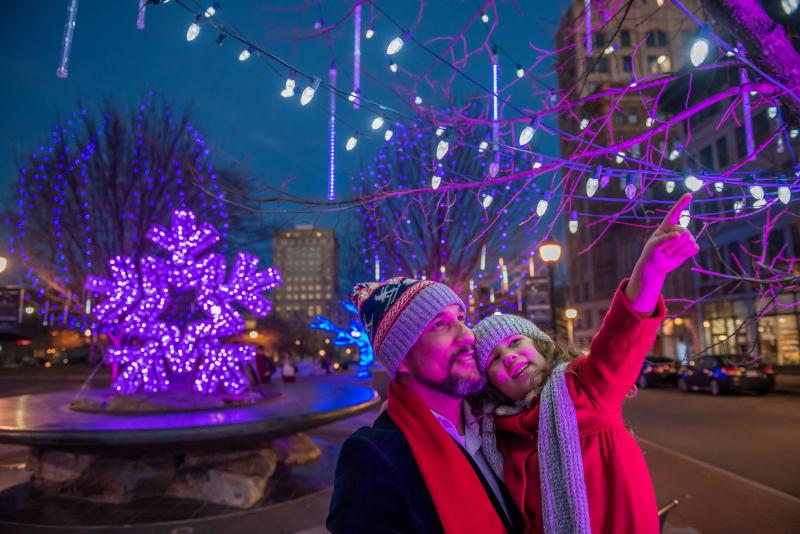 Asheville's busy downtown sidewalks shine in holiday style, thanks to new "Local Lights" displays in Pack Square Park and Pritchard Park. A 10-foot gilded purple snowflake in Pack Square Park makes for the perfect selfie. While being merry, don't forget to eat and drink off the seasonal menus at the local restaurants, bars, and breweries that have earned Asheville its reputation as a top foodie and craft beer destination.
2. Oh, Christmas trees.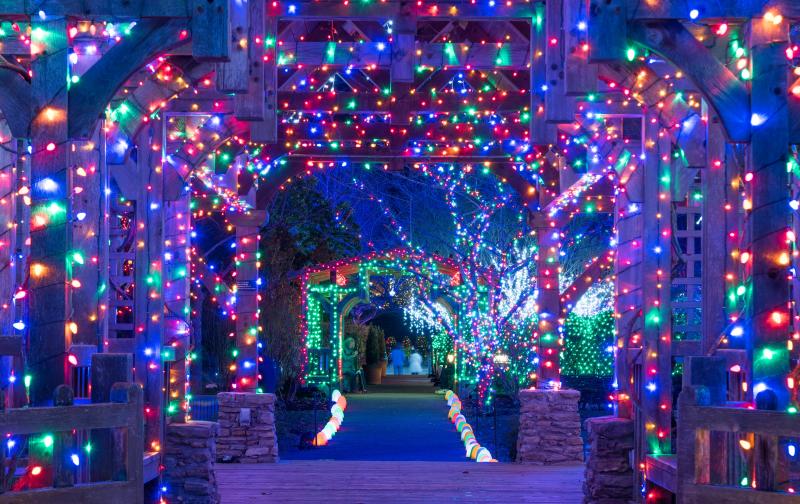 As the sun sets, the North Carolina Arboretum's 434 acres transform into a glowing winter wonderland, strewn with nearly 500,000 lights. The Winter Lights celebration (November 22, 2019-January 4, 2020) brings back favorites such as the 50-foot animated tree, model trains, and lighted Quilt Garden, while introducing new features. Take advantage of "friends and family" pricing on Tuesdays, or go all out with the Winter Lights Holiday Tour and arrive in vintage style on a trolley.
3. (Biltmore) home for the holidays.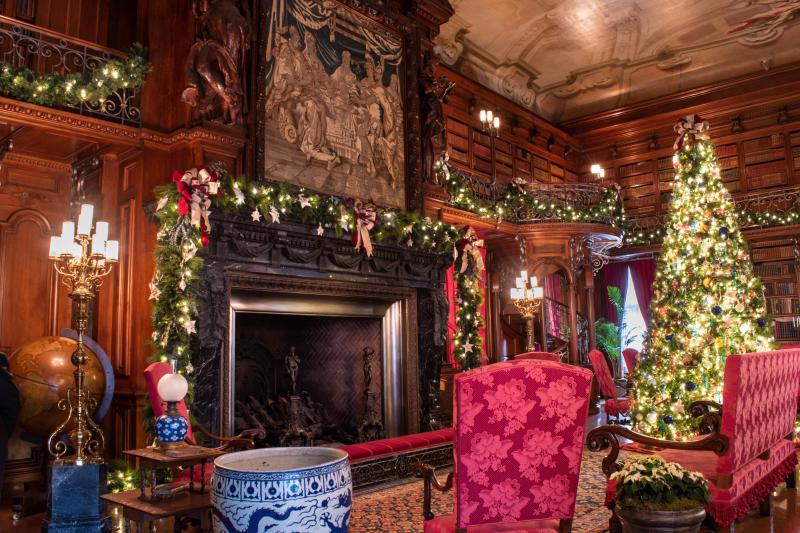 See Biltmore in a different, opulent light with its Candlelight Christmas Evenings (November 1, 2019-January 4, 2020). Biltmore staff deck the halls, lawn, and select estate locales with candlelight, firelight, and holiday lights. Nighttime passes include daytime admission (either same or next day) to Antler Hill Village & Winery, shops, grounds, and gardens. Biltmore has expanded its lights and ornaments display at Antler Hill Village. You can, of course, also visit during the day to experience the decorations during the two-month Christmas at Biltmore celebration (November 1, 2019-January 4, 2020).
4. Sugar and spice.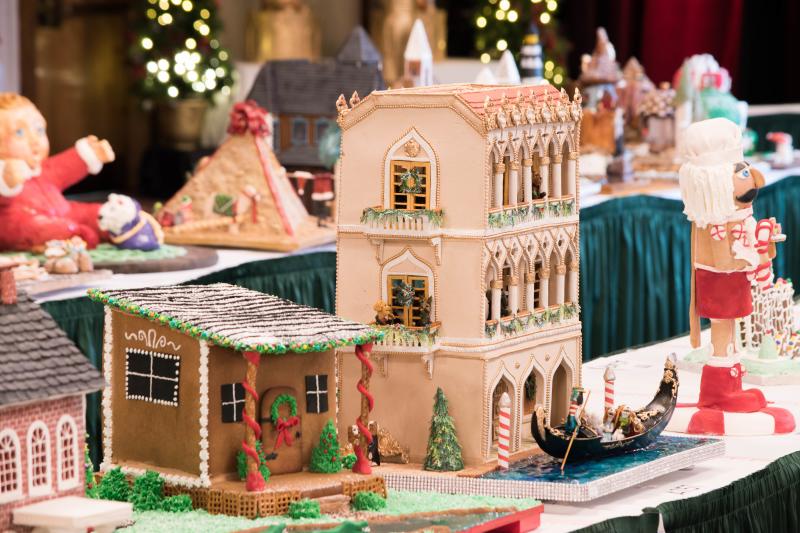 No Asheville holiday is complete without a glimpse at the National Gingerbread House Competition & Display at The Omni Grove Park Inn. This pastry Parade of Homes has become a tradition for locals and visitors alike. Top off your time sipping on a hot chocolate with housemade marshmallows (or ginger apple cider hot toddy) by one of the towering fireplaces flanking the Great Hall of this historic resort. Those who aren't guests at the Omni Grove Park Inn can view the entries November 20, 2019-January 4, 2020, after 3 p.m. on Sundays, and anytime Monday through Thursday (please see our Gingerbread House Competition guide for a list of excluded dates).
5. Shop talk.
Find unique gifts for friends and family--do your holiday shopping in the land of all things local and handmade. Historic Biltmore Village and downtown's Grove Arcade sparkle with holiday light displays, as does Asheville's bustling Biltmore Park shopping district to the south. Pop in and out of galleries and independent stores featuring one-of-a-kind items for everyone on your list. Plan ahead to catch a special market like The Big Crafty's Hand to Heart Holiday (December 7-8, 2019).
The Asheville Outlets hosts holiday events throughout the season, kicking off with Santa's Arrival and Tree Lighting (November 16 at 5 p.m.). And, enjoy the free santa photo experience November 16-December 24 (Monday through Friday 10 a.m. to 8 p.m.; Saturday & Sunday 12-6 p.m.).
6. All, aboard!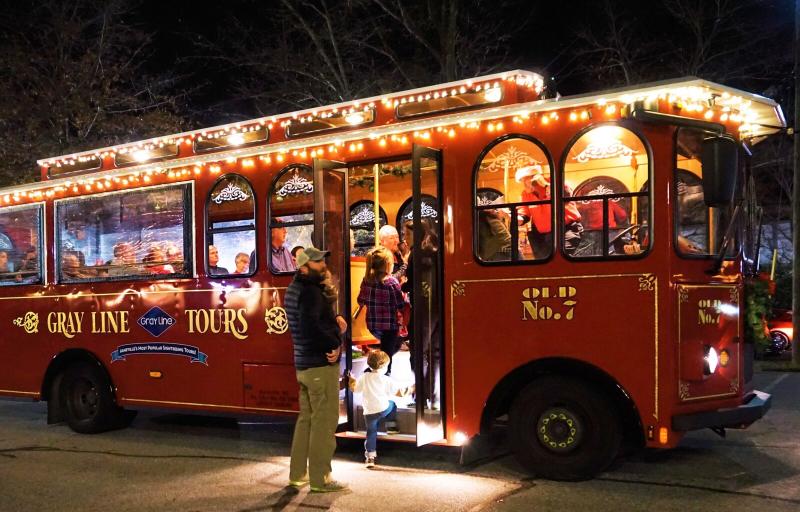 Hop aboard the Holly Jolly Christmas Trolley with Gray Line Tours for a fun and festive celebration of the season! The tour includes live music, storytelling and caroling. All the while, the Holly Jolly Trolley rolls past the decorations and lights in downtown Asheville, Biltmore Village and the Montford and Grove Park neighborhoods. The Trolley is heated and enclosed with clear vinyl roll-doll curtains. 
Meanwhile, Santa Claus is coming to the Blue Ridge Mountains by train as the Craggy Mountain Line gets in the holiday spirit. The Jingle Bell Trolley Train Run takes off on the hour on select dates from November to December. Twelve dollars includes hot cocoa, cookies, and a meet 'n' greet with Santa. Purchase tickets at the station or ahead of time to guarantee your spot.
7. Light the lights.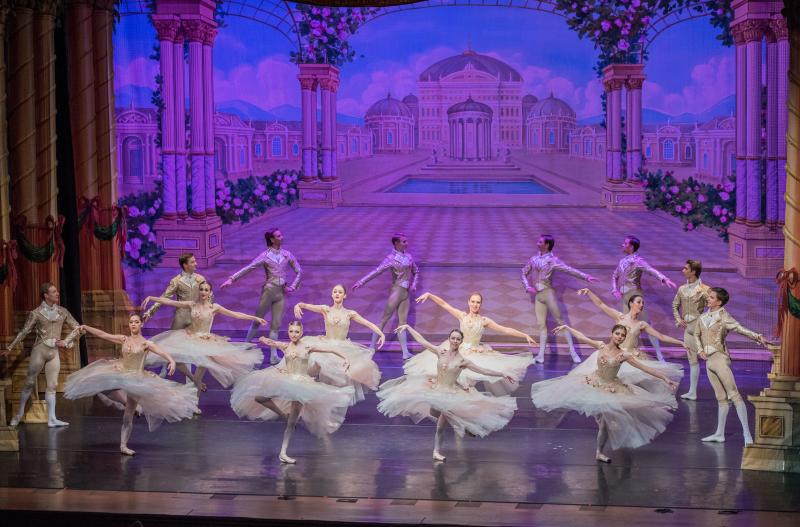 Photo courtesy of the Moscow Ballet
There's no shortage of holiday performances to dazzle you this year, from the classic Nutcracker to a sidesplitting, adults-only Christmas sketch comedy.
As we get closer to the holidays, check back for a full list of holiday performances!
In the meantime, you can easily search our Asheville events calendar by date for performances, events and festivals.
8. Small town charm.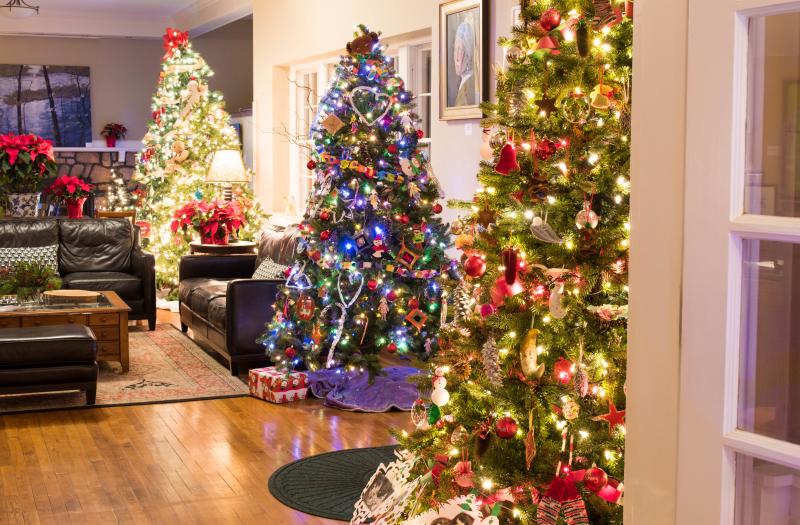 Minutes from downtown, you'll find Asheville's Norman Rockwell-esque neighbors with their own holiday traditions. Weaverville's Candlelight Stroll (Friday, December 13, 2019) lights up the town's Main Street, complete with music, horse and carriage rides, carolers, and children's activities. The historic Monte Vista Hotel in Black Mountain, hosts Deck the Trees, a tree decorating contest benefiting local charity. You can view the trees in the hotel's lobby December 6, 2019 through January 6, 2020 (10 a.m. to 9 p.m.).
Updated November 21, 2019