The red carpet at the Grammys' annual Los Angeles event may be more than 2,000 miles from Asheville, but plenty of local artists have made the star-studded stroll.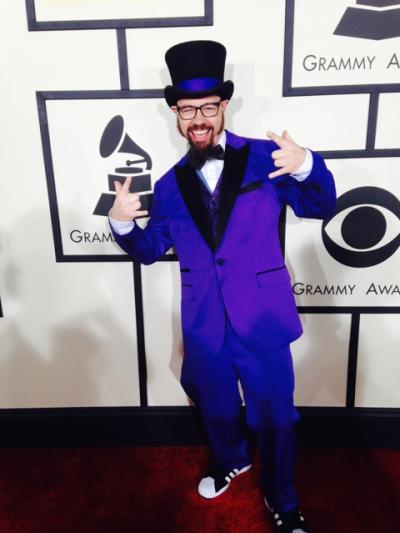 Just last year kid-hop artist 23 Skidoo — now based in California after launching his career in Western North Carolina — not only realized a lifelong dream of attending the show with his family (wife Brooke Sullivan and daughter Saki, aka MC Fireworks, also perform with him), but proudly topped various worst-dressed lists compiled from red carpet looks. Skidoo was nominated in the Best Children's Album category for The Perfect Quirk, tracked at Asheville's Echo Mountain Studios.
Though Skidoo's album ultimately did not win, it joins the list of Echo Mountain-produced records that have received the Grammy nod. That roster includes The Avett Brothers' The Carpenter, nominated for Best Americana Album the same year that the Zac Brown Band's Uncaged won Best Country Album and the Steep Canyon Rangers' Nobody Knows You took home Best Bluegrass Album honors.
For the Steep Canyon Rangers, whose members live in and around Asheville, it was the second Grammy, following their 2012 collaboration with Steve Martin, Rare Bird Alert. "It's fun to go out there and go to the parties," says The Steeps' upright bassist Charles Humphrey III. The band's label rented a limo for the musicians and their wives to arrive at the red carpet in style.
"National press recognizes the Grammys, and you get a lot of media attention, which is good for your band and your music," Humphrey says. But when it comes to making the next record, "You keep doing what you're doing. When the good things happen, you accept them humbly and are grateful for them, but if you don't win, that's all right, too."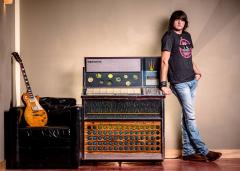 Jessica Tomasin, studio manager at Echo Mountain, is on the board of the Recording Academy in Nashville — the group who makes Grammy nominations. "They're so forward-thinking in terms of changing categories and making sure records are nominated in proper categories," Tomasin says. That could help ease the way for deserving but hard-to-categorize artists like local orchestral-folk outfit River Whyless (recently championed by Bob Boilen of NPR's "All Songs Considered" and "Tiny Desk Concert" series).
Tomasin will be a voting member of the academy in time for the 59th annual show in 2017. "We're part of the Nashville chapter," she says of WNC. "I want to help Asheville to get more nominations — we need more voting members, because sometimes it comes down to a really close vote."
Even as Asheville builds its burgeoning music industry, current record makers are gaining attention. Local label Mountain Home Music Co., helmed by Mickey Gamble, represented the city at the 2016 Grammys. The label, part of the Crossroads Entertainment Group, released the Doyle Lawson and Quicksilver album In Session, in the running for Best Bluegrass Album. It's the third Grammy nomination for Mountain Home.
But Asheville has long boasted a who's who of Grammy winners. Bluegrass legend Doc Watson, rocker Warren Haynes, musician and storyteller David Holt, bluegrass guitarist Bryan Sutton, composer and producer Steven Heller, folk and classical guitarist Al Petteway, soul singer Gladys Knight and R&B vocalist Roberta Flack have all called the area home — and the ranks are growing.
Steep Canyon Rangers (top) by Jens Schott Knudsen, shared under Creative Commons license 2.0; 23 Skidoo photo courtesy of 23 Skidoo.
October 24, 2016