It began with the banjo: David Holt's long affair with traditional Southern Appalachian music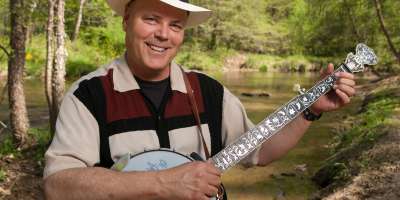 In 1969 David Holt packed up his truck and drove from California to North Carolina. "That was the same summer as Woodstock, and I was going to wood stick," he jokes. But the Texas-born multi-instrumentalist, who got his start as a jazz and rock drummer, had fallen in love with the banjo. He'd attended a Ralph Stanley concert and asked the bluegrass star where to learn clawhammer, a down-picking style used in old-time music. Stanley suggested that Holt head to the Appalachian Mountains.
The banjo was introduced to Southern Appalachian music — which drew from the traditions of Anglo-Celtic settlers — after the Civil War. Previously considered a slave instrument, the banjo's syncopation enhanced both the singing and dancing rhythms of mountain melodies.
By 1973, Holt was based in the Asheville area. "I first came to Asheville in 1969 looking for old timers who still played the oldest forms of mountain music. I found lots of folks here who became my musical mentors." He credits Obray Ramsey's "Song of the French Broad River," in part for his move to the Blue Ridge Mountains. "It sounded so romantic and so historic," Holt recalls. But more importantly was his realization that, "All these old-timers, who played this music so authentically, were still alive. I thought to myself, 'I've got to learn from them."
Holt went on to found the Appalachian Music Program at Warren Wilson College, which he directed until 1981 when he left to pursue music full-time. He's hosted the series "Folkways" on North Carolina's Public Television network and is currently working on the second season of the PBS program "Fire on the Mountain."
Holt's relationship with PBS also includes the show "An Evening with Doc Watson & David Holt." The two first met in 1972 and crossed paths many times before becoming collaborators. Together they won two Grammy awards, one for the album Legacy, and another for a collection of songs and stories reflecting Watson's life. "He was my main hero," Holt says of the late guitarist.
Other collaborators include acoustic guitarist Bryan Sutton, bassist T. Michael Coleman and bluegrass fiddler Josh Goforth. Holt will release a new album, Good Medicine, with Goforth in 2016. The name, Holt says, "is because we've taken all these songs we've learned from this area — music that has survived so long because people inherently know it's good for them."
Though Holt's focus for more than 40 years has been on Appalachian sounds, a two-decade stint as a music ambassador for the U.S. State Department allowed him to travel extensively, performing concerts in South American, Africa and Asia. He's also a regular at many festivals and venues, from the Diana Wortham Theatre and Isis Restaurant & Music Hall, to nearby MerleFest. A favorite memory, he says, is of the Mountain Dance and Folk Festival back when it took place in the Thomas Wolfe Auditorium. "Those were heady times," he says. Afterward, thousands of players would gather at the Westgate parking lot to continue the jam.
Holt was into the North Carolina Music Hall of Fame, at a ceremony in Kannapolis, in October of 2016. "I think the music is community oriented," he says. "We're all working out of a certain style and certain songs we all know, so we have a big soup pot we're all dipping into, and we all add our own spices. That's what makes it stronger."
Speaking of his home in the mountains, Holt said, "Asheville has an extremely vibrant music community. The foundation for the music here is based in mountain music. Traditional music gives musicians a solid platform with deep musical roots. So, you find a lot of experimenting and hybrid genres. It keep things musically exciting."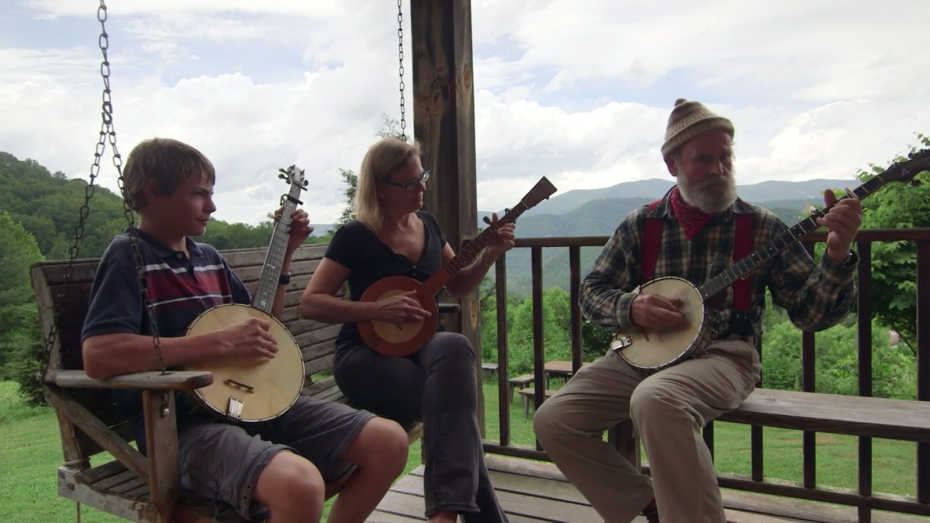 We sat down with Grammy-winner David Holt to discuss the origin story of the banjo. The instrument has been around for generations, and with its signature twang it has helped shape and define the old time mountain music and bluegrass sound.