Five Days, Five Festive Ways: Your Asheville Holiday Itinerary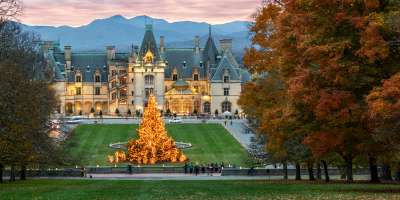 Santa does it all in one night, but if you really want the true Asheville holiday experience, check out these five-day itineraries tailored to suit your travel style.
For Foodies
So many restaurants, so little room in your stomach. Don't fret: There's plenty to do while you digest between memorable Asheville meals.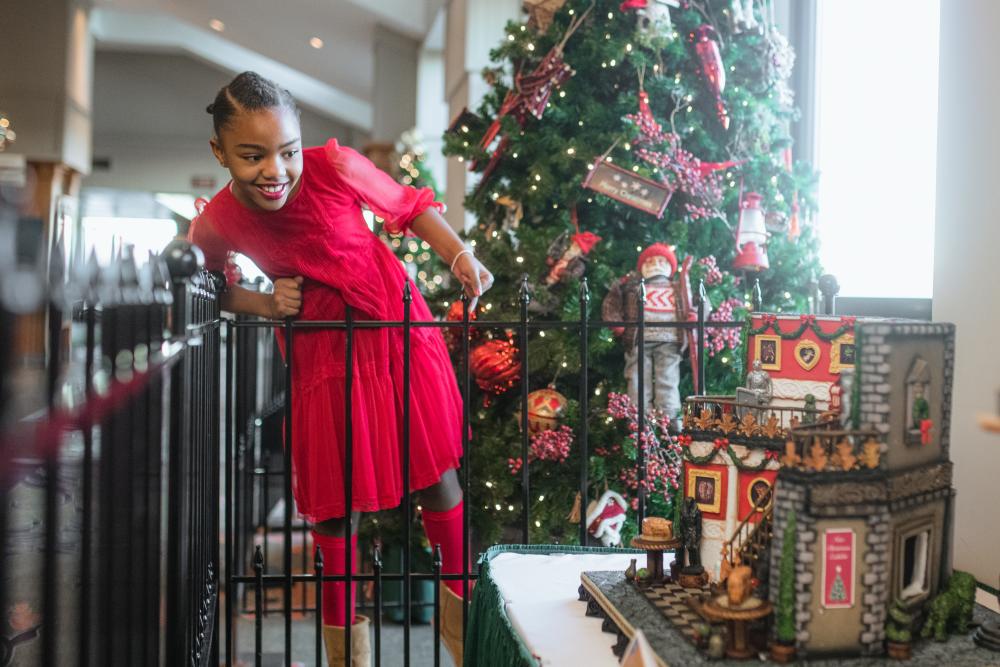 Day 1
Morning: Start your day off with a mug of locally roasted coffee at PennyCup. Inside tip: With four locations across the Asheville area, there's a cup of Joe ready for you anywhere!
Noon: Head to the Grove Park Inn to marvel at the edible architecture of the National Gingerbread House Competition.
Night: Let James Beard-nominated Chef Brian Canipelli make your meal (and your year) with a five-course dinner at Cucina 24.
Day 2
Morning: Enjoy coffee and handheld delights while perusing local jams, seasonal produce and more at the North Asheville Tailgate Market's Holiday Bazaar.
Noon: Sample the best of Asheville's culinary scene with an Eating Asheville guided food tour.
Night: Return to your favorite restaurant from the tour for a full-on feast!
Day 3
Day 4
Morning: Find out first-hand why "Good Morning America" named Sunny Point Café one of the top breakfast spots in the country.
Noon: Learn all about French Broad Chocolates' process from bean to bar on a factory tour, and nab some of their famous peppermint bark for a sweet souvenir.
Night: Warm up after dinner with a buttered rum at Storm Rhum Bar and Bistro.
Day 5
For Adventurers
If you like thrills with your chills, dive headfirst into this action-packed Asheville itinerary.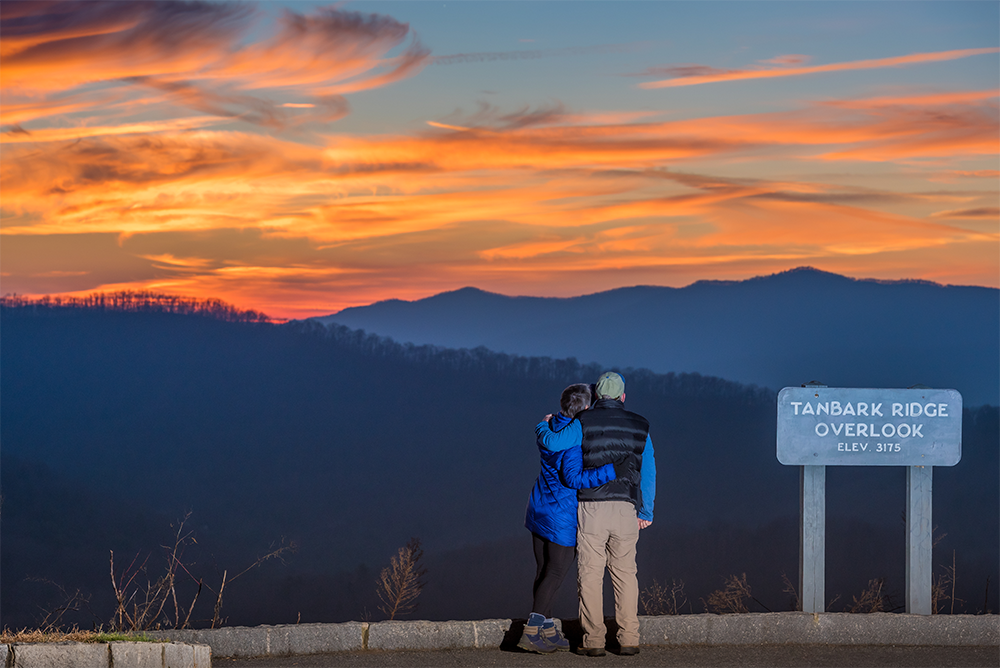 Day 1
Morning: Rise and shine! Sign up for a guided sunrise hike (equipped with gear and locally roasted coffee) with Asheville Adventures and set your eyes on a Blue Ridge Mountain sunrise.
Noon: Discover downtown Asheville on two wheels with The Flying Bike's e-bike tour.
Night: Warm up and wind down with a hot yoga sesh at Down Dog.
Day 2
Morning: Get your blood moving with a morning jog along the River Arts District greenway. Stop in for a coffee and pastry at GRIND after your workout.
Noon: As America's largest home, Biltmore has an epic backyard for playing. Rent bikes onsite and explore 20-plus miles of trails.
Night: Choose your own adventure with an escape room at Breakout.
Day 3
Morning: Pick up your pre-ordered picnic basket and some breakfast pastries from The Rhu.
Noon: Chase waterfalls without leaving the warmth of your car on a "windshield" waterfall tour.
Night: Relax with a pint by the open fire pit at Wicked Weed.
Day 4
Morning: Test your limits with indoor top-roping and bouldering at Cultivate Climbing.
Noon: Connect to your natural surroundings with one of three mini-retreats from Asheville Wellness Tours designed exclusively for winter!
Night: Nothing gets your adrenaline going like performing in front of an audience. Spread some holiday cheer with a 5-minute set at Disclaimer Stand-Up Lounge Comedy Open Mic at Asheville Music Hall.
Day 5
Morning: Pick up Trail Box Lunches from Asheville Sandwich Company and go for a winter walk on the Blue Ridge Parkway. Yup, you read that right. Winter weather often causes closures on the Parkway affording you the chance to hike on the road itself!
Noon: Stock up on your outdoor goods at Second Gear in the River Arts District, where you can purchase quality, gently used outdoor apparel, shoes, tents and equipment.
Night: Swoosh down those slopes beneath a starry sky with a nighttime ski sesh at The Wolf or Cataloochee Ski Resort.
For Shopaholics
Looking to destress during the holidays? Five days of retail therapy in the mountains is just the self-care you need.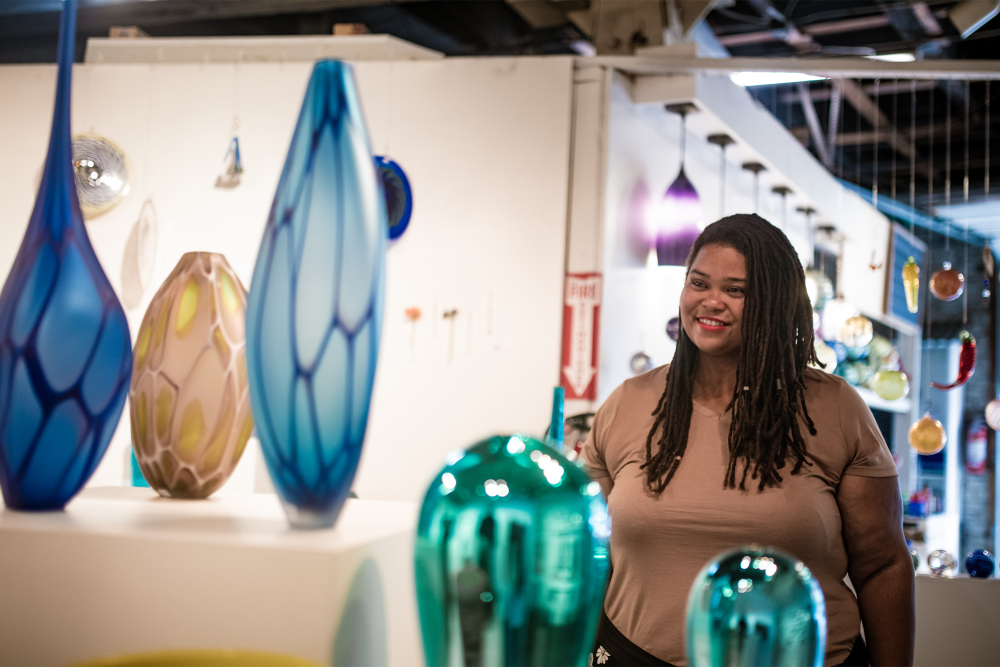 Day 1
Morning: Hunt for vintage and antique holiday decorations at Tobacco Barn.
Noon: Crush your holiday gift list with a shopping day in downtown Asheville. Learn about Asheville's quirky history while checking out the eclectic shops with the Asheville Urban Trail as your guide.
Night: Find a favorite nook at Battery Park Book Exchange to enjoy some bubbly and a book-themed grazing board.
Day 2
Day 3
Morning: A record store and so much more: Start your day on the right note with coffee and a pastry at Citizen Vinyl.
Noon: Stock up on stocking stuffers in Black Mountain. Sassafras on Sutton is a charming bookstore and toy shop with an espresso bar—perfect for a midday boost!
Night: Give your tired tootsies a break with a soak at Wake Foot Sanctuary.
Day 4
Day 5
Morning: Sip and shop at Flora & Forage. This Insta-worthy space combines a coffee shop, plant store and secret garden to create a botanical oasis in the heart of West Asheville.
Noon: Pop in and out of shops, studios and galleries in the River Arts District for one-of-a-kind gifts.
Night: Have dinner at Glass Onion in Weaverville, followed by a window shopping walk down Main Street.
For Families
Make holiday memories from tree climbing, cocoa and fluffy cows, with five days of refreshing family time in the mountains.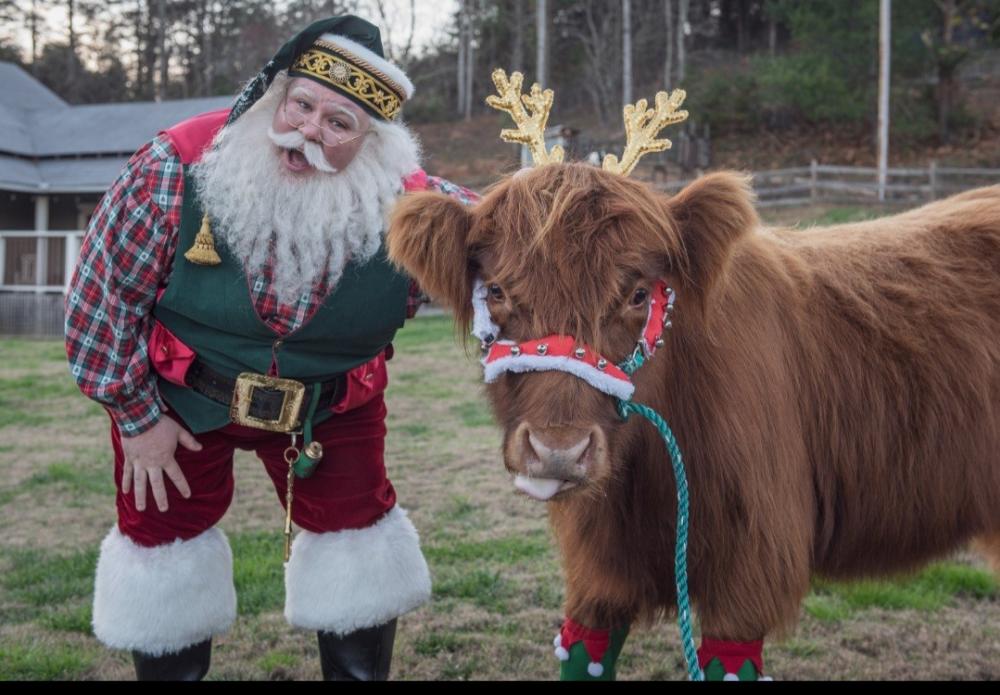 Day 1
Morning: Start off the day with a big classic breakfast at The Moose Cafe and pick up your family Christmas tree afterwards next door at the WNC Farmers Market.
Noon: Take unforgettable holiday family photos with the cutest cows and mini goats at The  Appalachian Santa and Highlands Experience at Montgomery Sky Farm.
Night: The kids will get a kick out of eating dessert aboard Double D's, a legit London double-decker bus parked smack in the middle of downtown.
Day 2
Morning: Eat some fantastic tacos and queso at Taco Billy. 
Noon: All aboard Craggy Mountain Line for a trolley ride, cocoa and a visit with Santa on the Jingle Bell Trolley Ride.
Night: Go out on a limb with the Twilight in the Treetops Holiday Night Climb at Asheville Adventure Center.
Day 3
Morning: Head to Black Mountain for a traditional Cuban breakfast (with cafe con leche included) at Cousin's Cuban Cafe.
Noon: Watch Santa "prep" for Christmas Eve as he rappels down the 315-foot Chimney at Chimney Rock State Park—an only-in-Asheville must if there ever was one!
Night: Experience this holiday tradition as you never have with Asheville Contemporary Dance Theatre's fantastical interpretation of The Nutcracker and the Mouse King at the Wortham Center for Performing Arts.
Day 4
Morning: Beat the crowds at the WNC Nature Center and witness these furred and feathered locals at their most active time of day.
Noon: It's game on at Asheville Retrocade. With more than 5,000 games including skeeball, pinball and all of your old school faves, you'll want to lift screen time restrictions for an epic afternoon.
Night: Catch a holiday family movie on the big screen at Asheville Pizza & Brewing Co.
Day 5
Morning: Jingle all the way to Tupelo Honey in South Asheville for crowd-pleasing spins on the classic Southern breakfast.
Noon: You're sure to wear everyone out, rain (snow) or shine, at the Riveter with a canopied bike park and enough indoor climbing terrain to form its own mountain range. Little ones will love the slide in the kids' climbing cove!
Night: Prepare for finger and face prints on car windows after winding your way around the drive-thru Lite Brite on steroids that is the Lake Julian Festival of Lights.
For Holiday Lovers
Those who truly feel this is the most wonderful time of the year can follow their bliss with five days of holiday-infused Asheville merriment.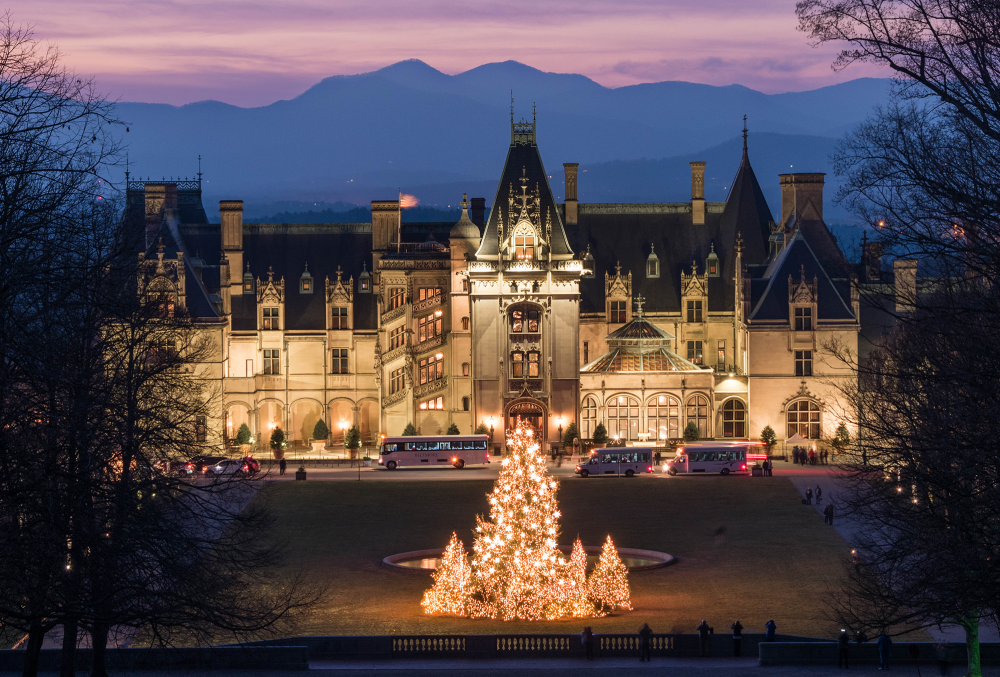 Day 1
Morning: Head over to Vortex Doughnuts in South Slope for an eggnog-glazed doughnut paired with their signature holiday beverage, the "Chegg" (a chai/eggnog hybrid).
Noon: Tour the historic Smith McDowell House, Asheville's oldest home and first mansion. Every Christmas, they go all out with authentic Victorian era holiday decor, from garlands and ornaments to fresh trees and toys.
Night: From the oldest house in Asheville to the biggest: You haven't seen Biltmore until you've experienced its holiday splendor with a Candlelight Christmas Evening tour.
Day 2
Morning: Have a very merry morning at Mosaic Café in Biltmore Park. Look for holiday-themed daily specials and seasonal coffee flavors.
Noon: Head to Brevard and visit the wonderfully wacky Aluminum Christmas Tree Museum.
Night: Take in downtown holiday lights and sights from above with a sunset Asheville Rooftop Bar Tour.
Day 3
Morning: Dash through the snow to All Day Darling in Montford for a warming breakfast bowl.
Noon: Make your way to the Monte Vista Hotel in Black Mountain for their annual Deck the Trees tradition, which raises money to help neighbors in need. With so many local businesses participating, you can also look for tricked out trees scavenger hunt-style all around the town.
Night: Take in the iconic holiday movie turned performance of Elf The Musical at Asheville Community Theatre.
Day 4
Morning: Discover why so many locals worship Taco Temple when you try their breakfast tacos.
Noon: Snap selfies in front of the giant fireplaces at Omni Grove Park Inn, before checking out the resort's impeccable holiday decorations and incredible display of Gingerbread  Houses.
Night: Share a signature pie surrounded by festive lights and decor at Blue Mountain Pizza, located on the idyllic Main St. in Weaverville. Be sure to save room for their housemade desserts!
Day 5
Morning: Order the Basic Bitch—an anything-but-basic twist on a pumpkin spice latte—from Pollen, an emerging queen bee of Asheville's coffee scene.
Noon: Purchase a handblown glass ornament from Lexington Glassworks or NC Glass Center. 
Night: Stroll through the glowed up gardens at the NC Arboretum's Winter Lights.
Cold Mountain beer image provided by Highland Brewing; Appalachian Santa image provided by Montgomery Sky Farm. 
Updated April 18, 2023