Appalachia's Ballad Singing Tradition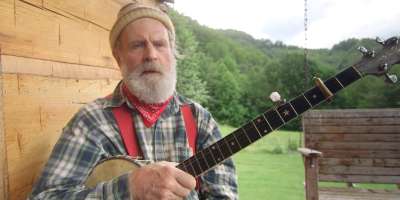 With its thriving music scene, including an ever-growing list of local Grammy nominees, Asheville is making a name for itself nationally as a hotbed for singing talent. But the craft of telling stories through song has long been woven into the culture of the North Carolina mountains in the form of traditional ballad singing.
Spotlighted in the 2000 motion picture "Songcatcher," ballad singing took root in Southern Appalachia in the 1700s with the arrival of immigrants from the British Isles. Ballads are stories set to music and customarily sung without accompaniment. Themes can be lighthearted or funny, but are frequently dark and violent, relating tales of love and loss, war, jealousy and revenge.
Appalachian ballads, says Madison County ballad singer Joe Penland, remind us of our past and that we're a nation of immigrants. "The old ballads were brought [to this country] by my family in particular over 350 years ago," he explains. "They came here looking for a better life, and the only things they had to bring with them from their culture were these songs."
Penland learned his repertoire of some 50 to 60 ancient ballads as a boy in the early 1960s. Sitting knee-to-knee with family members and other balladeers, he took part in an oral tradition that had remained protected from outside influence for generations in Madison County's isolated mountains.
Interest from scholars in the early 20th century, including British folklorist and "songcatcher" Cecil Sharp, who arrived in Western North Carolina in 1916, brought public attention to the long-hidden art form. And today, this musical heritage remains vibrant in the region as younger generations of ballad singers carry on the tradition.
Donna Ray Norton, an eighth-generation ballad singer who hails from Madison County's remote Sodom Laurel community (also known as Revere), took up the craft when she chose to do her high school senior project on the family custom. Norton, now in her 30s, recalls a childhood steeped in old-time music.
"We would sit and listen to the older folks sing the songs and learn them just from listening to them," she recalls, adding that she also was taught many ballads sitting knee-to-knee with experienced singers.
Today, Norton says ballad singing acts as "a dose of something old in a modern time," serving as a window to North Carolina mountain culture and history. And in the Asheville area, numerous music events and festivals offer opportunities to hear the old Appalachian ballads sung by keepers of the tradition.
Both Penland and Norton participate each June in a ballad swap at Hot Springs' Bluff Mountain Festival, an event Penland describes as a "friendly rivalry" among local singers vying to see who can remember the most ballads. On Saturdays throughout the summer, the long-standing tradition of Shindig on the Green brings a free opportunity to hear ballad singing in the heart of downtown Asheville at Pack Square Park. And the granddaddy of all folk festivals in the nation, the annual Mountain Dance and Folk Festival, organized by Bascom Lamar Lunsford in 1928, presents a smorgasbord of traditional Southern Appalachian singing, music and dancing for three days each August at The Wortham Center for Performing Arts.