Sweet Potato and Brie Bruschetta Recipe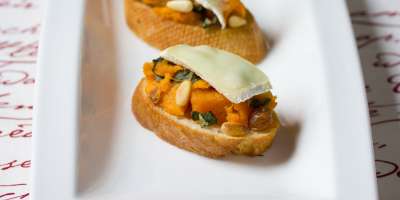 This savory treat is the perfect hors d'oeuvre to serve at your next holiday party (or a fantastic appetizer any time). This easy recipe was crafted by Biltmore's Executive Chef, Damien Cavicchi and promises to be a crowd pleaser.
Ingredients
1 pound sweet potatoes, peeled and diced into 1-inch cubes

2 cups water

1 cup orange juice

¼ cup sherry

¼ cup golden raisins

2 tablespoons kosher salt, divided

8 slices of crusty bread, cut ½-inch thick

Olive oil (as needed)

8 ounces Brie cheese

2 tablespoons maple syrup

½ cup pine nuts

½ cup loosely packed fresh basil leaves, coarsely chopped
Method
Preheat oven to 375°.

Combine sweet potatoes with water, orange juice, sherry, raisins and one tablespoon salt in a medium sauce pan, and place over high heat.

Bring to a simmer and cook until tender, about 15 minutes.

Brush bread with olive oil and place on baking sheet.

Toast in oven about 5 minutes.

Slice brie into 8 equal pieces, about the length of the bread. Set aside.

Drain liquid from sweet potatoes and season them with 1 tablespoon of salt, maple syrup, pine nuts and chopped basil.

Mix well, mashing the potatoes a little as you mix.

Evenly distribute potato mixture over the bread slices and top with Brie.

Return bruschetta to oven for about 7 minutes, until cheese begins to melt and brown.