Museums in Asheville, N.C.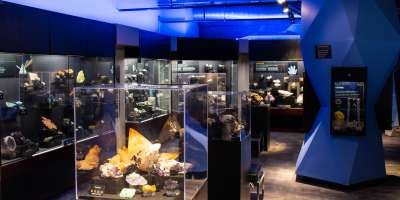 In a city rich with culture, it's no wonder Asheville is home to a growing number of top-notch museums.
From a newly expanded art museum to the opening of a museum celebrating a famous Asheville inventor, you'll find a breadth of unique experiences. These museums are highly-interactive, allowing people of all ages to explore art, history and science hands on.   
Here's a look at the best museums to see on your next visit to Asheville:
56 Broadway St., Asheville
The Moogseum is a one-of-a-kind experience that celebrates the life and work of music pioneer and long-time Asheville resident Dr. Bob Moog. Moog is best known for his 1960s invention of the revolutionary Moog Synthesizer, which electronically recreates the sounds of instruments. The Moogseum includes eight exhibits, many of them interactive, designed for playful exploration of sound, technology and science.
Envision Moog's creative process by exploring the recreation of his work bench. Step inside an immersive dome where you can learn how electricity turns into sound when it goes through a circuit! Explore an interactive timeline of Moog's life and the history of sound synthesis. And, dive deeper in the archival center which features more than 1,000 pieces of rare archival material accessible by touch-screen kiosks. There will also be rare memorabilia including one of the first theremins Moog built when he started his company in 1954.
43 Patton Avenue
Bring your family to this exploratory science museum and experience in downtown Asheville! At the Asheville Museum of Science, you'll find fully interactive exhibits. Be like a geologist in the Colburn Hall of Minerals, discover topography with the Terra Box elevation simulator, dig for fossils and splash in the French Broad River water table! While you're there, also check out the Teratophoneus dinosaur skeleton and climb into the tree canopy of the Southern Appalachian Forestry exhibit.
2 S. Pack Square, Asheville
The Asheville Art Museum is open following a $24 million renovation and expansion. The 68,000-square-foot museum features 20th and 21st century American art. The museum's collection of 5,000 objects and art pieces are displayed in beautiful galleries through the three-floor building. There is rooftop sculpture terrace and café. Make sure to check out the museum's exterior after dark. The brand new glass exterior will be lit up at night to help illuminate the city's Pack Square. The Asheville Art Museum is open daily 11 a.m. to 6 p.m. It is closed on Tuesdays.
On second Thursdays, local musicians enliven our spaces with music to complement your visit. As you stroll the galleries, a variety of tunes adds new dimensions to your viewing experience.
120 College Street, Asheville
See historic and contemporary art exhibits at the two-floor Black Mountain College Museum and Arts Center in downtown Asheville. Rotating exhibitions are on display for about four months at a time. The museum serves to preserve and continue the legacy of the innovative Black Mountain College. Black Mountain College opened in 1933 as a progressive arts college fundamentally different from other colleges and universities at the time. It was owned and operated by the faculty with the arts as a central focus to the learning experience. While the college closed in 1957, its powerful influence lives on.
67 Broadway Street, Asheville
Following a 7,000-square foot expansion, the Center for Craft is open to the public. The Center is the place to see and experience the work of the next generation of emerging craft artists. The Center offers free exhibitions, hands-on learning for all ages and spaces with events throughout the day and evening. You'll also find both indoor and outdoor art installations by national craft icons and top emerging artists from the Asheville area.
The Center for Craft also offers Craft City Food and Art Tours (temporarily closed for 2020). The three-hour excursion links Asheville's gallery and museums with the city's unparalleled food scene to show the link between craft and cuisine! Tour stops include Black Mountain College Museum and Arts Center, Herbiary and Horse and Hero. All tours are from 3-6 p.m. and begin at Blue Spiral 1 gallery.
223 West State Street, Black Mountain
In the heart of the nearby town of Black Mountain, discover a history museum in the town's 1921 fire house. The Swannanoa Valley Museum and History Center offers exhibits showcasing the area's rich history through photographs, original materials, oral histories and documents. Throughout the year the museum organizes hikes to hidden historic locations through the Swannanoa Valley. The museum is open April through November.
Explore more than 100 vintage amateur and commercial radios from the early to the mid-20th century at the Asheville Radio Museum. The small, specialty museum, founded in September 2001, offers a personalized learning experience about the economic and cultural impact of radio technology like enabling cell phones, GPS, Bluetooth and more. To celebrate its 20th anniversary, Asheville Mayor Esther Manheimer proclaimed September 2021 as Asheville Radio Museum Month within the city. The museum is located on the campus of Asheville - Buncombe Technical Community College, making it easy to pair a visit with historical sites such as the Smith-McDowell House (also located on campus). 
Tour Asheville's oldest home! Just a few miles from Biltmore is this very different kind of mansion. James McConnell Smith commissioned the house in the 1840s, having it built out of brick. Building with brick was almost unheard of at the time, a signified of his wealth. His daughter and son-in-law purchased the house after he died. Today, the house is on the campus of Asheville-Buncombe Technical Community College and serves as a window into how families lived during the late 19th and early 20th centuries.  
1 Battle Square, Asheville
Not only can you see more than 50 vintage pinball tables and classic video arcade games, you can play unlimited pinball for one price on dozens of other machines in the collection. The Asheville Pinball Museum is located in the old Battery Park Hotel, a building that is on the National Register of Historic Places. Some of the pinball machines date back to 1940s. While the oldest machines aren't for play, the machines from the 1960s and later still work well. Each machine features a plaque with historical information. Want to take the pinball experience home with you? Some of the machines are for sale!
111 Grovewood Rd., Asheville
Opens April 1, 2021
Admire gorgeous vintage automobiles at the Antique Car Museum at Grovewood Village adjacent to The Omni Grove Park Inn. The 1923 building once housed the looms for the Biltmore Industries' weaving shop. Now, you'll see antique vehicles including a rare 1957 Cadillac Eldorado Brougham and Asheville's own 1922 American LaFrance fire truck. All the cars in the museum are in running condition.
1 Lodge Street, Asheville
Biltmore House can easily be considered a museum as you'll find meticulously preserved and restored pieces from George Vanderbilt's collection throughout this world-class mansion. Biltmore is as magnificent today as it was when it was built more than a century ago. George W. Vanderbilt created the estate in the 1890's as a grand retreat in the North Carolina mountains. This French Renaissance castle in the heart of Asheville and the Blue Ridge Mountains is an architectural jewel. The home features 250 rooms, including 35 bedrooms, 43 bathrooms and 65 fireplaces.
More nearby museums:
Dale's Wheels Through Time Museum (Maggie Valley) — This museum is home to the "world's premier collection of rare American motorcycles, memorabilia and one off American automobiles." There are more than 300 rare machines in all.
Mountain Farm Museum (Cherokee) — At the main North Carolina entrance to Great Smoky Mountains National Park, take a stroll through history at the Mountain Farm Museum. The museum is actually a collection of historic log buildings gathered from throughout the Smoky Mountains and preserved in one place.
Veteran's History Museum (Brevard) — There is no charge to see this large collection of military artifacts, uniforms, weaponry, original newspapers and personal letters. The museum honors veterans of all branches of the military but especially those of the Carolinas and north Georgia region.
American Museum of the House Cat (Dillsboro) — Cat lovers unite! See more than 5,000 cat-related items including rare antiques. Dr. Harold Sims has been building his collection for more than 30 years. Proceeds from ticket sales fund his no-kill cat shelter.
Museum of North Carolina Minerals (Spruce Pine) — The mountains north of Asheville are among the most mineral rich in the United States. Explore more than 300 varieties of minerals and gems at this National Park Service-operated museum located on the Blue Ridge Parkway.
Updated September 9, 2021