Epic Self-Care Experiences in Asheville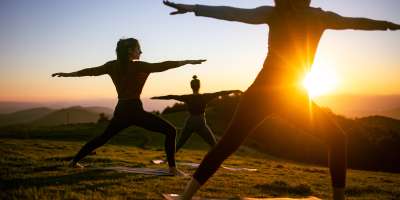 If there's anything we can all use a little more of these days, it's self-care! Simply getting away and taking a vacation can certainly fuel up your self-care tank but planning your trip with your health as a focus can make your travels even better by catering to your mind, body and spirit.
For those who are in need of a recharge, Asheville, North Carolina is a mecca for health and wellness, and offers unique self-care experiences for any type of vacation.
Take in the Healing Power of Nature
Vortex Hike with Namaste in Nature
An energy vortex is a specific geographical area which acts as a swirling center of energy favorable towards healing, meditation and self-exploration. Asheville is home to one of three vortex destinations in the United States. The Blue Ridge Mountains are built on the largest white quartz deposit in North Carolina, which is a stone known for master healing. Go on the Vortex Hike with Namaste in Nature and soak up the pure energy of the Blue Ridge Mountains through yoga, hiking and meditation.
Forest Bathing with Asheville Wellness Tours
Asheville Wellness Tours' Forest Bathing experience is a guided walk through nature which, unlike the name implies, doesn't requires actual bathing. A certified forest therapy guide leads you through a gentle forest trail in the Blue Ridge Mountains. Throughout the walk, the guide presents a series of invitations that provide you with the opportunity to stay present in the moment and deepen your connection with nature.
Nature Walk at the Biltmore Estate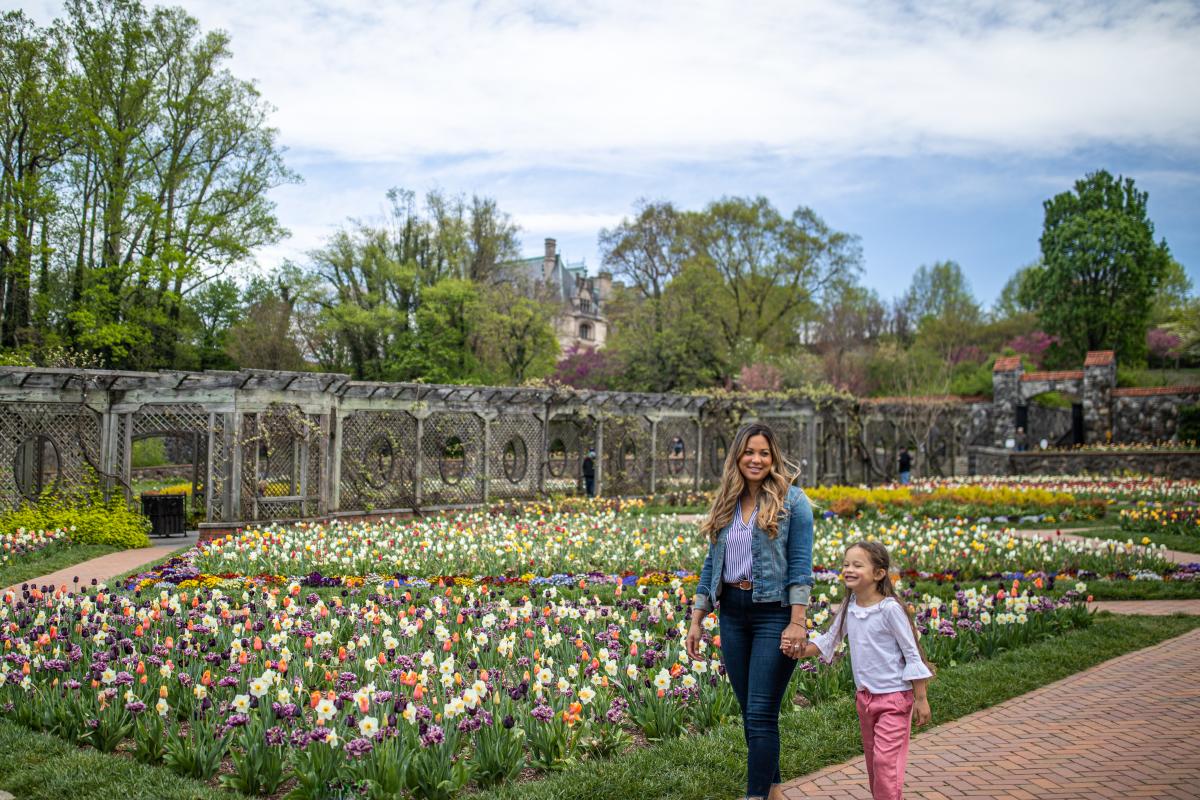 Known as America's largest private home, Biltmore is one of the most iconic attractions in Asheville. While you may not immediately associate Biltmore with self-care, the gardens and grounds are beautiful and guaranteed to make you smile. Slow down and enjoy a nature walk through acres of stunning gardens. You can also go on a walk, jog or bike through 20+ miles of trails on the estate grounds.
Elevate your Bathing Experience

Private Outdoor Salt Tubs at Shoji Spa & Retreat
About 15 minutes from Asheville, transport yourself to Japan by stepping onto the grounds of Shoji Spa & Lodge. Upon check-in you'll receive a Japanese Yukata (cotton robe) and sandals to wear as you walk through an enchanting path to your private outdoor salt tub overlooking Pisgah National Forest. You can choose to have 60, 90 or 120 minutes of hot tub bliss. Included in the Salt Hydrotherapy Tub package is access to the wet cedar sauna and open-air cold shower. Elevate your experience with tub side tea served with Japanese tea crackers.
Mini Escape at the Wake Foot Sanctuary
Take a load off at the Wake Foot Sanctuary with a choice of three different types of foot soaks while in town. Wake Foot is the perfect sanctuary for guests looking for a short retreat that offers incredible benefits, relaxation and comfort. 
Private Hammam Bathhouse at the Asheville Salt Cave
The Asheville Salt Cave Hammam is a unique spa experience rooted in ancient Turkish and Moroccan bathing traditions. In this soothing steam room, you will soften your skin, relax your muscles and exfoliate with an all-natural handcrafted soap and a traditional exfoliating glove. The purpose of a hammam is to wash away whatever is no longer serving you. Prepare to feel completely revitalized when you're done.
Pamper Yourself with a Massage

Integrative Massage at Fusion Day Spa
Fusion Day Spa is often touted as "West Asheville's best little secret" that everyone should know about. This Black-owned spa takes an integrative approach to massage, including a variety of modalities in a single session such as sound therapy, use of ayurvedic warming oil and head massage. Give your body a much-deserved refresh with a 60, 75 or 90-minute customizable massage. The spa also offers a variety of facial services.
Eat Food that Nurtures the Soul

Posana
Located in downtown Asheville in historic Pack Square, Posana's Contemporary American menu nourishes your body with local, seasonal, farm-to-table ingredients made in a 100% gluten free kitchen. Try the mouthwatering kale salad and heritage farm pork meatballs for your starters and the Sunburst Farm trout as your main course. (Pro Tip: Indulge yourself with trout during your time in Asheville because the fish is local to the area.)
A self-care trip should be all about ease, which includes where you stay. The DoubleTree by Hilton Downtown is conveniently located in downtown Asheville and is a solid launching point to your wellness activities. During your stay, visit the popular Montford Rooftop Bar for beautiful views of Asheville and delicious, seasonally-driven craft cocktails. Be sure to make reservations beforehand because walk-in space is limited.
Benne on Eagle
Located inside the Foundry hotel on the Block, Asheville's historical Black neighborhood, Benne on Eagle's delicious menu and warm ambiance honors the history of Asheville's Eagle Street and African-American culinary traditions in Appalachian and Southern Food. Try the flavorful Xawaash spiced wings as your starter and the balanced braised short rib for your main entrée.
Make Wellness a Priority
Audre Lorde said it best, "self-care is not self-indulgence, it is self-preservation." And it is through this self-preservation that we're able to continue to spread love to those around us.
Looking for more inspiration? See our full list of spas and wellness experiences, restaurants and places to stay in Asheville.
Updated December 13, 2022