Brushing Up On the Asheville Painting Scene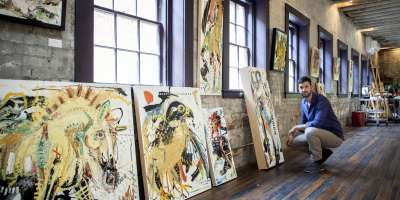 Asheville Artists Paint the Town
Visual art is everywhere in Asheville. On the sides of buildings. On the street corners. All across the undersides of bridges. In studios in the River Arts District and in the private studios of other working artists in Asheville and Black Mountain and Weaverville. With the breath-taking Blue Ridge Mountains as a blank canvas, the art scene in our region is stunningly beautiful.
This isn't by chance. Artists of all types have found this spot for over 100 years – from Biltmore to Black Mountain College -- and called it home, including an entire present-day community of painters, muralists, fresco and performance artists. Here are some of Asheville's artists making masterpieces with paints and brushes.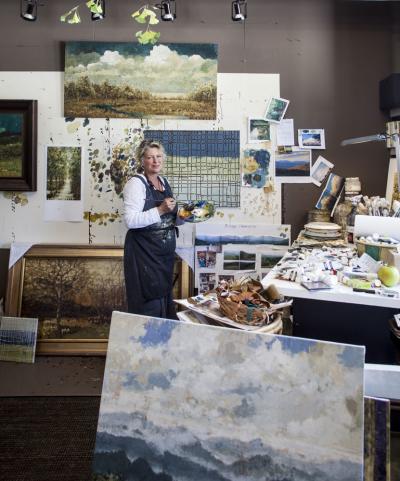 Wendy Whitson's painting is about the structure and tonality of nature, her earthy landscapes evoking the work of Cezanne. She invites you to look closely at the intricate brushstrokes of her work but promises the greatest reward is stepping away from the painting and looking at the whole. Her Northlight Studios in the River Arts District is home to many working painters, including herself.
Daniel McClendon's abstract work begins with a black and white primitive chaotic painting that is transformed by the catalyst of animal forms, shapes and energy. His work (pictured above) can be found at The Lift Studios in the River Arts District.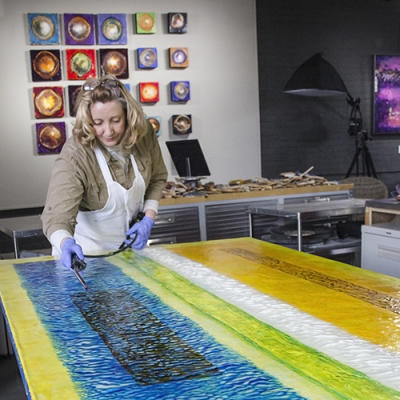 The encaustic paintings by artist Constance Williams are the result of her early work in sculptural clay hand-building and experimenting with post-fired wax finishing. Beautifully colorful with playful topography, Williams' paintings invite you to touch – something most artists would never allow. But she wants to engage the viewer in such an intimate way that there's a tactile element to the experience. Her studio at RAMP Studios South (821 Riverside Drive) features her work.
A long-time advocate for the fine arts in our region, Ben Long is a native son of North Carolina and a fine artist having studied in New York, France and Italy. The result of his experiences is a lifetime of prolific fresco painting in Europe and in the United States, including a Ben Long Fresco Trail that includes churches near his family's home place in Ashe County, N.C. as well as other locations from Crossnore to Wilkesboro to Montreat to Charlotte. Visit Montreat College's Church of the Prodigal just outside Black Mountain to see his fresco "Return of the Prodigal." His work has been exhibited all over the world and is represented in the holdings of many private collectors.
In Asheville, frescoes are translated into unique current-day mural paintings all over the city. Artists Dustin Spagnola and Gus Cutty continue to create colorful commentary on buildings, bridges, walls and overpasses. Spagnola's work is generally politically motivated and deliberate in its message, while Cutty's work often focuses on the human face and all of the messages it can convey – some famous faces and some ordinary faces. 
Photo of Constance Williams by Katie Avant.