Bird Watching Adventures in Asheville, North Carolina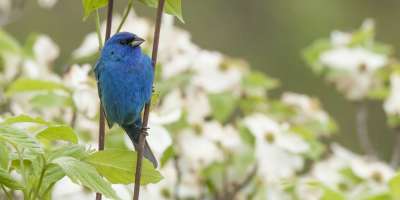 Outings to Satisfy Your Inner Bird Nerd
Flashes of red plumage in the forest canopy and a familiar song - "what-cheer, what-cheer, what-cheer" - signify the presence of a nearby Northern Cardinal. This is an easy bird to recognize, even for a novice bird watcher, but it is only one of nearly 300 bird species to call Asheville, and the surrounding Blue Ridge Mountains, home.
To sharpen your birding skills you'll need a pair of binoculars and some direction on where to look. Fortunately these mountains are filled with avian hot spots, including many points along the NC Bird Trail. Whether you're a pro bird watcher, or merely a casual observer, here are some of the best places to go birding around Asheville.
Before You Bird
Visit one of Asheville's bird enthusiast shops to load up on the proper gear. The Compleat Naturalist and Wild Birds Unlimited offer all the tools you need for a successful day of birding, including field guides, binoculars, and birdcall whistles.
The Early Bird Catches the Worm
You don't have to travel far to find birds in their natural habitat. These woodland retreats in Asheville are the best for early-morning bird watching.
6:30AM: Richmond Hill Park – Tucked away in the heart of Asheville is a park filled with 180–acres of unpaved hiking trails and vibrant colored songbirds. Take an early morning walk while the park is still quiet, and be on the lookout for the bold colors of the Indigo Bunting, the zebra-colored stripes of the Black-and-white Warbler, and the blazing red plumage of the Scarlet Tanager.
8:00 AM: Breakfast at Early Girl Eatery – Eating is not just for the birds. Stop by this North Asheville restaurant and enjoy farm-fresh and locally sourced meals. Don't miss their huevos rancheros with cheesy grits, or their southern-style breakfast "samiches."
9:00 AM: Beaver Lake Bird Sanctuary – In the northern neighborhoods of Asheville, you'll find this beautiful lakeside park at Beaver Lake attracts a wide variety of waterfowl and songbird. Get here early to see morning appearances from swallows and Chimney Swifts, swooping over the lake to feed on flying insects. Other birds commonly nesting in this area are the Yellow-throated Warbler, and Blue-gray Gnatcatcher. Bird walks are held regularly on the first Saturday of each month at 8 a.m. from April to September, and 9 a.m. from October to March.
10:00 AM: UNCA Botanical Gardens of Asheville – Over 600 species of indigenous trees and plants make this botanical garden a microcosm of the Southern Appalachian Mountains, and a refuge for a variety of birds. Along this garden's paved trail system you'll spot common species to the region such as the Northern Cardinal, Tufted Titmouse, and Carolina Chickadee, as well as migratory species like the American Redstart and Eastern Whip-poor-will.
Call of the Wild
The north-to-south orientation of the Blue Ridge Parkway provides a migratory superhighway for hundreds of species of birds. Take a midday scenic drive along this ridge-top road for a chance to spot hard-to-find species and birds of prey. If you're traveling in the winter, the Blue Ridge Parkway closes at times due to snow and ice. But, don't despair! You can park near an entrance gate and hike the Parkway for winter birding adventures!
12:00 PM: Mount Mitchell – The highest peak of the Appalachian Mountains not only offers a 360-degree panoramic view at the summit, but its alpine-spruce forests provide a nesting ground for over 90 different species of bird, including the Ruffed Grouse, Red Crossbill, and Pine Siskin.
1:30 PM: Picnic at Craggy Gardens – This popular hiking spot is inviting to many migratory species, including those more commonly found in the northeastern United States and Canada. Be on the lookout for Slate-colored Juncos, Winter Wrens, and Blackpolls as they pass through the mountains. There's a great picnic spot located here with sweeping mountain views. Before you leave town for the Parkway, be sure to stop by 67 Biltmore and pick up fresh sandwiches for the road.
4:00 PM: Devil's Courthouse – A spruce-fir forest sits atop the rugged rock face of this Appalachian mountain peak, providing nesting grounds for Peregrine Falcons, considered the fastest flying birds in the world. This is also a great place to find Northern Saw-whet Owls, Golden-crowned Kinglets, and Magnolia Warblers.
7:00 PM: Dinner at The Blackbird – An appropriate place to dine after a day of birding, The Blackbird is a downtown hotspot serving up small plates and large suppers. The menu changes seasonally and includes the best local ingredients from area farms and fresh catches from the Carolina Coast.
Just Wing It           
If you're not up for devoting an entire day to birding, why not combine it into your existing plans? Since many of Asheville's attractions are outdoors, you can easily turn your visit into a birding expedition. You'll find a beautiful mix of songbirds while strolling the 434-acre NC Arboretum, or while exploring Chimney Rock Park, which is home to over 130+ species of birds. The Biltmore also offers a lot of birding opportunities as the estate's lagoon and bass pond was designed to provide safe nesting ground for various waterfowl and other birds. Happy birding!
Updated April 14, 2023