Asheville's 100 Cant-Miss Vegetarian Dishes from Non-Vegetarian Restaurants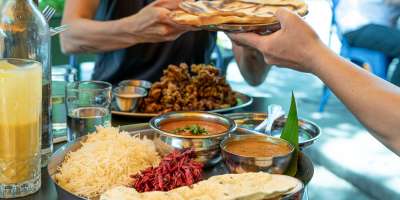 Asheville is home to some of the best vegetarian and vegan restaurants in the country, from fine dining at Plant to down home vegan soul food at Rosetta's Kitchen. But if you're the lone vegetarian in your travel party, never fear! There are literally hundreds of incredible veggie offerings at local restaurants that also serve meat on their menus.  
Don't believe us? Check out 100 options below of incredible cant-miss veg dishes from 80+ omnivore eateries in Asheville.
Jibara Arepa – Little Changos
Black Bean Burger – Pack's Tavern
Matchstick Okra Fires – Chai Pani
Green Mango Chaat – Chai Pani
Aloo Tiki Chaat – Chai Pani
Three Cheese Chile Relleno – Limones
Pimento Grilled Cheese - Tupelo Honey Café
Mountain Blueberry Buttermilk Waffle - Tupelo Honey Café
Avocado Toast & Eggs - Tupelo Honey Café
Eggplant Parmigiana - Vinnie's Italian
Ricotta Gnocchi - Posana
Panisse  - Posana
Vegetable Moroccan Cous Cous – Jerusalem Garden Café
Eggplant Moussaka – Jerusalem Garden Café
Beet Ricotta Ravioli – Chestnut
Vegan Lentil Enchiladas – Chestnut
Crispy Baba Falafels – Baba Nahm
Home Style Tofu Stir Fry – Red Ginger Dimsum & Tapas
Mediterranean Flatbread – Melting Pot Social
Mushroom Bolognese – Isa's Bistro
Vegan Lasagna – Strada
Panela Tacos – Taco Temple
La Ensalada – Taco Temple
The Mal-Cheese Falcon – Battery Park Book Exchange
Grilled Cauliflower – Benne on Eagle
Veggie Salapaos – Bun Intended 
Lentil Enchiladas – Chestnut 
Breakfast Scramble – Citizen Vinyl
Curry Buddha Bowl – The Funkatorium
Traditional Soba – High Climate Tea Company
Punjabi Chole – Mela
Tempeh Hoagie – Mellow Mushroom
Vegan Ceviche – Mikasa Criolla
Chimichanga – Mountain Madre
Basil Eggplant – Noodle Shop
Qing Gang Gal – Noodle Shop
Veggie Ramen – Ukiah
Saag Aloo – Mehfil
Veggie & Goat Sandwich – City Bakery
The Buddha Bowl  – All Day Darling
Spring Vegetable Green Curry – Corner Kitchen
Open Faced Portobello Melt – Corner Kitchen
AsheVegas Burrito & Quesadilla – The Cantina
Super Food Salad – Village Wayside
Grilled Cheese  – Fig Bistro
Stuffed Zucchini – Fig Bistro
Shakshuka – Red Stag Grill 
Kale Salad  – Hillman Brewing
Gobi Aloo Mutter – Andaaz 

Orecchiette  – Leo's House of Thirst
Gnocchi Alla Romano – The Admiral
Pierogi w/ Sour Cream & Chive – Little Louie's
Louie Fries w/ Pesto/ Saucy Fried Broccoli & Cauliflower – Little Louie's
Build Your Own Black Bean Burger – Universal Joint
Organic Tofu Scramble Breakfast – Early Girl Eatery
Organic Heirloom Grit Cake Stack – Early Girl Eatery
Huevos Fucheros – Sunny Point Café
Chicken Fried Tofu Sandwich – Sunny Point Café
Vegetable Ramen – Gan Shan West
Roasted Beets & Cauliflower Pizza – Pizza Mind
Fried Mushroom Hoagie – The Golden Pineapple
Fried "Not Chick" Breaded Cutlets - Rocky's Hot Chicken Shack
Vegan Scramble – Tastee Diner
Crispy Tofu w/ Sweet Chili Sauce – Thai Pearl
Stracciatella Sandwich – Golden Pineapple
Darn Good Reuben w/ Smiling Hara Tempeh – Westville Pub
Jamaican Me Thirsty – Nine Mile
More Fyah!  – Nine Mile
Good Lovin' Taco – Taco Billy
Avocado Tempeh Melt – W.A.L.K
Tofu Poke – Haywood Common
Tofu Bahn Mi – Haywood Common
Chickpea and Sweet Potato Tagine – Jargon
Black Bean Wrap, Black Bean Nachos or Veggie Wrap – Desoto Longue
Buffalo Cauliflower Sandwich – Asheville Sandwich Company
Tempura Avocado – Tacos Taco Boy
Biscuits & Veggie Sausage Gravy – Biscuit Head
Red Beans and Rice with seasonal veggies – Oyster House Brewing Company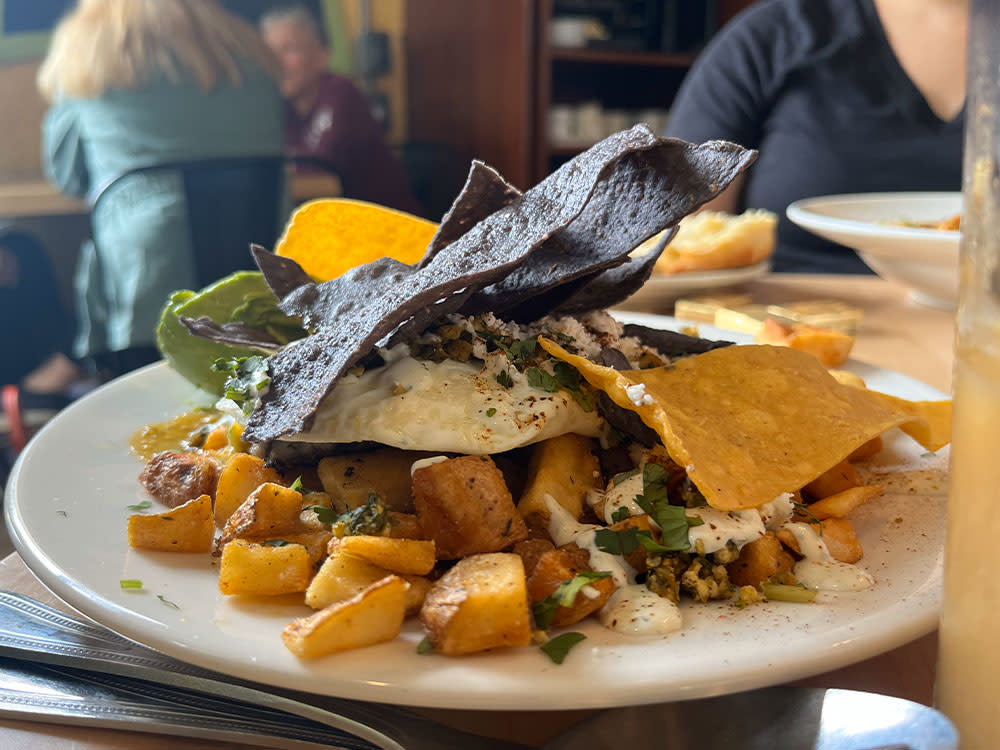 Omelette Montagarde – The Bull & Beggar
A-Maize-Ing Batata – Grey Eagle Taqueria
Vada Pav Burger – Baby Bull
Bahn Mi Tofu Taco – White Duck Taco Shop
Local Mushroom Pasta – Smoky Park Supper Club
Pad Thai – Little Bee Thai
Mushroom, Arugula, Greek or Greens Pizza – All Souls Pizza
Tofu Belly Bowl – Rosabee's
Sweet Potato Burrito – Grey Eagle
Bagel with Tempeh Bacon / Vegan Jalapeno Cream Cheese – Ultra Coffeebar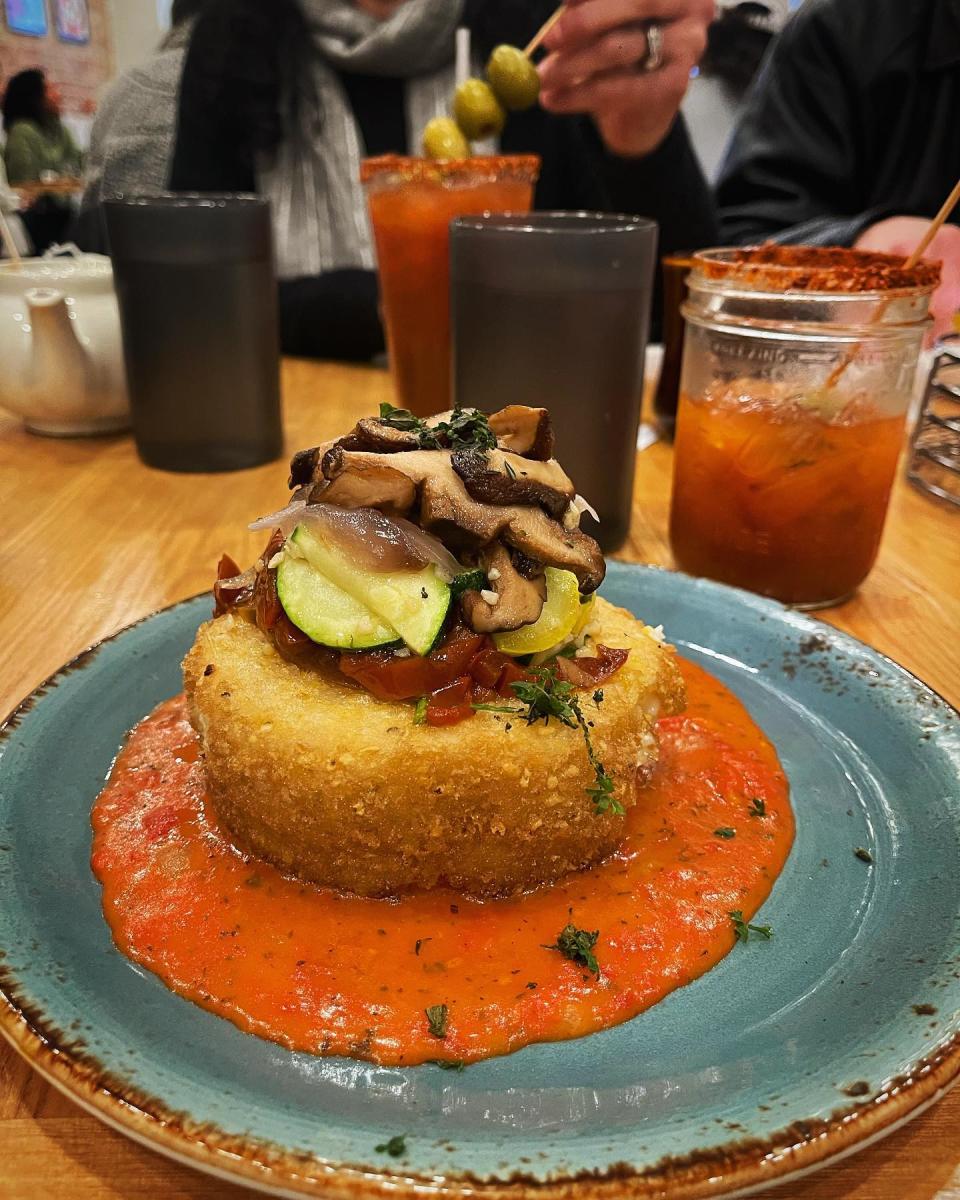 Additional Veggie Offerings
 "Pulled" Jackfruit Veg-e-cue sandwich – Black Bear BBQ
Mushroom Tamal – Cecilia's Kitchen
Ratatouille Crepe – Cecilia's Kitchen
Bahn Mi – Goldfinch
Huevos Rancheros – Abejas House Café
Pura Vida Bowl – Abejas House Café
Pennette w/ Ratatouille & House Made Smoked Mozzarella – Glass Onion in Weaverville
Southern Pimento Melt – Stoney Knob Café in Weaverville
Zeoli Ravioli – Blue Mountain Pizza in Weaverville
Vegetable Pita and White Pizza – Bellagio Bistro in Woodfin
La Forestiere – La Guinguette in Black Mountain
Espinaca Empanada – La Guinguette in Black Mountain
Veggie Haven
For those looking for an all vegetarian or vegan menu, we've also got you covered. Below are some of our favorite dishes from Asheville's premier plant-based restaurants. 
Updated July 6, 2023