Asheville Corpse Crawl: Haunted History & Spooky Spots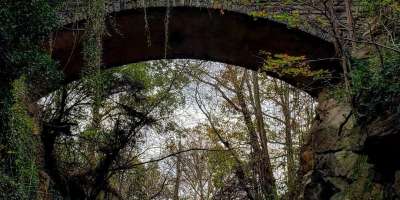 Spooky season is upon us here in Asheville, North Carolina. Fall leaves are hitting the rich earth of the Blue Ridge Mountains and heralding the the turning of the season from summer to autumn, and one of the best parts of autumn, in our opinion, is Halloween. Experience thrills and chills with a turn creepy crawl through our historic cemetery, haunted spots and eerie (but iconic) stories of our city's past.  
Asheville is home to the Blue Ridge Mountains and an incredible food and arts scene, but it's also the final resting place for some fairly notable names, all of whom are located in one of Asheville's spookier spots -- Riverside Cemetery. 
Thomas Wolfe | Famed American novelist Thomas Wolfe was buried in Riverside Cemetery after his death in 1938. His gravesite, next to his parents, is often adorned with pens and pencils and the occasional letter. According to The Citizen Times, Wolfe, who wrote Look Homeward, Angel, was an inspiration for a host of famous literary artists, such as Ray Bradbury and Jack Kerouac. 
O. Henry | Another famous writer, William Sydney Porter, calls Riverside Cemetery his final resting place. Porter, better known as O. Henry, was well-known for his short stories, chief among them "The Gift of the Magi." Porter died in 1910. 
Lillian Exum Clement | The first woman to be elected to the North Carolina General Assembly is buried at Riverside. Lillian Exum Clement was only 26 when she won in 1920. 
Top 10 Haunted Spots in Asheville
1. Helen's Bridge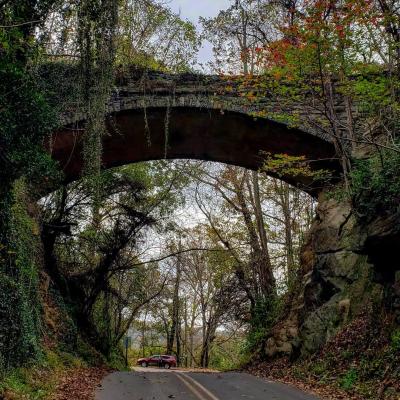 The pleasing aesthetic of an Asheville bridge obscures its spooky history. Helen's Bridge, constructed in 1909 to give access to the nearby Zealandia Mansion, is also the site of a disturbing suicide. According to local legends, a woman named Helen lived near the mansion with her daughter before the daughter passed away in a devastating fire. Distraught over her child's death, Helen reportedly hung herself from the bridge, and her ghost is said to appear when her name is called. 
Known to many as Asheville's first skyscraper, the Jackson Building is an architectural marvel of its time. Built in 1924, it was the tallest building in all of North Carolina and oversaw plenty of events in its time, including the stock market crash and subsequent Great Depression. Due to its significance, many local and regional businessmen were housed in the Jackson Building, some of whom were there to see the market crash and are said to have committed suicide over their financial situations. 
3. The Haunting of the Battery Park Hotel
Another architectural gem of downtown Asheville, the Battery Park Hotel, originally constructed in 1886 on the site of an old civil war battery, was once the prime spot for vacationing in the city. It saw plenty of high profile visitors, including members of the Rockefeller family and even George Vanderbilt. While it was once a hot spot for famous temporary tenants, it's also where one of Asheville's most infamous murders took place. Helen Clevenger was just 19 when she stayed at the Battery Park Hotel in 1936 with her uncle and was murdered. Investigators identified a suspect who was later executed, but some believe the wrong person was accused and that Helen's killer was allowed to roam free. It's believed that Helen haunts the hotel looking for answers into her own death.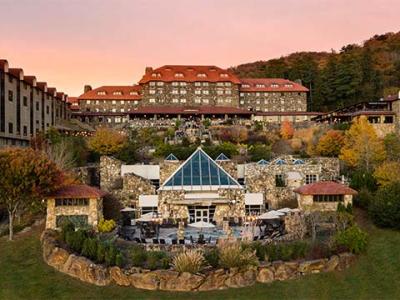 4. The Pink Lady at the Omni Grove Park Inn
Built in 1913 at the behest of the same mind behind the Grove Arcade, Omni Park Grove Inn has become an iconic staple of Asheville lodging, relaxation and food. It has been visited by many former presidents, including Barack Obama and George H. W. Bush, and has been featured in a Cormac McCarthy novel. It's safe to say the Omni Grove has a storied history, but some of it has a hint of a haunting from a woman who fell to her death shortly after the inn was built in the 1920s. Not much is known about her, but some witnesses said they spotted a woman shrouded in a pink mist, hence the name. 
5. Highland Hospital 
The main building of the Highland Hospital is no longer standing, but rumors remain. Founded in 1904 as a mental institution, Highland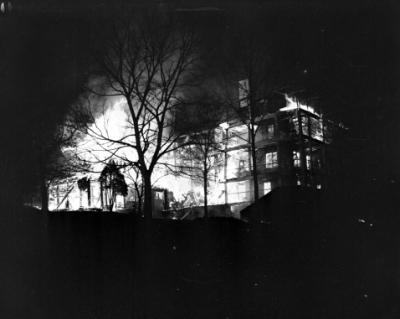 Hospital had a reputation for catering to a wealthy clientele, including Zelda Fitzgerald, wife of famed author F. Scott Fitzgerald. According to the UNC Asheville Special Collections and University Archives, "the hospital aimed to achieve 'brain health' in patients through a combination of diet, exercise, and revolutionary treatments, including electroshock, insulin, and horse serum injections." In 1948, Zelda Fitzgerald and several other women were killed in a fire at the hospital which, according to the North Carolina Department of Natural and Cultural Resources, began in the kitchen and spread to the other hospital floors via a dumbwaiter. 
In an obscure neighborhood of North Asheville lies Riverside Cemetery. This cemetery was the location for one of the country's last Civil War battles and has turned into the final resting place for some notable historical figures, including those listed above. Reports say visitors have heard gunshots, cannon fire and even spotted Confederate soldiers marching around. 
Every season, visitors from all over the country flock to Biltmore, America's largest private home to experience the Estate's grand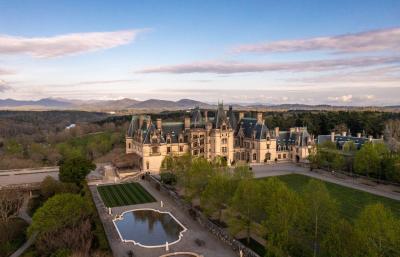 architecture, elaborate grounds and winery. Built in 1895, the former owners George and Edith Vanderbilt are said to haunt their house. Visitors say they can sometimes hear Edith calling for her husband in the Biltmore Library, and guests have also claimed to hear laughter coming from the home's indoor pool. 
8. Craggy Prison
Built in 1924 in the Woodfin neighborhood of Asheville, Craggy Prison earned its name for its location to the nearby Craggy Bridge. According to Asheville Terrors, most inmates were not convicted of particularly heinous crimes, and the prison was shut down in 1989 after the state constructed a new facility. Though it has been more than 40 years since it had a living tenant, some say the grounds remain haunted, and the dilapidated structure still remain although the facility is closed to the public and trespassing is strictly prohibited.
9. The Forestry Compound
Located not too far from Biltmore lies the next spooky site on our list. The Forestry Compound, also known as the Shiloh Forestry Compound, was built in 1898 and was the original site of the Biltmore forestry school before its abandonment in 1913. After its abandonment, one of the buildings on the compound developed a rather colorful reputation as "The Whorehouse," where various men met up with sex workers. According to local legend, it's said that one of the women was murdered by a client, and her spirit is said to haunt the compound along with other victims who were allegedly hanged on the property. Witnesses have reported seeing lights turning themselves off and on in random windows and reported a very cold atmosphere inside the building, despite high temperatures outside.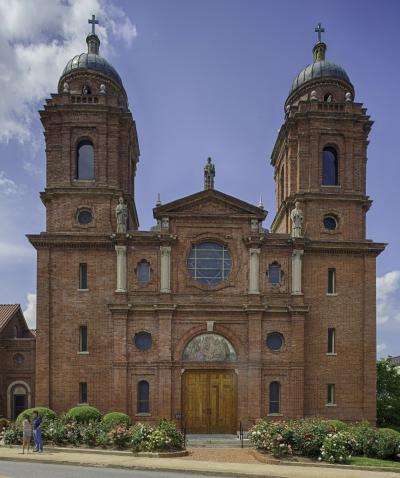 One visitor alleged that they saw a noose hanging from a rafter in the building, and another said they saw a downstairs toilet full of blood. Please note, this building is closed to the public and trespassing is strictly prohibited.
10. Basilica of St. Lawrence 
One of Asheville's most recognizable landmarks, the Basilica of St. Lawrence, has long been a place of worship for Asheville residents, living and not. Designed by a Spanish architect who died before the building was completed and was interred within the basilica's walls, the building was finished in 1905 and was elevated to basilica status by the Pope in 1993. Visitors to the basilica have reported cold spots in the building and have even alleged to have seen the architect himself, along with a priest who died in the church, as well as the architect's wife and child.
Updated October 12, 2023