2022 Winter Events in Asheville, NC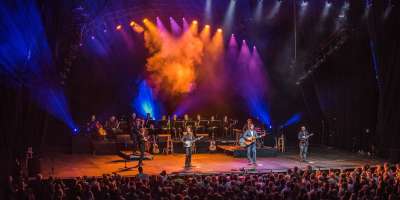 With rich culture and a booming music scene, Asheville is one of the best places to go in the winter months for entertainment. The local stages heat up at this time of the year as many big-name, award-winning acts return home to the mountains and perform at Asheville music venues. If you're looking for things to do in Asheville this winter, or ideas for cozy getaways, take a look at our guide below. From bluegrass to comedy, musicals to concerts, Asheville is ready to put on a show.  
2022 Asheville Winter Festivals and Events
January 18-24, 2022
Multiple Restaurants
Enjoy the award-winning Asheville dining scene thanks to special menus at special prices during Asheville Restaurant Week. More than 30 of Asheville's independent restaurants are participating, giving the you the chance to taste a wide variety of cuisines from many of the city's favorite eateries.
January 27-30, 2022
Multiple Venues & Virtual
The multiple-venue performing arts festival provides a stage for emerging artists and acts. All the work is either new to Asheville, or a premiere, created just for the Asheville Fringe. This year's festival will be a hybrid of in-person and online shows.
Biltmore: Legends of Art & Innovation
January - March 2022
Biltmore
Immerse yourself in a new exhibition series, Legends of Art & Innovation at Biltmore. The exhibit is a large-scale, multi-sensory experiences using the very latest in immersive technology to illuminate the remarkable lives of some of the world's most legendary artists. The life of Van Gogh and his inspirational work are on display through March 5. Following that will be the life and work of Monet, and that exhibit begins March 9 and runs through July 10, 2022.
February 2-5 & 11-12, 2022
Omni Grove Park Inn
The annual Winter Concert Series returns this year, featuring activities and concerts wrapped up in themed weekend packages that include tickets, accommodations, breakfast each morning and more. Here's what's planned for 2022.
Big Band Dance Weekend (February 4-5, 2022)
Rock N Roll Weekend (February 11-12, 2022)
February 18-20, 2022
Crowne Plaza Resort
Enjoy a weekend of toe-tapping bluegrass music played by nationally-known and regional performers.
February 19, 2022
WNC Agricultural Center
Celebrate age-old traditions at the Asheville Celtic Fest, a new family-friendly indoor event. The festival features food, drink, music, dress, craft and athleticism of the Celtic heritage.
February 26, 2022
Black Mountain
This annual race begins at dawn in Black Mountain and follows trails to the summit of Mt. Mitchell, which at 6,684' is the highest peak east of the Mississippi. You can choose to run only the 26.2 marathon portion, but if you have what it takes then you can continue on to run the ultra for a total of 40 miles to reach the tiptop of the Blue Ridge Mountains.
February 27, 2022
South Slope – Downtown Asheville
Asheville sure knows how to throw a street party! Experience this family-friendly parade and Queen's ball showcasing an array of colorful characters and performers. 
March 3-7, 2022
Harrah's Cherokee Center - Asheville
­­­The road to the NCAA Final Four starts in Asheville! Don't miss this opportunity to see some of the nation's best conference tournament action. The 2022 Championships will also include fun fan events for people of all ages throughout the tournament.
March 18-20, 2022
Mars Hill University
This annual event is designed for healthy eaters, home growers and farmers. The conference, held at nearby Mars Hill University, offers practical workshops on organic growing, permaculture, homesteading, urban farming and rural living. Plus enjoy a trade show, seed exchange, silence auctions and special guests.
Asheville Marathon & Half Marathon
March 19-20, 2022
Biltmore
Explore the sprawling estate of Biltmore during this boutique marathon and half. During the race you'll pass the Biltmore house, gardens, vineyards, and you'll run along the rustic banks of the French Broad River.
2022 Winter Entertainment Calendar
See our Asheville events calendar for a full list of upcoming shows and performances. Here are a few highlights:
January 1: Karl Denson's Tiny Universe at Salvage Station, 8 p.m.
January 11-12: Jason Isbell and the 400 Unit at Harrah's Cherokee Center – Asheville, 8 p.m.
January 22:  The World of Musicals at Wortham Center for the Performing Arts, 2 p.m. & 8 p.m.
January 25: ALT ASO (Asheville Symphony Orchestra) at Highland Brewing, 7 p.m.
February 3:  Fortune Feimster: 2 Sweet 2 Salty Tour at Harrah's Cherokee Center – Asheville, 8 p.m.
February 4: Aquila Theatre in F. Scott Fitzgerald's The Great Gatsby at The Wortham Center for the Performing Arts, 8 p.m.
February 17-18: PHILADANCO! The Philadelphia Dance Company at The Wortham Center for the Performing Arts, 8 p.m.
February 18 – March 13: Fight Girl Battle World at Asheville Community Theatre, Fridays and Saturdays at 7:30 p.m.; Sundays at 2:30 p.m.
February 12: Asheville Symphony Orchestra presents Masterworks 2: Roaring Rhapsody at Thomas Wolfe Auditorium, 8 p.m.
February 24-25: The Peking Acrobats at The Wortham Center for the Performing Arts, 8 p.m.
March 3: Lyle Lovett and His Acoustic Group at The Orange Peel, 8 p.m.
March 6: Danú at The Wortham Center for the Performing Arts, 7 p.m.
March 16: An Intimate Evening with Graham Nash at Diana Wortham Theatre, 7:30 p.m.
March 19: Asheville Symphony Orchestra presents Masterworks 3: Folklore Fantasy at Thomas Wolfe Auditorium, 8 p.m.
March 23: An Evening with Keith Harkin at Isis Restaurant and Music Hall, 8:30 p.m.
March 23: Who's Live Anyway? (Improv Comedy) at Harrah's Cherokee Center – Asheville, 7:30 p.m.
March 31: Harlem Globetrotters at Harrah's Cherokee Center – Asheville, 7 p.m.
Winter Art Exhibits
The Wyeths: Three Generations | Works from the Bank of America Collection
February 12 – May 30, 2022
Asheville Art Museum
Make plans to see a comprehensive survey of works by N. C. Wyeth, one of America's finest illustrators; his son, Andrew, an important realist painter; his eldest daughter, Henriette, a realist painter; and Andrew's son Jamie, a popular portraitist. Through the works of these artists from three generations of the Wyeth family, themes of American history, artistic techniques, and creative achievements can be explored.
January 8, February, 12 and March 12, 2022
River Arts District
The Studio Stroll offers a unique opportunity to tour numerous studios and galleries belonging to Asheville's most celebrated artists. Not only can you meet the artists, but you can also get a behind-the-scenes look at how they make their art.
Here are some other great exhibits you'll want to see while in Asheville this winter.
Updated January 6, 2022