Music and theater are your ticket to winter fun in Asheville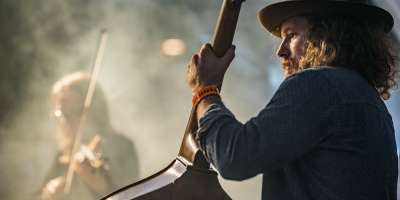 With rich culture and a booming music scene, Asheville is one of the best places to go in the winter months for entertainment. The local stages heat up at this time of the year as many big-name, award-winning acts return home to the mountains and perform at Asheville music venues. If you're looking for things to do in Asheville this winter, or ideas for cozy weekend getaways, take a look at our guide below. From bluegrass to Mozart, musicals to soul parties, Asheville is ready to put on a show.  
Winter Festivals
Omni Grove Park Inn Concert Series (January and February) – A trio of events at Omni Grove Park Inn, highlighted by award-winning musical and comedy talent, make up the highly-anticipated winter entertainment series. The 27th annual event features activities and concerts wrapped up in themed weekend packages that include tickets, accommodations, breakfast each morning and more.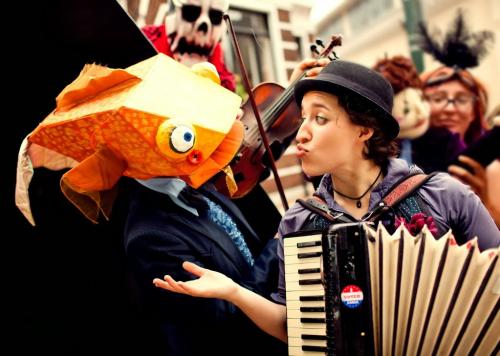 Fringe Arts Festival (Jan. 26-27, Asheville) – The multiple-venue performing arts festival provides a stage for emerging artists and acts. All the work is either new to Asheville, or a premiere, created just for the Asheville Fringe.
Bluegrass First Class (Feb. 17-19, Crowne Plaza Resort) – In an intimate, up-close setting, experience bluegrass sounds played by musicians including nationally-known performers.
Asheville Amadeus Festival (Mar. 11-19, Thomas Wolfe Auditorium) – For the music fan with a classical taste, this 10-day festival hosted by the Asheville Symphony Orchestra is inspired by the music and life of Wolfgang Amadeus Mozart. Midori headlines the event.
Theater
The Musical of Musicals: The Musical! (Jan. 6-22, Asheville Community Theatre's 35Below)  –  Enjoy this five-act satire about a young woman unable to pay rent to her evil landlord. Each act is performed in the style of a different famous composer.
Jeeves in Bloom (Jan. 25-Feb. 26, NC Stage Theatre) – Tickle your funny bone with this British comedy in which the hapless Bertie and faithful valet Jeeves pay a visit to the countryside and mayhem ensues.
Almost, Maine (Feb. 3-19, Asheville Community Theatre's 35Below) – In the mythical town of Almost, Maine, residents find themselves falling in and out of love in unexpected and hilarious ways.
Songs for a New World (Mar. 3-19, Asheville Community Theatre's 35Below) – The musical from Tony Award winner Jason Robert Brown features a moving collection of powerful songs that examine life, love and choices made.
Local/Regional Music
2nd Annual Mountain Soul Party (Jan. 13, Isis Music Hall) – The Mountain Soul Party brings elements of soul, funk, hip hop and R&B together with some of Asheville's finest local musicians, including LYRIC.
Steep Canyon Rangers (Jan. 20-22, Orange Peel) – GRAMMY Award-winning bluegrass band Steep Canyon Rangers of Asheville unveils its highly-anticipated ninth studio album. The album was produced by 14-time Grammy winner Jerry Douglas and recorded at Asheville's Echo Mountain Recording Studio. On the first two nights of performances, Steep Canyon Rangers will be joined by International Bluegrass Hall of Famer Del McCoury.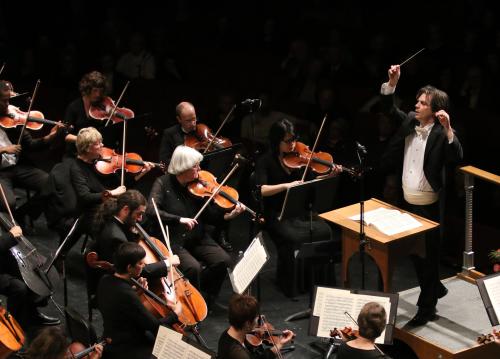 8th Annual Django Reinhardt Birthday Celebration (Jan. 21, Grey Eagle) – Local/regional acts, including Frank Vignola and Vinny Raniolo, put on a concert to celebrate the late, great gypsy jazz guitarist Django Reinhardt.
Music from Fantasia (Feb. 11, Asheville Symphony Orchestra) – Disney comes to life as the Asheville Symphony Orchestra performs classical works from Fantasia and Fantasia 2000 by Shostakovich and Stravinsky.
National Music Acts in Asheville
Headliners at the Orange Peel - Asheville's growing music scene continues to draw big name talent including Lauryn Hill. The GRAMMY-winning hip hop icon's Feb. 11 show at Orange Peel has already sold out, but there are more headliners to catch at the Peel this season:
Ben Folds and a Piano (Feb. 28) – A major music influencer known for fronting the band Ben Folds Five, North Carolina-born Ben Folds has spent over a decade sharing the stage with some of the world's greatest symphony orchestras. He also served as a judge for five seasons of the popular NBC a cappella series "The Sing Off."
Jimmy Eat World (Mar. 5) – The members of this multi-platinum rock band are fresh off recording their ninth full-length album.
Young the Giant (Mar. 7) – In support of their latest release, "Home of the Strange," this indie rock band on the "Fueled by Ramen" label makes a stop in Asheville as part of its national tour.
Umphrey's McGee Blue Ridge Rockway (Feb. 17-19, ExploreAsheville.com Arena/Orange Peel) – Umphrey's McGee, a nationally touring jam band with nearly 20 years of performances and nine studio albums under its belt, headlines the three-night event.
Ladysmith Black Mambazo (Feb. 27-28, Diana Wortham Theatre) – The Four-time GRAMMY Award-winning band brings South Africa's rich musical traditions to life with vocal harmonies, signature dance moves, and charming banter.
Black Violin (Mar. 25, Diana Wortham Theatre) – Classically-trained virtuoso violinists Kev Marcus and Wil B meld classical, jazz, blues, R&B and Hip Hop together in this rousing show.
January 4, 2017