2023 Winter Events in Asheville, NC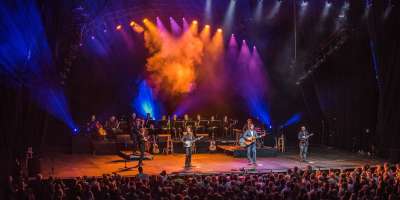 With an independent spirit, vibrant culture and a booming music scene, Asheville is one of the best places to go in the winter months for entertainment. If you're looking for things to do in Asheville this winter take a look at our guide below. From bluegrass to comedy, musicals to concerts, Asheville is ready to put on a show this winter season.
2023 Asheville Winter Festivals and Events
New Year's Resolution Run 5K and 10K
January 1, 2023
Downtown Asheville
The 9th annual Resolution Run 5K and 10K races through the streets of downtown Asheville on New Year's Day. This race welcomes families and participants of all ages to come run or crawl their way to completing their FIRST New Year's Resolution! Bring warm layers of clothes, tie up your running shoes, and get ready to run into 2023.
Biltmore: Leonardo da Vinci 500 Years of Genius
through February 20, 2023
Biltmore
Leonardo da Vinci's brilliance and many extraordinary achievements are brought to life in Leonardo da Vinci – 500 Years of Genius, the world's most comprehensive and thrilling Leonardo da Vinci experience. This experience is hosted in Amherst at Deerpark, Biltmore's exhibition space on the grounds of the estate.
January 13-24, February 10-11 & March 3-4
Omni Grove Park Inn
The annual Winter Concert Series returns this year featuring activities and concerts wrapped up in themed weekend packages that include tickets, accommodations, breakfast each morning and more. New this year, Grove Park will feature a new theme - Pop Legends Weekend - showcasing the transcendent sounds of DANCING DREAM: The Tribute to ABBA and Who's Bad, The Ultimate Michael Jackson Experience.
Pop Legends Weekend (January 13-14, 2023)
Rock N Roll Weekend (February 10-11, 2023)
Comedy Classic Weekend (March 3-4, 2023)
January 17-23, 2023
Multiple Restaurants
Savor in Asheville's award-winning dining scene during Asheville Restaurant Week. Dozens of Asheville's independent restaurants participate by offering a specialty menu and/or special prices, giving you the chance to taste a wide variety of cuisines from many of the city's favorite eateries.
February 17-19, 2023
Crowne Plaza Resort
Enjoy a weekend of toe-tapping bluegrass music played by nationally-known and regional performers.
February 18, 2023
WNC Agricultural Center
Celebrate age-old traditions at the Asheville Celtic Fest, a winter indoor and outdoor festival that brings the Celtic Spirit of the Seven Nations to the Blue Ridge Mountains. The festival features food, drink, music, dress, craft and athleticism of the Celtic heritage.
February 19, 2023
South Slope – Downtown Asheville
Asheville sure knows how to throw a street party! Experience this family-friendly parade and Queen's ball showcasing an array of colorful characters and performers. 
February 25, 2023
Black Mountain
This annual race begins at dawn in Black Mountain and follows trails to the summit of Mt. Mitchell, which at 6,684' is the highest peak east of the Mississippi. You can choose to run only the 26.2 marathon portion, but if you have what it takes then you can continue on to run the ultra for a total of 40 miles to reach the tiptop of the Blue Ridge Mountains.
March 2-6, 2023
Harrah's Cherokee Center - Asheville
­­­The road to the NCAA Final Four starts in Asheville! Don't miss this opportunity to see some of the nation's best conference tournament action. The 2023 Championships will also include fun fan events for people of all ages throughout the tournament.
Zelda Fitzgerald Week
March 6-11, 2023
Aurora Studio & Gallery, Inc & downtown Ashevile
Zelda Fitzgerald Week will be celebrating its eighth season, with events happening around Asheville. Enjoy book readings, panels and a special tarot reading. 
March 9, 2023
AB Tech-Mission Health Conference Center
The Asheville Independent Restaurant (AIR) association will celebrate its 20th birthday by highlighting Asheville's nationally-known Foodtopia food culture. As part of the event, nearly 60 Asheville-area independent restaurants will provide food and beverage tastings. Live music will be performed by the Firecracker Jazz Band and the event will also have a new silent auction. 
 
Asheville Wine & Chocolate Festival
March 11, 2023
Harrah's Cherokee Center - Asheville
This festival features numerous regional wine and chocolate vendors, as well as other local businesses offering clothing, jewelry and more. The festival will be split into two sessions: an early session from 1 to 4 p.m., and a later session from 5 to 8 p.m. All wine lover tickets include an etched wine glass and unlimited samples during the session. Discounted tickets are available for designated driver tickets and include a water at entry and a wine glass at exit.
Asheville Marathon & Half
March 18, 2023
River Arts District Greenway
This annual race is changing locations for 2023 and will be held in downtown Asheville and the amazing River Arts District greenway. The race begins in the heart of downtown Asheville in Pack Square Park. Runners will then weave their way down to the French Broad River where they will explore the River Arts District's amazing greenway system.
March 19 - 26, 2023
Multiple Venues
The multiple-venue performing arts festival provides a stage for emerging artists and acts. All the work is either new to Asheville, or a premiere, created just for the Asheville Fringe.
2023 Asheville Winter Concerts & Performing Arts Calendar
See our Asheville events calendar for a full list of upcoming shows and performances. Here are a few highlights:
Winter Art Exhibits
Sherrill Roland: Sugar, Water, Lemon Squeeze
through March 20, 2023
Asheville Art Museum
Asheville-born and Raleigh-Durham-based interdisciplinary artist Sherrill Roland's socially driven practice draws upon his experience with wrongful incarceration for a crime he did not commit and seeks to open conversations about how we care for our communities and one another with compassion and understanding. Through sculpture, installation, and conceptual art, Roland engages visitors in dialogues around community, social contract, identity, biases, and other deeply human experiences. Comprised of artwork created from 2016 to the present, Sherrill Roland: Sugar, Water, Lemon Squeeze reflects on making something from nothing, lemonade from lemons, the best of a situation.
January 14, February 11 and March 11, 2023
River Arts District
The Studio Stroll offers a unique opportunity to tour numerous studios and galleries belonging to Asheville's most celebrated artists. Not only can you meet the artists, but you can also get a behind-the-scenes look at how they make their art.
Here are some other great exhibits you'll want to see while in Asheville this winter.
Updated February 22, 2023