2020 Winter Events in Asheville, NC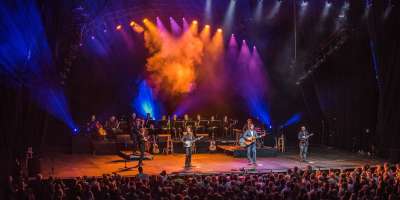 With rich culture and a booming music scene, Asheville is one of the best places to go in the winter months for entertainment. The local stages heat up at this time of the year as many big-name, award-winning acts return home to the mountains and perform at Asheville music venues. If you're looking for things to do in Asheville this winter, or ideas for cozy weekend getaways, take a look at our guide below. From bluegrass to Beethoven, musicals to concerts, Asheville is ready to put on a show.  
2020 Asheville Winter Festivals and Events
Asheville Restaurant Week (January 21-26, 2020) – Enjoy the award-winning Asheville dining scene thanks to special menus at special prices during Asheville Restaurant Week. Nearly 40 of Asheville's independent restaurants participating, giving the you the chance to taste a wide variety of cuisines from many of the city's favorite eateries.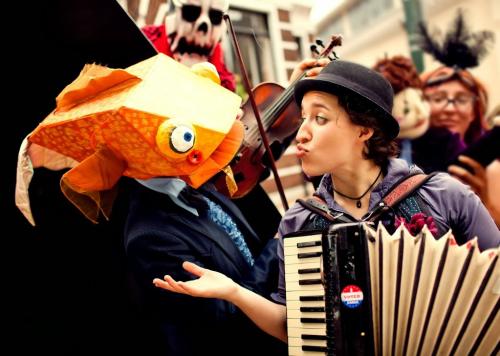 Fringe Arts Festival (January 19-26, 2020) – The multiple-venue performing arts festival provides a stage for emerging artists and acts. All the work is either new to Asheville, or a premiere, created just for the Asheville Fringe.
Downton Abbey: The Exhibition at Biltmore (November 8, 2019 - April 7, 2020) – Walk through the most recognizable sets from Downton Abbey, see more than 50 costumes worn by the actors and discover never-before-seen artifacts and multimedia elements. Showcased across two locations at Biltmore Estate (Amherst and Legacy), the exhibition gives you the chance to step inside the world of the global television phenomenon. The experience is highly immersive, including a video room where the characters seemingly come alive around you. In the kitchen, you may even notice the aroma of what would have been cooking on the stove. In addition to highlighting the series, the exhibition also provides a fascinating look at the post-Edwardian era in which Downton Abbey was set. See our video tour of the Downton Abbey exhibition at Biltmore for a sneak peek! 
Omni Grove Park Inn Concert Series (January and February) – Events at Omni Grove Park Inn, highlighted by award-winning musical and comedy talent, make up the Winter Concert Series. The annual event features activities and concerts wrapped up in themed weekend packages that include tickets, accommodations, breakfast each morning and more.
Big Band Dance Weekend (January 10-12, 2020)
Comedy Classic Weekend (February 8, 2020)
Asheville Celtic Fest (February 15, 2020) – Celebrate age-old traditions at the inaugural Asheville Celtic Fest, a new family-friendly indoor event. The festival features food, drink, music, dress, craft and athleticism of the Celtic heritage. The festival will take place at the WNC Agricultural Center.
Bluegrass First Class (February 21-23, 2020, Crowne Plaza Resort) – In an intimate, up-close setting, experience bluegrass sounds played by musicians including nationally-known performers.
Asheville Mardis Gras Parade (February 23, 2020) – Asheville sure knows how to party! Experience this family-friendly that's sure to showcase an array of colorful characters and performers.  
Brew Horizons Beer Fest (February 29, 2020, U.S. Cellular Center) – The Brew Horizons Beer Fest will give you the chance to enjoy craft beverages form a variety of Western North Carolina's best breweries and cideries. You'll also be able to taste artisanal food and experience arts and crafts vendors, sustainability education areas and live music. The festival is being organized by the nonprofit Green Built Alliance, which also hosts the annual CiderFest NC each fall, and will serve as a fundraiser for the Blue Horizons Project community campaign.
Southern Conference Men's and Women's Basketball Championships (March 5-9, 2020) – The road to the NCAA Final Four starts in Asheville! Don't miss this opportunity to see some of the nation's best conference tournament action. The 2020 Championships will also include fun fan events for people of all ages throughout the tournament.
Organic Growers School Conference (March 6-8, 2020) – This annual event is designed for healthy eaters, home growers and farmers. The conference, held at nearby Mars Hill University, offers practical workshops on organic growing, permaculture, homesteading, urban farming and rural living. Plus enjoy a trade show, seed exchange, silence auctions and special guests.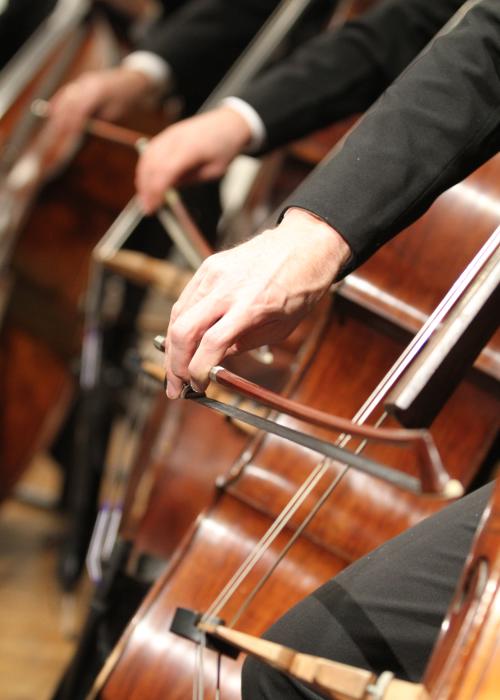 Theater
Brilliant Traces (January 10-16, 2020, Asheville Community Theatre 35Below) – Brilliant Traces is compelling story about two people, Rosannah and Henry, who have both suffered from a series of unfortunate circumstances throughout their lives. One night, after traveling for many days with little to no rest, Rosannah mysteriously shows up on Henry's doorstep, in Alaska. As Henry and Rosannah begin to open up to one another, they come to the realization that they both have had serious and emotionally complicated lives.
Jeeves Saves the Day (January 29-February 23, 2020, NC Stage Theatre) – An All New World Premiere! Once again, Bertie finds himself suffering the slings and arrows of misfortune at the hands of his relatives, caught between the magisterial machinations of his fierce Aunt Agatha and the plaintive pleadings of his cousin Egbert. An imperious Sir Roderick Glossup and his daughter add to another priceless predicament calling upon the redoubtable Jeeves to save the day. 
The Fantasticks (February 7-March 1, 2020, Asheville Community Theatre) – The Fantasticks is the longest-running musical in the world and with good reason: it's a timeless fable of love that manages to be nostalgic and universal at the same time and is punctuated by a series of catchy, memorable songs, many of which have become classics.
Great Falls (March 6-22, 2020, Asheville Community Theatre 35Below) – A man lost in his life drives across the American West with his stepdaughter—a young woman at the beginning of hers. He's trying to make peace with the ghosts of his past; she's just trying to survive.  This WNC premiere tells their compelling and complex story, as they test how much they can trust each other—or whether they can ever trust each other again.
Well: An Immediate Theatre Project Production (March 18 - April 12, 2020, NC Stage Company) – Well is a funny and touching comedy about mothers and daughters, mind over body, social activism and theatre itself. Lisa, the onstage playwright, attempts a memory play about her force-of-nature mother, Ann, who though constantly ill manages to heal a community. The playwright asks the provocative question: "Do we create our own illness?" The answers she gets are much more complicated than she bargained for as the play spins dangerously out of control into riotously funny and unexpected territory. *Adult themes and language.
Local/Regional Music Performers in Asheville
On any given night in Asheville you'll find numerous live music performances. See our live music calendar for a full list of upcoming shows and performances. Here are several shows of note.
3rd Annual Women in Music Series (January 11, 2020, Isis Restaurant and Music Hall) – Amanda Anne Platt, Aubrey Eisenman, Jane Kramer, Laura Blackley, Tina Collins and Quetzal Jordan are all Asheville-based and grown artists who tour nationally and abroad. They are all celebrated songwriters and are covering the works of iconic female artist/songwriters Linda Rondstadt, Patty Griffin and North Carolina native Nina Simone.
Asheville Symphony (January through March) 
Piano Masters: Nikolai Lugansky (February 7, 2020) – Described by Gramophone as "the most trailblazing and meteoric performer of all," Russia's Nikolai Lugansky is a pianist of extraordinary depth and versatility with "an ability to enchant the ear."
Piano Masters: Mari Kodama (February 14, 2020) – An authoritative Beethoven interpreter, Mari Kodama earns consistent praise for her virtuosity across a broad range of repertoire that includes orchestral, chamber, and solo works by composers of all eras.
Masterworks 4: Mountains to Sea (February 22, 2020) – In this concert, inspired by North Carolina's Mountains-to-Sea Trail, we begin in the Appalachians with Copland's vision of spring, and end with a majestic ode to the Sea by the great English composer Ralph Vaughan Williams.
Masterworks 5: Under the Influence (March 21, 2020) – The first concert in our Beethoven celebration features composers who inspired and were inspired by Beethoven. Brazilian composer Ronaldo Miranda's Temporal Variations reimagines Beethoven's motives in a 21st century setting.
National Performers in Asheville
See our Asheville events calendar for a full list of upcoming shows and performances. Here are a few highlights:Indigo Girls (January 28, 2020, US Cellular Center) – Twenty years after they began releasing records as the Indigo Girls, Amy Ray and Emily Saliers Selling have sold more than 14 million records and are still going strong. Amy & Emily are the only duo with top 40 titles on the Billboard 200 in the '80s, '90s, '00s and '10s. 
Nashville in Asheville: Writers-in-the-round (January 19, 2020, Isis Restaurant and Music Hall) – Nashville singer/songwriters Natascha Myers, Nicole Miller, & Paige Rose bring the world-renowned Bluebird Café to Isis Music Hall with an intimate, writers-in-the-round performance.
Slim Gambill, Guitarist for Lady Antebellum (January 23, 2020, Isis Restaurant and Music Hall) – Fresh off of features in Rolling Stone, Billboard, Parade and Jazz Guitar Today, Lady Antebellum guitarist Slim Gambill is making his Asheville debut with his instrumental jazz/rock/jam band project.
The Lumineers: III The World Tour (January 31 and February 1, 2020, US Cellular Center) – The Lumineers are an American folk rock band based in Denver, Colorado. The Grammy-nominated band has released three albums, the first reached No. 2 on the Billboard 200 and the second reached No. 1.
Ron White (February 7, 2020, US Cellular Center) – Ron rose to fame as the cigar-smoking, scotch-drinking funnyman from the Blue Collar Comedy Tour phenomenon, but since 2004 has established himself as a star in his own right. Over the past nine years he has been one of the top three grossing stand-up comedians on tour in America. During this time, all four of his comedy albums have charted #1 on the Billboard Comedy Charts. He is a three time Grammy-nominated comedian, and has sold over 10 million albums
Umphrey's McGee (February 14-15, 2020, US Cellular Center) – With over 2,400 gigs and 5 million tracks sold, the band, now in their 21st year, have enjoyed countless milestones and show no signs of slowing down anytime soon. They became the first group to launch its own single artist streaming service with UMLive.net, which houses recordings of every gig since 2005.
Flamenco Vivo with Carlota Santana (February 14-15, Wortham Center for the Performing Arts) – Hailed as "The Keeper of Flamenco" by Dance Magazine and honored by both the monarchy and government of Spain for "years of passion, excellence and dedication to the flamenco art," internationally renowned artist and educator Carlota Santana has made it her mission to promote flamenco as a living art form 
Gordon Lightfoot (February 17, 2020, US Cellular Center) – Celebrating his 80th birthday, this year is special for the legendary artist. After more than 50 active years of hit song making and international album sales well into the multi-millions, it's safe to say that esteemed singer-songwriter and musician Gordon Lightfoot resides with some very exclusive company atop the list of all-time greats.
Yamato, The Drummers of Japan (February 24-25, 2020, Wortham Center for the Performing Arts) – An Asheville fan favorite from seasons past, Yamato's drummers modernize a centuries-old Taiko tradition to create a thrilling, high-energy ride full of heart-thumping rhythms and explosive beats. 
Jeff Dunham (March 21, 2020, US Cellular Center) – The wildly successful live performances by "America's favorite ventriloquist" have been filling arenas across North America and the world, treating fans to more of his delightfully twisted cohorts, Peanut, Walter, José Jalapeño, Bubba J and Achmed the Dead Terrorist.
Headliners at the Orange Peel music venue:
Jon Reep (January 4, 2020) – As a stand-up comic he's built a following through his hilarious comedy specials and as the winner of NBC's fifth season of Last Comic Standing.
ABBEY Road LIVE (January 11, 2020) – Hailed as one of the world's premier Beatles cover bands.
The Dead South (January 16, 2020) – The Dead South, a gold rush vibing four-piece acoustic bluegrass set from Saskatchewan, Canada.
Grace Potter (January 19, 2020) – An American singer/songwriter who went solo after success with the band Grace Potter and the Nocturnals.
Raphael Saadiq (February 3, 2020) – A Grammy Award winning musician, songwriter and go-to collaborator/producer for some of the biggest names in R&B.
Kamasi Washington (February 15, 2020) – An American jazz saxophonist and bandleader.
Drew and Ellie Holcomb (February 21, 2020) – Shortly after their marriage in 2006, the couple began touring together with Drew Holcomb and The Neighbors. The band has supported many national touring acts including Ryan Adams, The Avett Brother, Don Henley, and Willie Nelson.
Black Label Society (March 17, 2020) – The heavy metal band from Los Angeles has released 10 studio albums