How to Experience Valentine's Day in Asheville in 2023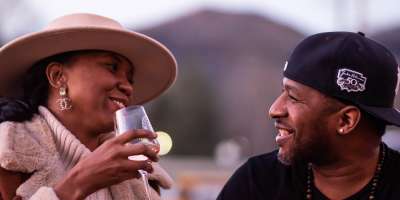 Romantic Ways to Celebrate Valentine's Day in Asheville 
There isn't a mountain high enough to keep you from your sweetheart. In fact, we think it's the Blue Ridge Mountains that will bring you closer together!
Treat your honey to romance, relaxation and rejuvenation in Asheville. Below you'll find special Valentine's Day events, activities and ideas for 2023.
Pair these special events with some of our 50 favorite things to do in Asheville, from Biltmore to the River Arts District to nearby Black Mountain, to create a true getaway.
Here's what we've rounded up to help you feel the love in Asheville this year.
Savor a Meal
Enjoy all the deliciousness of dining in America's "Paris of the South" this Valentine's Day with a romantic meal at Posana, where you can experience intimate dining in the heart of downtown Asheville. Posana will be open from 5 p.m. to 9 p.m. with a three-course Prix Fixe menu along with a wine pairing selected by a star sommelier. For stunning views of the city skyline and the Blue Ridge Mountains, check out The Montford or visit Hemingway's Cuba. If you're in the mood for fresh sea food, take a short trip to Asheville's neighbor, Black Mountain, and enjoy an evening of Spanish tapas at the Bell Tower above the Open Oven Cafe, or enjoy a ticketed event at Foothills Butcher Bar featuring multiple courses along with a cocktail menu. For an intimate dining experience, call the Princess Anne Hotel. The hotel is hosting a special Valentine's Day three-course Pre-Fixe meal crafted by Chef Ness along with a wine pairing by Tom Leiner. Make your reservations the old fashioned way by calling the hotel now. 
Round out your meal with a sweet treat. There are nearly two dozen local dessert shops in Asheville. They offer a wide selection of rich chocolates, refreshing ice cream and delicious pies and pastries, and if you're only looking for a sweet treat, visit Highland Brewing on February 17 where 3 Eggs Cakery will be on site serving Valentine's Day confections from 1 p.m. to 7 p.m. 
For more romantic dining ideas, see our list of the top romantic restaurants in Asheville according to our Facebook fans. 
Learn a New Skill 
Leading up to Valentine's Day, there are a few ways to enjoy romance and learn a thing or two while you're at it. Take a special Valentine's Day class with Odyssey Clayworks in the art of clay throwing in the River Arts District with your partner. The classes will take place February 12, 11 and 14 from 7 p.m. to 9 p.m. for $75 per person. For some high-flying Valentine's fun, visit the Black Mountain Center for the Arts for a burlesque class on February 9 or February 16. 
Another must-try class is cookie decorating at Down Dog Yoga Studio. Hang with your partner, dogs and cookies as you learn decorating from a pro on February 8. The class is $12 per person from 6:30 p.m. to 8:30 p.m. Take a trip to Highland Brewing for pop up yoga with Yoga Six Studio from 11 a.m. to noon on February 18, and Highland is also offering a special Sweetheart Brewery Tour all month long. Learn how to create a delicious meal with your partner at the Asheville Mountain Kitchen. On February 14, join the kitchen for a Valentine's Day The Southern Way from 6 p.m. to 9 p.m. 
For the romantics at heart, visit the Zebulon B. Vance Birthplace in Weaverville and create a love letter at the Handwriting of the Heart: Valentine Workshop on February 11 from 10 a.m. to 4 p.m. You can do a bit more with arts and craft at the Purple Crayon with a Cards and Truffles and Wine, Oh My workshop where you'll create a beautiful valentine card. 
Get Your Blood Pumping
Get your blood pumping this Valentine's Day in Asheville! Join a running challenge in Black Mountain that will get your blood flowing and help the community. On February 11, Black Mountain is hosting a Valentine Greenway Challenge 5K and 10K with 50 percent of registration fees donated to the Black Mountain Greenways and Trails Committee.
Animals are the Way to the Heart
The day before Valentine's Day, also happens to be Super Bowl Sunday. If you football isn't your thing, try puppies as an alternative! Score a touchdown with your loved one by taking them to Down Dog Yoga Studio & Dog Bar where they can cheer on adoptable puppies from Mountain Pet Rescue Asheville (Sunday, Feb. 12, 1 to 4 p.m.). You can also enjoy some puppytime with a special puppygram from Brother Wolf Animal Rescue. Brother Wolf is bringing back their puppygram package, which includes a mini succulent, a cupcake, a personalized card and 20 minutes of puppy cuddle time. 
Pick The Perfect Valentine's Day Gift 
While in Asheville, take a piece of the city home for your sweetheart. Check out Lexington Glassworks and pre-order from the shop's special Revery Paper Flora collection. This collaboration between Lexington Glassworks and botanical artist Emily Paluska was inspired by North Carolina's state flower, the Flowering Dogwood. For drink lovers, order from the Asheville Tea Company's special Valentine's Day collection. Choose from inspired curations like the "Bee Mine" or "Give Love a Chai" tea box. 
Groove is in the Heart
The rhythms of Asheville's live music scene and local exhibitions are sure to get your heart beating. Choose from one of the shows taking place on Valentine's Day & Weekend:
For a full night of dancing, check out Hi-Wire's My Bloody Valentine's Day Emo Prom at the Biltmore Village taproom on February 11 from 7 p.m. to 11 p.m.
Unbreak Your Heart
Did 2022 break your heart? Hi-Wire Brewing offers you the chance to safely take out your frustration during its annual Cupid is Stupid Car Smashing. The event takes place outdoors Sunday, February 13, from 1 to 4 p.m. outside at Hi-Wire Brewing-Biltmore Village. You get 5 hits for $ or 15 for $10 with your choice of tool. That's not all, however, this year Hi-Wire is bringing a Hex Your Ex Bonfire event into the fold. For $2, you can toss your hex into the flames.
Updated February 2, 2023