Top Spring Events in Asheville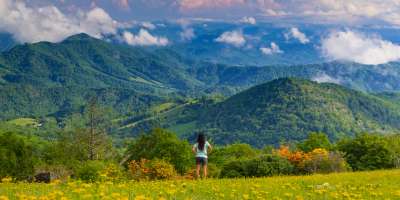 As the warmer temperatures bring beautiful blooms to the Blue Ridge Mountains, Asheville's calendar of festivals and celebrations also blossoms. Experience these colorful events that are sure to help you leave winter behind and put that spring back in your step.
Here is a look at the spring events in Asheville in 2021.
Spring Flowers and the Outdoors Reign

These Asheville happenings embody the bright spirit of spring. 
Biltmore Blooms, April 1-May 27, 2021: Nothing says spring quite like the tens of thousands of blooms bursting on the grounds of Biltmore, America's largest home. The two-month spring flower celebration kicks off with orchids in the conservatory and 50,000 tulips of all shades and hues. April brings irises, roses and azaleas. Pink and white Mountain Laurel and rhododendrons close the show.
Asheville Herb Festival, April 30-May 3, 2021: The largest herb festival in the United States and Canada is now in its third decade. Learn from herb growers, herbalists and related businesses while also seeing demonstrations from experts on natural gardening and landscaping.
Montford Garden Tour, June 5, 2021: This new event will include 12 unique, striking gardens, highlighted with a variety of music from local musicians (bluegrass, folk, jazz and classical). 
Music in the Mountains

Get into a rhythm this season with these toe-tapping music celebrations.
LEAF Retreat (Black Mountain), May 13-16, 2021: Join together with music lovers gathered at beautiful Lake Eden in the nearby town of Black Mountain to experience powerful music, art and culture. This beloved local tradition takes place on the site of the old Historic Black Mountain College. With social distancing in mind, this retreat is a scaled down version of the typical festival. Stages are smaller, the event is more intimate with meet and greets and a focus on local and regional artists several of whom are helping to design the weekend. 
Art on Display

Asheville is known for its creative spirit. See hundreds of artists in action as you experience their creativity first-hand.
Stickworks Outdoor Sculptures at Biltmore, Begins April 1: Unique outdoor sculptural works by environmental artist Patrick Dougherty, known as "Stick Man," will go on display in Antler Hill Village. Renowned worldwide for his monumental creations, Dougherty weaves saplings and branches into intricate artworks, fashioning whimsical forms ranging from gigantic snares and cocoons to sculptural interpretations of notable buildings.
Biltmore Gardens Railway, April 26-September 26: Marvel at an enchanting botanical model train display that features small-scale replicas of the Biltmore Estate's most iconic places. This exhibition is located inside The Conservatory next to the Walled Garden.  
Black Mountain Art By the Tracks, June 5, 2021: More than 50 fine artists and master crafters join together on Sutton Avenue near the Old Train Depot in historic downtown Black Mountain for this annual juried art show and sale. As you explore the art, you'll also be able to enjoy live music.
Watch Major Sporting Events

March Madness begins in Asheville!
SoCon Basketball Championships, March 4-8: The men's and women's teams of the Southern Conference (Division I) battle for a trip to the NCAA Tournament.
Spring event postponements due to COVID-19
French Broad River Festival has been rescheduled for October 1-3, 2021.
VeganFest has been rescheduled for October 3, 2021.
Weaverville Art Safari has been tentatively rescheduled for fall 2021 (dates to be announced).
Asheville Beer Week has been tentatively rescheduled for fall 2021 (dates to be announced).
Updated February 10, 2021