Rainbow Falls and Turtleback Hike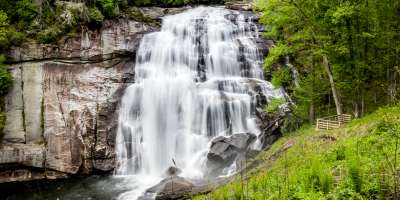 Rainbow Falls and Turtleback Hike Details
Difficulty:
Moderate
Length: 1.5 miles each way to Rainbow Falls, an additional 1 mile round-trip to Turtleback Falls
Region:
Duration of hike: 30 minutes each way (add an extra 10 each way for Turtleback)
Elevation gain: 800 Feet
Type: Out & Back
Blazes: Orange Circles
Facilities & Parking: Parking lot, portable toilet
Features:
Waterfalls,
Pet Friendly
A hidden-gem waterfall hike in a lush forest
The Horsepasture River thunders down a 125-foot drop spraying up a mist that creates rainbows that sparkle in the sunlight. This magical sight can be seen at Rainbow Falls in Gorges State Park, one of the best Western North Carolina waterfall hikes.
What To Expect
Gorges State Park is located on the Blue Ridge Escarpment, where the mountains end and the Piedmont begins. From the Grassy Ridge parking lot, the Rainbow Falls trail starts out as gravel, but then starts to descend toward the Horsepasture River. With a few creek crossings here, prepare to get your feet wet. While it doesn't affect your hike, you should know that the trail switches from Gorges State Park to Pisgah National Forest about 20 minutes after you leave the parking lot. The trail gets narrower as you pass through a hardwood forest, but you'll follow along the side of the river most of the way to the falls.
When you arrive at the falls, you'll feel it: a cool mist will soak you. The water is so strong that you must exercise extreme caution when getting closer: the rocks are slippery. Although it may be tempting to try to get photos from the top of the falls, don't do it: it's too dangerous.
While you'll probably want to linger for a while, you can also continue up the trail for around 10 more minutes to Turtleback Falls, a low waterfall over a curved rock that resembles a turtle shell. People slide down these falls and swim in the swimming hole beneath them, but the currents can be extremely strong so, again, be cautious.
Rainbow Falls is popular in the summer because of the cooling mist, but the fall color here is also beautiful. The hike is open in the winter, when the mist has been known to turn to ice.
Directions
From downtown Asheville, take 1-240 to I-26. Take exit 40 and make a right onto Hwy 280. Take it for 16 miles to Highway 64. Turn west on US 64 and travel toward Sapphire. To reach the Grassy Ridge Access Area (the west side of the park), turn south on NC 281 in Sapphire. The Grassy Ridge Access is .7 mile on the left.
GPS Coordinates
35.1133, -82.9563