Old Mitchell Trail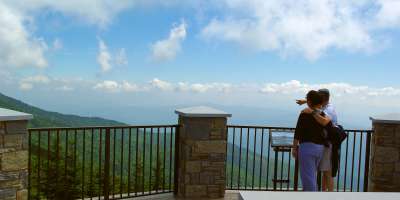 Visitors to Mount Mitchell State Park can walk in the footsteps of Elisha Mitchell himself, the man credited with discovering the highest peak in the east. This area of the Black Mountains would have been quite wild during Mitchell's treks in the early 19th century. Today, this well-marked trail offers a challenging but rewarding route to the summit.Tip: Pack a sweater or extra layer. The weather at the summit can be quite different from what you experience on the Blue Ridge Parkway or even at the trailhead by the Park Office.
Having trouble viewing on mobile? Click here to see the Google Street View version.

LEAVE NO TRACE TIP
The flora and fauna at Mount Mitchell is among the most distinctive and diverse in the Southern Appalachian Mountains. There are more than 90 species of birds alone. Preserve this unique ecosystem by leaving plants and rocks where you find them and observing wildlife from a distance.
What to Expect
To embark on the Old Mitchell Trail, park your car at the Park Office, grab a trail map, and enter the trail up the hill beside the building. The trail is marked with yellow circles.
As you climb, you may begin to notice the changing forest around you, and be on the lookout for wildlife--several species that live on the mountain aren't found anywhere else south of Canada!
After climbing for a bit, the trail will descend into an open gap where the park's restaurant is located. You will be able to see the summit of Mount Mitchell straight ahead. Continue across the lawn and parking lot, and then turn right to follow the trail past a map board.
From here the trail will go up and down, through some open areas and more forested areas. You will pass a park water tank, encounter some rock outcroppings, wood and rock stairs and a bridge.
At one point, you will come to an intersection where the Old Mitchell Trail meets the Mountains-to-Sea Trail. Turn left here to continue to the summit via a set of switchbacks. You'll encounter another intersection with the Campground Spur Trail at the top of a clearing--turn right. The trail becomes quite rocky for a brief section before you reach a paved path that leads you the rest of the way to the summit.
After exploring the summit area, return the same way. Or check out the trail map to turn your hike into a loop via the Commisary and Camp Alice trails.
For more great trails and hiking experiences, click HERE.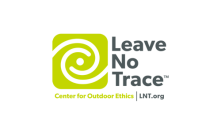 We all love the Blue Ridge Mountains! By working together, we can keep these incredible outdoor spaces beautiful and pristine for years to come. Make it your nature to Leave No Trace: Leave what you find, pack out what you pack in, stay on designated trails and plan ahead. To learn more about the 7 Principles of Leave No Trace, CLICK HERE >>.
Updated July 26, 2021