Great Ideas for First Time Hikers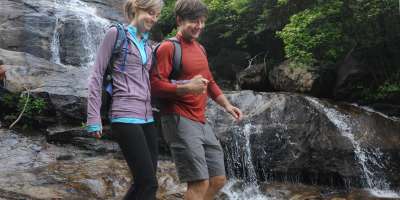 Take the Easy Path to Mountain Beauty
Asheville is an outdoor lover's paradise, in large measure because of its many scenic hiking trails. Enthusiasts come from far and wide to explore the Blue Ridge Mountains. However, you don't have to be a seasoned hiker to enjoy what nature has to offer. Whether you are beginner or simply want an easy nature jaunt suitable for the entire family, these trails fit the bill.
The loop of the Graveyard Fields trail is one of the most challenging and popular hikes in the area. The flat valley of the Graveyard Fields Lower Falls offers an easy stroll, although no less captivating. The trail wends through colorful thickets of lush mountain laurel and rhododendron. There are even blueberries in late summer! A multi-stair boardwalk leads to the Lower Falls and two splendid waterfalls.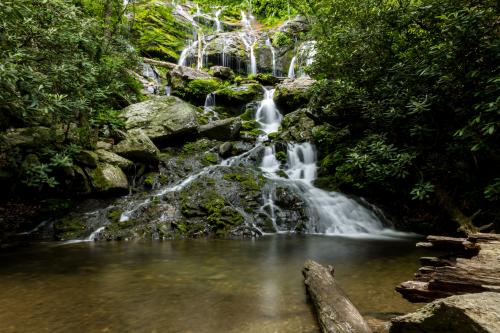 Located on an isolated tract of Pisgah National Forest property near Old Fort, just south of I-40, Catawba Falls is an easy trek along the Catawba River with a gradual uphill climb leading to one of Western North Carolina's most beautiful waterfalls. If you're feeling particularly adventurous, take a short stroll along one or two of the short side trails. *Catawba Falls will be closed May 2, 2022 through Spring 2024 for major improvements*
Hikers who make their way through the tunnels of rhododendron, birch trees and wildflowers of the Craggy Pinnacle Trail will be rewarded with 360-degree views unparalleled anywhere in the Blue Ridge Mountains. Even though the Craggy Pinnacle is just a 30-minute drive from Asheville, the mile-high elevation can put it in a completely different weather zone. Expect temperatures to be 10-15 degrees lower which, depending on the season, can be a good or bad thing. Be prepared.
The challenging 1150 mile Mountains-to-the-Sea trail runs from the Great Smoky Mountains to the Outer Banks but you can jump on a pristine segment near Asheville. The Lunch Rocks trail begins at the Folk Art Center and terminates at Lunch Rocks. See the rocky outcrops rock system and the unique high elevation forests. When you reach your destination, soak in the splendid view of Haw Creek valley while you take a breather and enjoy lunch. This is mandatory at a place called Lunch Rocks.
The interactive Great Woodland Adventure at Chimney Rock State Park is a perfect nature walk for families with small children.
Tips for the Novice Hiker
Dress appropriately and in layers. Choose breathable, quick-drying material like nylon or polyester for your outerwear. Good shoes are critical; tried-and-true ones even more so. This is not the time to test drive a new pair.
Carry the necessities. There's no need to pack for a weekend expedition but don't forget the essentials – water, a snack, a fully-charged cell phone, bandaids and a whistle to summon help, if necessary.
Take a trail map. And follow the prescribed route to protect yourself and the surrounding habitat.
Check the weather. If inclement weather is in the forecast, postpone or cancel your outing rather than mar your first hiking experience.
Tell a friend. Let someone where you're going and when you expect to return.
Find your perfect Asheville hiking trail! Use our Asheville Hike Finder to easily filter by distance from downtown, trail length and difficulty level.
Updated March 31, 2023