For Wheel, Y'all: Six Asheville Adventures on 2 Wheels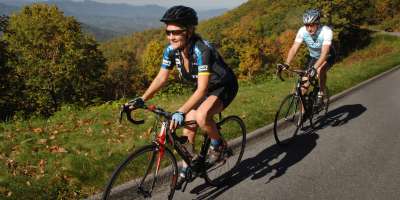 See Asheville From Behind (Handle) Bars
In Asheville, outdoor enthusiasts are like kids in a locally sourced candy store. With hundreds of miles for road biking and as a mountain biking destination, what better way to see our fair city than on two wheels? And you don't have to know how to do a nose wheelie to enjoy one of these six cycling experiences.
1. Velo Girl Rides
These luxe, beautifully packaged cycling tours are so fully supported, the staff does everything short of pedaling for you.
Geared toward: These tours may be posh, but they aren't for the faint of leg, rather what Velo describes as the "avid recreational rider" (that sweet spot between Lance Armstrong and Lance Bass).
The VGR luxury van and trailer carry spare parts, spare bikes, snacks, chairs, tables, tents, and sometimes even you (no shame in hopping in the van -- everyone does it at one point or another). But which tour to take? Perhaps The Beer City Bicycle Tour or the Asheville Bike Tour to Cheese? If you want to see Asheville, but (gasp!) food is not your thing and you don't have time for the entire Blue Ridge Parkway Tour, you can simply build your own ride. VGR can create custom trips according to your schedule and interests.
2. Cycle to Farm
A series of group rides designed to promote Asheville's local foods and farms.
Geared toward: Avid cyclists who like a good climb (and good food). This challenging route packs in 63 miles of country roads with a total elevation gain of 5,300 feet.
Though Cycle to Farm is created by Velo Girl Rides, we thought it was special enough to get its own mention. The idyllic yet ambitious route has farm stops every 10-15 miles where you get to sample some delicious farm fresh fare. "The Fabulous After Party" lives up to its name with a farm-to-table meal, live music, and all kinds of sponsored swag.
Frank and Michael's passion for bicycles (and beer) show at this Biltmore Avenue bike shop.
Geared toward: Those who prefer to just grab a bike and go.
Rent a hybrid bike or mountain bike from Beer City Bicycles and the knowledgeable staff can recommend trails, routes, and climbs based on their experience and your skill level. BCB's favorite mountain biking locations include the ever popular Bent Creek Experimental Forest and Dupont State Forest. Or rent a hybrid and bike around town. Not sure what kind of ride you're looking for? Stop in and talk about it over a pint.
See the grounds of America's largest home in a whole new way.
Geared toward: Families and couples -- wooded trails for the more adventurous, scenic paved trails along the French Broad River for all.
You've toured the house; you've seen the gardens; you've sampled the wine. But what about that 8,000-acre backyard just screaming for you to come out and play? Rent beach cruisers, hybrids, or mountain bikes from Biltmore's Bike Barn and explore miles of pathways with the fam. Or rent romance on two wheels with a tandem bike. If you have your own bicycles, feel free to BYOB -- just be sure to check in at the barn for a trail map.
Four miles of purpose-built mountain bike flow trails right smack on the edge of downtown Asheville.
Geared toward: Bikers of all ages and skill levels looking for a taste of the Asheville mountain biking experience. They even have a new pump track designed specifically for young children scheduled to open summer 2015.
Just across the French Broad River from downtown, the well-maintained park (read: no branches in the face) has an equal number of trails for beginners and intermediate bikers with plenty of advanced feature options mixed in for bikers looking to hone their skills. In the works: plans for a truly advanced trail loop. Kolo Bike Park is intertwined with Asheville Treetops Adventure Park, so you can make a family-friendly adrenaline-pumping day of it with mountain biking, ziplining, rappelling, and more.
Channel your inner mall cop and experience Asheville the way Paul Blart would (only you are way, way cooler).
Geared Toward: Anyone age 14 or over who's not afraid to try new things… or be the center of attention!
People will stare, but only because they are jealous that you're swooshing past them on that super rad Segway while they're hoofing it up Lexington Avenue. Guided Segway tours conveniently meet at the Asheville Visitor Center and include 20-30 minutes of training before heading out into the concrete wilds of downtown. For details including physical requirements and whether they will let you stop and go to the bathroom (spoiler alert: they will), check out Moving Sidewalk's FAQ page.
Cycle to Farm photo by Larry Pierson. Biltmore photo courtesy of The Biltmore Company. Kolo Bike Park photo courtesy of Kolo Bike Park.