Easy Spiced Pumpkin Muffins with Brown Sugar Butter Recipe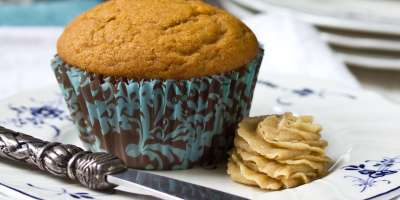 This seasonal muffin recipe is served with brown sugar butter, and makes for a delicious way to start your morning. Special thanks to the Biltmore Village Inn for providing the recipe.
Ingredients for muffins
2 cups all-purpose flower

1 ½ tsp baking soda

½ iodized salt

8 ounce can pumpkin puree

½ cup white sugar

½ cup brown sugar

¾ cup unsalted softened butter

1 tsp pure vanilla extract

1 tsp cinnamon

2 large eggs
Method
Preheat oven to 350°

In a large bowl, combine flour, salt and baking soda and set aside.

In mixing bowl, add pumpkin puree, sugar, eggs, cinnamon, vanilla extract, butter and sugar and beat for 5 minutes or until fluffy.

Scrape sides of bowl, add dry ingredients and beat together until combined.

Generously grease or spray whichever muffin vessel you choose and add muffin mixture to about half point.

Bake at 350° for 15–20 minutes or until toothpick comes out clean.
Ingredients for brown sugar butter
1 stick unsalted softened butter

1 tsp iodized salt

½ cup brown sugar
Method
For butter, whip all ingredients together until fluffy.

Fill pastry bag with butter and using desired tip, pipe onto butter dish and serve alongside warm muffin.
Garnish with powered or turbinado sugar. You can also use mint.
Yield: 1 dozen muffins