How Asheville Became a Mountain Spa Escape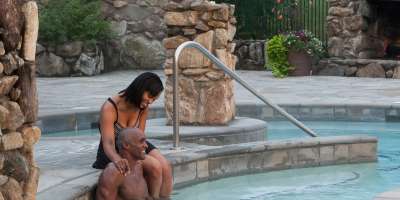 Asheville, N.C.'s Healing History as a Wellness Retreat
Asheville, North Carolina's climate was recognized almost 200 years ago as offering vital benefits to anyone who could make the trip up the mountains from South Carolina, Georgia and other regional hot spots. In Asheville and nearby towns, the chief attractions were cool mountain air and gentle breezes, the absence of any swamps or natural lakes and thousands of square miles of dense, purifying forest.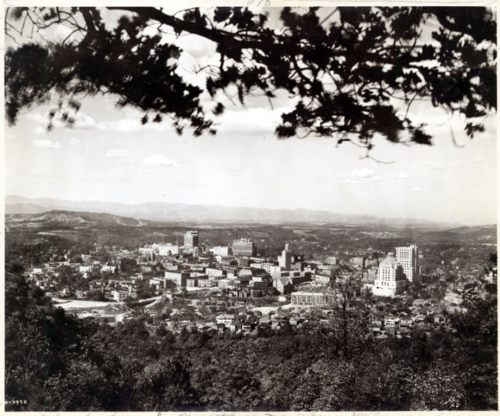 And so the people made their way to town, first by stagecoach and then by railway, craving what doctors of the time said was best for their debilitating illnesses: rest in the quiet country air, good food and skilled nursing care, and, finally, a chance to unwind from the pressures of booming Gilded Age business. 
Doctors of the late 19th and early 20th centuries, studying the climatic statistics and geographical data, praised the Asheville plateau as "the great sanitorium of our eastern country," characterized by a cool atmosphere that had "dry, tonic, invigorating, bracing qualities." Lung diseases in particular responded to fresh-air treatment.
Some of Asheville's most enduring names came to the city for health-related reasons – E.W. Grove with his "chill tonic" empire and George Willis Pack with his public-health-based civic philanthropy. Even George Vanderbilt supposedly decided to build his 250-room Biltmore after a health visit with his mother. That's how Asheville as a wellness destination was born.
Thoroughly Modern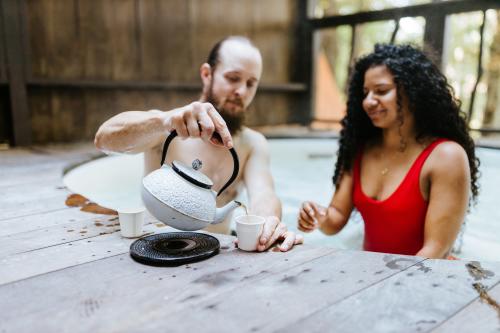 A century ago dozens of beautifully constructed rest homes, rambling and relaxing cottages and sanatoria – broad of porch and enhanced with layers of ornamentation plus hearty meals – dotted Asheville and surrounding communities, nurturing a special health-conscious culture.
Today, almost two centuries after Asheville became a renowned health and wellness destination, the city continues to offer both restful time-tested remedies and the newest healing trends.
Need a salt cave to clear the sinuses and restore equilibrium? You'll find it in Asheville.  Need a daily fix of yoga to keep limber and inhale a dose of calm? You'll find that all around Asheville. How about some vortex theory to get you on the right space-time continuum? That cutting-edge therapy takes place in Asheville too.
And if your tastes run to the adventuresome, take a day trip to the little mountain spa town of Hot Springs, where the Appalachian Trail runs up the main street and a historic mineral-rich spa resort overlooks the French Broad River.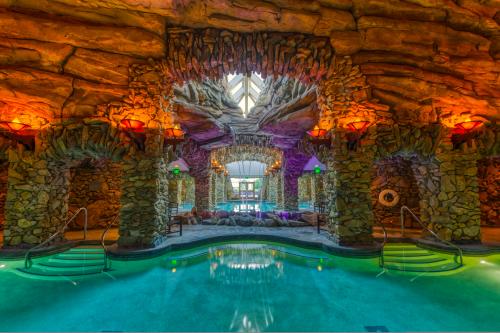 While the marquee spa attraction near downtown Asheville remains E.W. Grove's historic Omni Grove Park Inn, unique day spas abound. There are many great spa experiences with an Asheville twist -- in other words, spas offering a unique Asheville experience. Want a more traditional spa experience? Try Spa Theology, Sensibilities Day Spa or Massage Envy Spa to unplug and enjoy a timeless Asheville activity.
Long-ago advertisements for Asheville's ideal climate suggested that "prolonged residence is beneficial." That's still true, of course, but a shorter visit can work wonders too. 
Quick links to our guides to health and wellness in Asheville
Archival photo courtesy of Buncombe County Special Collections at Pack Memorial Library.