A Spring Guide to Asheville, NC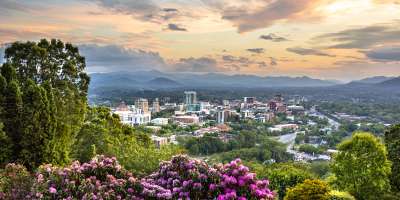 Spring is a time of rejuvenation in the Blue Ridge Mountains. Mother Nature renews herself as the mountainsides green up with fresh leaves. Bright blooms emerge. And, warmer temperatures breathe new life into the city.
It can also be a time for you to experience a personal spring rejuvenation. Awaiting you are stunning gardens with thousands of flowers, wellness offerings to boost mind, body and spirit and culinary delights that tap into the local harvest.
Here are some of our favorite things to do in Asheville in spring.
Things to Do in Spring in Asheville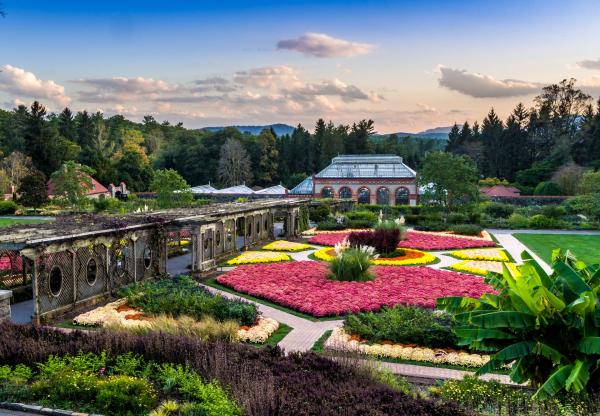 Spring arrives in style in the Biltmore gardens. More than 100,000 flowers bloom throughout the season beginning with daffodils in early April. Tulips follow quickly behind before azaleas then steal the show. The gardens were designed by famous landscape architect Frederick Law Olmsted (who is also known for his role in designing New York City's Central Park). Stroll through the Conservatory, a stately greenhouse in the Walled Garden, to see countless varieties of elegant orchids. Access to the gardens is included in your admission to Biltmore. See our full guide to Biltmore Blooms for more information.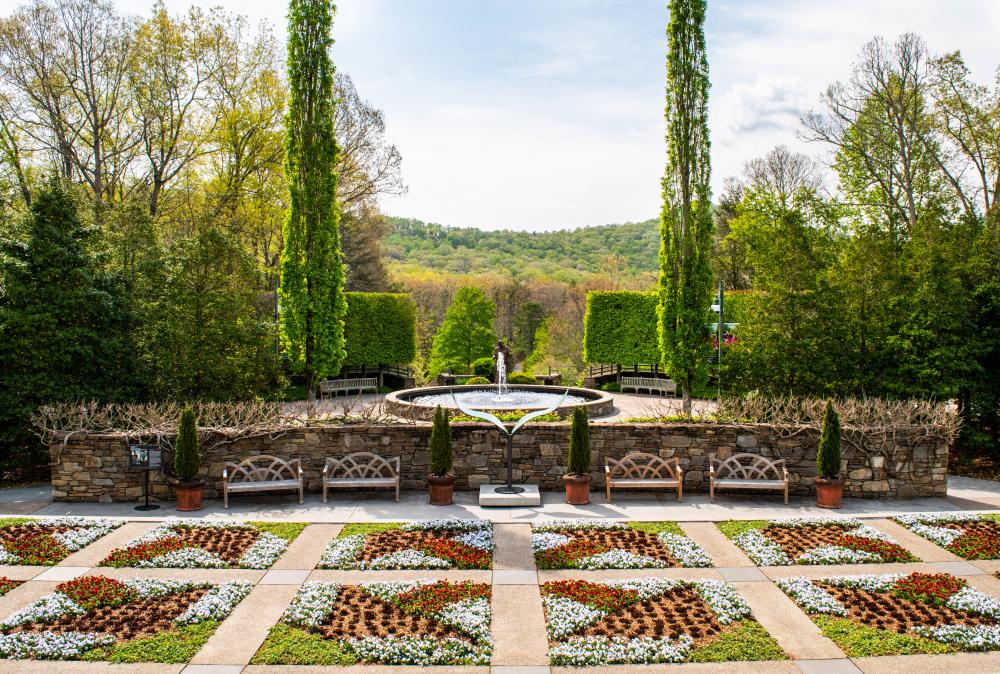 In this garden lover's paradise, a stop at the North Carolina Arboretum is a must. The Arboretum is located just steps away from the Blue Ridge Parkway, America's favorite scenic drive. In addition to 65-acres of well-manicured gardens, the Arboretum is your gateway to a network of trails that connect to neighboring Bent Creek Experimental Forest. A highlight at the Arboretum is the Quilt Garden (pictured above), which taps into the local history of American Craft by featuring flower beds in unique patterns.
Just five minutes from downtown Asheville, step into an urban oasis at the Botanical Gardens of Asheville. Located adjacent to the campus of the University of North Carolina at Asheville, you'll find dozens of wildflowers along the well-maintained trails.
And, don't miss "secret gardens," many of which are hidden in plain sight. These gardens include the Elder and Sage Community Garden in downtown, gardens at historic homes in the Montford District and the Burton Street Community Garden.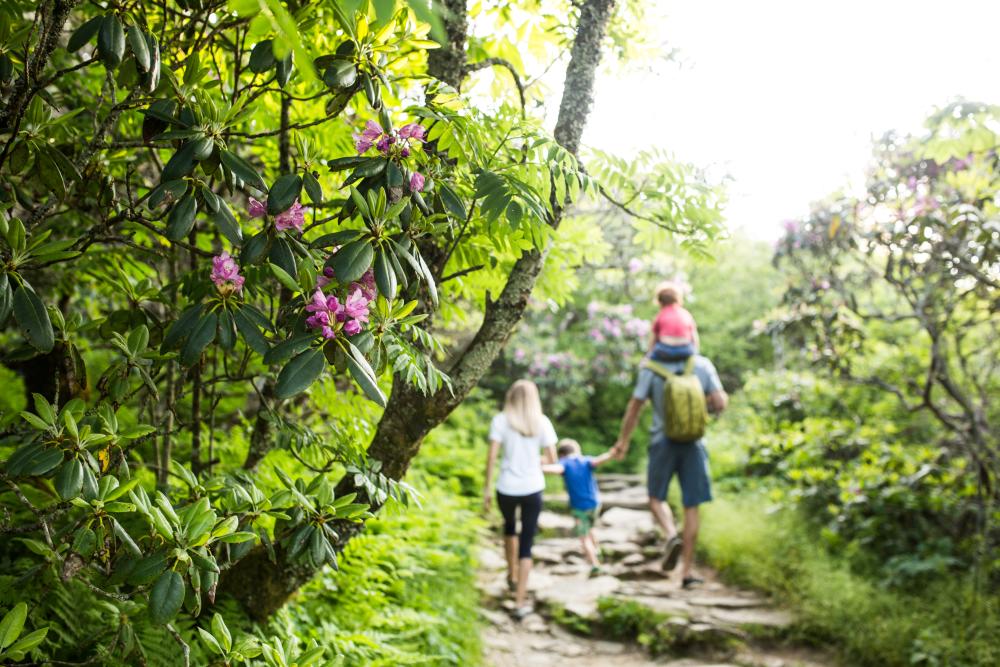 More species of plants can be found in the Blue Ridge Mountains near Asheville than in any other area of similar size in North America. That biodiversity means hundreds of wildflowers that provide a pop of color to the best trails near Asheville. We've put together a list of top spring hikes in Asheville to help you discover these wildflowers, from painted trillium to pink shell azaleas to redbuds. You can also use our Asheville Hike Finder to filter trails by difficulty, trail length and distance from downtown Asheville.
Whether you're going hiking or simply taking a scenic drive on the Blue Ridge Parkway, pick up a picnic basket of local goods from The Rhu or Parkway Picnics to enjoy with your mountain views.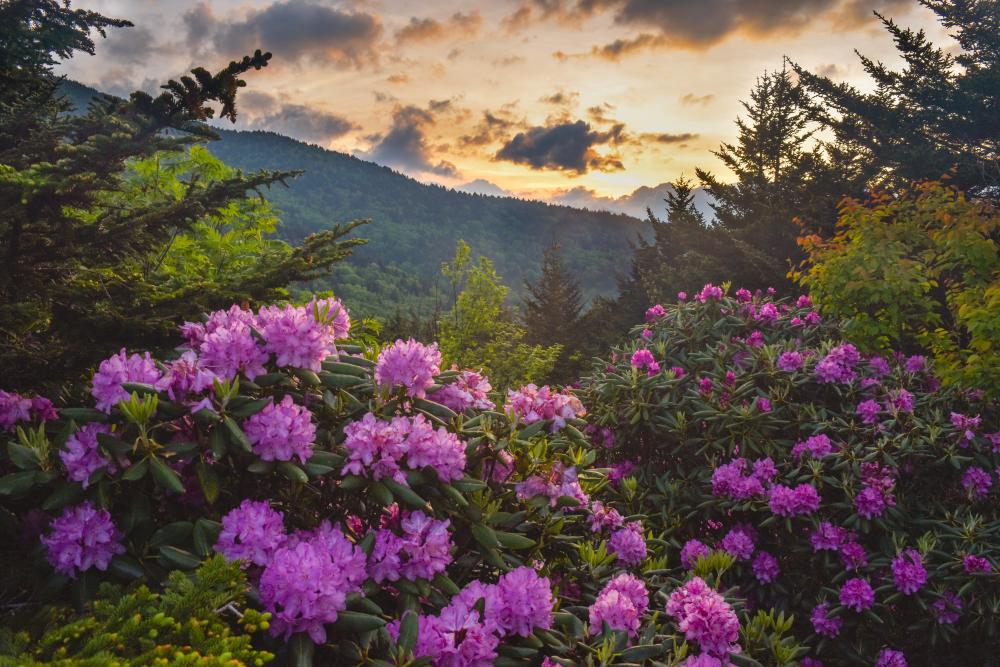 What better way to experience spring in Asheville than with the help of an expert local guide who can provide you an interesting perspective most other visitors won't see? On a photo tour, WNC Photo Tours will guide you to areas of the Blue Ridge Mountains in full bloom and teach you how to best capture the beauty of the area in spring. 
See our guide to top spring tours in Asheville.
As part of your spring awakening, feel the healing power of nature in a Forest Bathing experience from Asheville Wellness Tours. You'll join a certified forest therapy guide that'll help you deepen your connection with nature, culminating with a tea in the forest.
Asheville Wellness Tours and Namaste in Nature both offer yoga hikes designed to give you a moment of zen at picturesque mountaintops or calming waterfalls. 
You can also soak in the relaxation at any of Asheville's local spas, including outdoors in the treetops at Shoji Spa or inside a purifying salt cave at the Asheville Salt Cave or Salt Spa of Asheville. For a quick refresher, take 15 minutes out of your day to visit the Recline & Unwind spa. See our guide to spas and wellness in Asheville for more ways to treat yourself.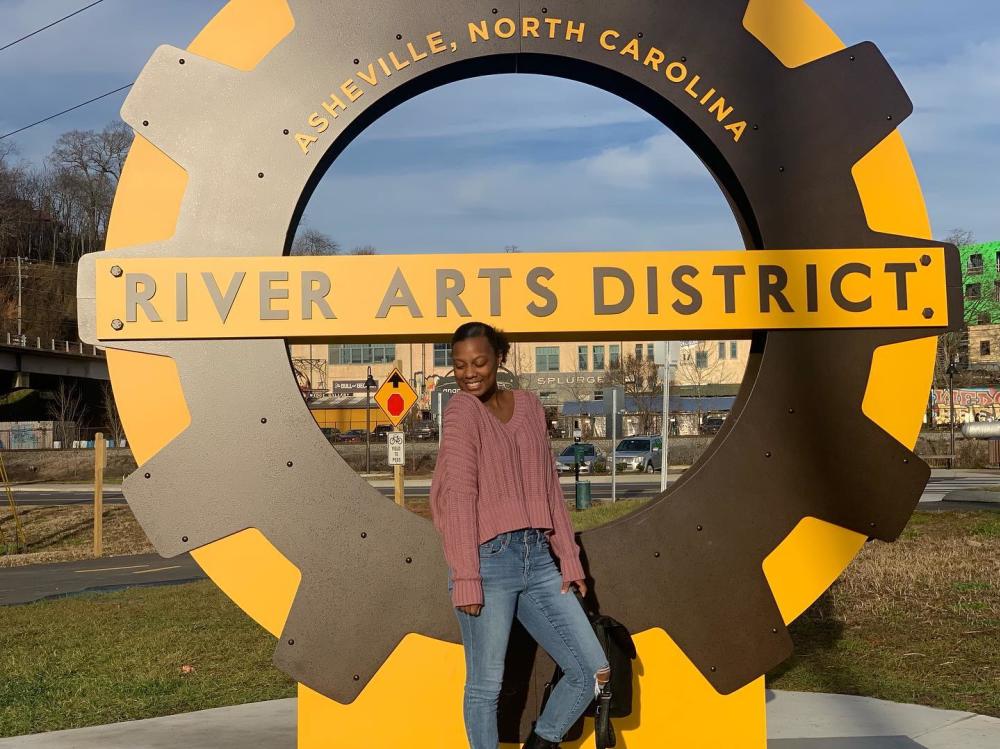 For many, spring will mark the first time to experience the new greenway in the River Arts District along the French Broad River. This 2-mile paved pathway is a great place to stretch your legs as you explore the city's artistic center, which is home to more than 200 working artist studios. Bright yellow signs at various points along the way make for a great Instagram photo opp.
Redbud trees burst into bloom in spring in downtown Asheville along the Asheville Urban Trail, a 1.7-mile self-guided tour of the city's history and architecture. As you explore along the Urban Trail, purchase a one-of-kind gift at a local shop, savor a meal on an outdoor dining patio at a restaurant or stroll through the museums and galleries. To immerse yourself in the Black history of the area and culture, take a walking tour with Hood Huggers. 
Where to Eat During Spring in Asheville

Asheville is known lovingly as Foodtopia, in part because of its emphasis on farm-to-table dining utilizing fresh products from area farms. The Market Place, Rhubarb, Posana and Green Sage are among restaurants that serve up local ingredients. The gardens and fields at Biltmore supply the Estate's restaurants with fresh vegetables and meats. Breweries such as Turgua Brewing Company and Zebulon Artisan Ales, and cocktail bar/eatery Sovereign Remedies, tap into the local harvest for their drinks.
Take your dining experience into your own hands by foraging for your own spring ingredients. No Taste Like Home provides foraging tours, which culminate with chefs at local restaurants creating a special seasonal meal utilizing what you found in the forest.  
Take your pick of the Local Spring Harvest
When you think of spring, you may think of flowers and bees. There's no sweeter place to taste local honey than at The Bee Charmer. In addition to more than 50 varieties of honey, this little hive has other honey bee-inspired gifts. You can also visit any number of the area's farmers markets, from the large WNC Farmers Market to local markets in the River Arts District and more. 
Visit award-winning cheese makers and purchase farm-fresh goods by taking a self-guided tour on the Western North Carolina Cheese Trail. The nearby community of Fairview is a great place to start. 
Where to stay
No matter the season, you have your pick of great places to stay in Asheville. 
Wake up in the heart of it all at one of the city's hotels and resorts, find a home away from home by staying at a cabin or other unique rental, or pair fresh local food and hospitality at at a bed & breakfast inn.
Updated February 21, 2023