5 Crazy Reasons Why Asheville Should Top Your Holiday Travel List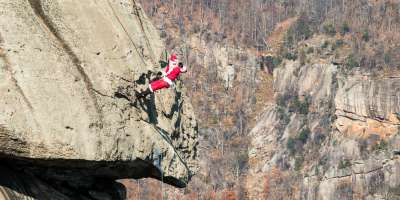 While you're making your list, and before you start checking it twice, be sure to add a trip to Asheville, North Carolina, to the top of your holiday to-do's. Why? Asheville takes the holidays to the next level with these five can't-miss things to do and see.
Santa Claus Goes Extreme

Santa and his helpers may make their home at the North Pole, but Asheville is where Saint Nick comes to get ready for the Big Night. Santa has been spotted showing off his break-dancing moves as he unwinds with his own Blue Ridge Mountain vacation. 

And, mark your calendars for December 2 and 9 for the annual series of events when Santa practices his Chimney-climbing skills on the 315-foot Chimney Rock.

 

 

Serious Gingerbread Sugar Rush

The contestants in the National Gingerbread House Competition, held annually at The Omni Grove Park Inn, take the sweet art of holiday baking to a whole new level. Each year, judges score more than 150 gingerbread creations, which must be made entirely of edible items and which come in every size, shape and theme imaginable. You can view the entries during the public display (November 27, 2023-January 2, 2024). See our guide to the National Gingerbread House Competition display in Asheville, NC for important information to know before you go.

Bright Biltmore Celebration

When you're America's Largest Home, the only way to do the holiday is to do them big! Biltmore first opened its doors to guests on Christmas Eve in 1895. Biltmore still wows visitors today during the Christmas at Biltmore celebration (Nov. 3, 2023-Jan. 7, 2024) with more than 60 decorated trees, thousands of feet of garland and hundreds of poinsettias, not to mention a 35-foot Fraser fir that stretches to the ceiling of the great Banquet Hall.

Feel the excitement during Candlelight Christmas Evenings, where your epic tour will be accompanied by music, stories and flickering fireplaces.

 

 

Walk Through A Winter Wonderland

Asheville's brightest winter tradition brings the holidays to life with thousands of energy-efficient LED lights throughout the nationally-known gardens of the North Carolina Arboretum. The Winter Lights celebration, November 17 - December 31, 2023, enhances the natural beauty of the Arboretum's manicured grounds.

Cheers to Holiday Beers!

Speaking of beer, the many breweries in Beer City USA feel especially festive at this time of the year and serve up holiday-inspired beers. Try specialty beers such as Asheville Brewing Company's Ninjabread Porter and Highland Brewing Company's Cold Mountain. 
Cold Mountain photo courtesy of Highland Brewing.
Updated October 19, 2023