5 Cool Asheville Hikes to Combat the Summer Heat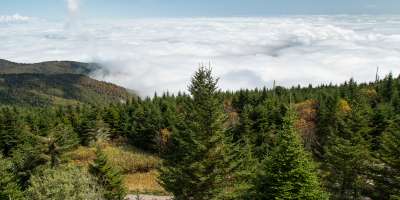 Sometimes we forget how lucky we are in Asheville.
Even on the hottest days, the temperature rarely rises to rival those unfortunate souls that live in other parts of the South – I'm looking at you: Atlanta, Charlotte, Charleston and Savannah. Triple-digit weather? No thanks! Not here!
That doesn't mean we aren't prone to a day of sweaty backs, or an afternoon where the sun just won't quit. But that's where we have the upper hand. We can climb to a higher elevation where the air is cool and the temperature drops.
Call it a sweet escape or a cold comfort, it's part of what makes Asheville a perfect summer destination.
Here are five high elevation hikes and peaks that will help you find colder temperatures on a warm day in Asheville.
Let's start with a classic.
The Blue Ridge Mountains are home to the highest peaks east of the Mississippi River, and it's often 10 to 20 degrees cooler at the peak that looms above all others: Mount Mitchell.
Take a trip up the Blue Ridge Parkway to Mount Mitchell State Park and either drive or hike to the 6,684 feet summit. There are several great hikes in the area, including the Old Mitchell Trail Loop which offers a small waterfall near the summit. Follow the connecting Balsam Nature Tail through a gorgeous, lush, high elevation forest and enjoy the 360-payoff view from the top.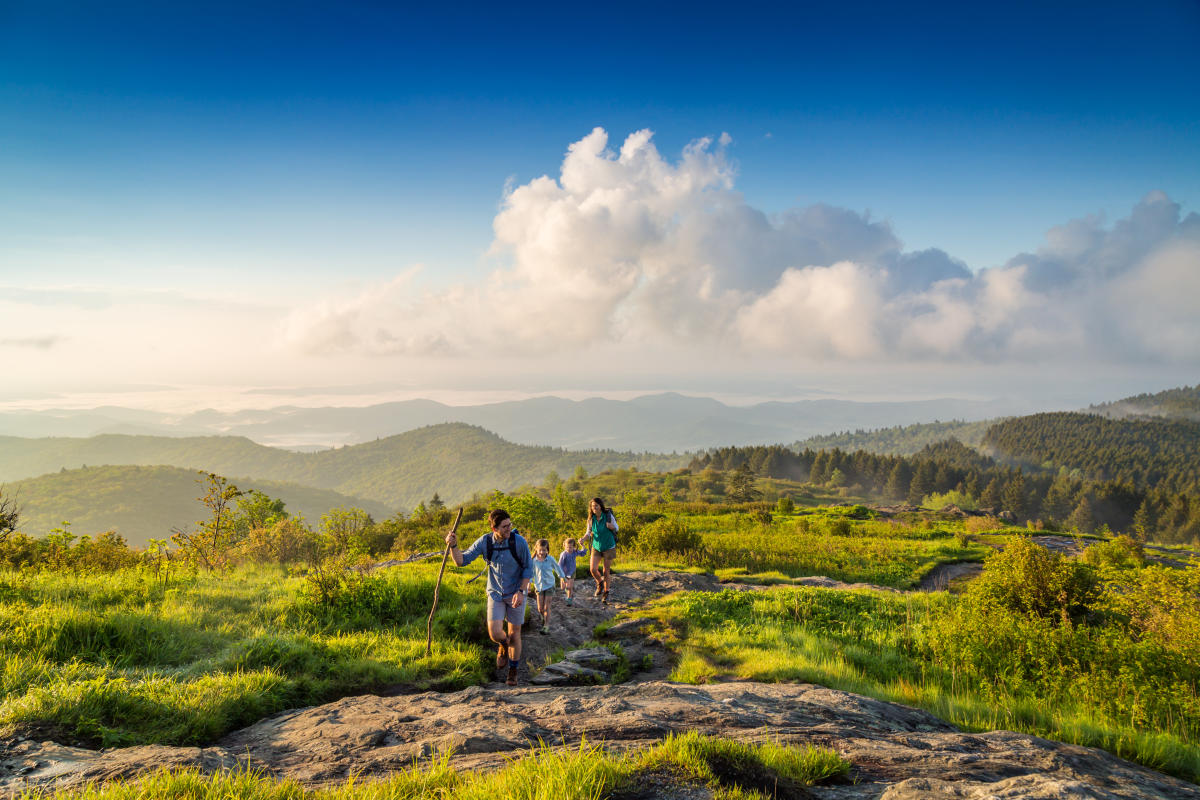 This hike is a local favorite and offers one of the best sunset spots off the Blue Ridge Parkway. It's a very accessible and easy to moderate two-mile hike that is both kid and pet friendly.
With an elevation of 6,214 feet, even a warm day can turn chilly, particularly in the evening. Don't forget to pack warm clothing.
Pro tip: This is a very popular trail (and for good reason). Hike on a weekday to avoid the crowds. And heck, if you're here during the week, check out our awesome midweek guide to exploring all of Asheville!
This trail is known as the crown jewel of the Appalachian Trail and offers some cool comfort in the summertime with an elevation of 4,630 feet.
With a length of 1.5 miles and an elevation gain of 430 feet, this trail is accessible for most and is another great spot to appreciate the stunning views of the area's natural beauty. From the east, you can see Mount Mitchell and from the west the Great Smokies.
Pro Tip: Overnight camping and fires are not permitted, and dogs and other animals must be on a leash. Max Patch is a mountain bald with rare flora and fauna. Help protect this incredible place for generations to come by following the principles of Leave No Trace.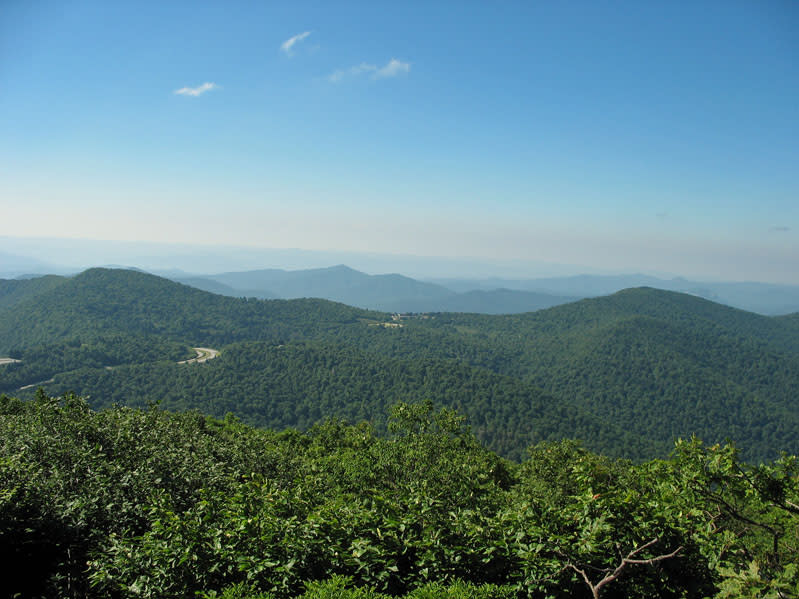 On a clear day, you can see the 5,721-foot summit of Mount Pisgah from downtown Asheville, but trust us, the weather is a lot cooler when you're up there.
This trail is made for the moderate hiker with a 750-foot elevation gain that puts you on top of the world. Enjoy a gorgeous hike that takes you through rosebay, Catawba rhododendron and mountain laurel before being greeted by sweeping views of Cold Mountain, Looking Glass Rock and Frying Pan Mountain.
Oh, and if you look in the distance, you'll see beautiful Asheville smiling back up to you from below.
Grandfather Mountain is located about two hours drive from Asheville, but trust us, it's worth your time, especially on the warmest of summer days.
At an elevation of 5,946 feet, you can see the Charlotte skyline from 90 miles away while thanking your lucky stars that you're not boiling in the city heat. The network of 11 trails at Grandfather Mountain will take you through gentle forests and across rugged peaks.
The easiest way to experience Grandfather Mountain is by exploring the family-friendly, non-profit park attraction (not a state or national park), which provides access to the famous Mile High Swinging Bridge, wildlife habitats and nature museum. Included in the park is Forrest Gump Curve, one of the locations where Tom Hanks' character runs in the movie Forrest Gump.   
Pro Tip: Much of Grandfather Mountain is accessible to those with limited mobility. For example, the "Top Shop" at the summit provides elevator access to the Mile High Swinging Bridge. It is a few hundred yards from the building to the bridge, and one bench is located near the bridge.
Updated July 27, 2023