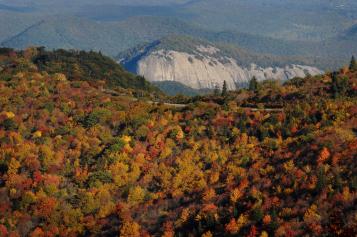 ASHEVILLE, NC (Sept. 6, 2011)-Beauty is in the eye of the beholder. While a traveler's favorite fall color destination may be based on personal preference or sentimental connection, biologists and foliage experts in Western North Carolina are making the case that 2011 could put the Blue Ridge Mountains at the top of the (leaf) pile.
Expert predictions are in agreement that environmental conditions and weather trends are aligning for what could be one of the most memorable fall foliage seasons in recent years.
Color Predictions
"So far, the region's weather pattern suggests that Western North Carolina will be a premier destination for viewing incredible displays of fall color. Many areas received a cool spring and ample moisture through July. Since then, the area has been in a fairly dry pattern which is potentially very beneficial for striking autumn color." -Ron Lance, Naturalist, Chimney Rock Park
"Our area has not experienced severe drought which often causes trees to lose their leaves prematurely. Yellow poplar trees should retain their leaves longer this year and show more vibrant color on the slopes. If the weather continues to cooperate, bright red leaves will pop alongside the orange and yellow, a combination that gives us our more memorable fall color displays." -Dr. Howard Neufeld, Professor of Biology, Appalachian State University
"In the Asheville area, maples, gum trees and sourwoods still have good strong leaves. We can expect those trees to shine this year. Sourwoods and dogwoods will lead the color in early October, with black gum and then maples providing peak color later in the month. Red oaks also look healthy and tend to show their best color closer to the end of October and into November, setting us up for a long and lively color season." -Parker Andes, Director of Horticulture, Biltmore
"Early November can bring surprising bursts of color, too, particularly between 2,500 and 3,000 feet as the oaks peak out in oranges and reds while other trees' colors are lingering. Those planning leaf-peeping vacations should have a fairly broad window of time in which to choose for viewing excellent color change in the mountains this year." -Kathy Mathews, Associate Professor of Biology, Western Carolina University
Fall Savings
Fall Travel Packages: Customized waterfall tours, zipping through the fall canopy, one-on-one sessions with local artists and Blue Ridge Parkway gourmet picnic packages
Fall Deal of the Day: The Asheville Concierge offers exclusive daily deals on accommodations and attractions
Tips for Seeking the Peak
Timing: Travelers are surprised to learn that there isn't one specific week for peak fall color in the Blue Ridge Mountains. Extreme elevation variations and more than 100 species of leaf-shedding trees combine to give the region a uniquely long and colorful foliage season. Once the colors begin to change at the highest elevations in late-September/early-October, travelers can generally find sweeping views of fall color, as long as they know where to go.
Weekly Fall Color Reports: To help visitors locate where the autumn color is best and brightest from week-to-week, the tourism office is working with park officials, attractions and biologists around the region to compile weekly fall color reports for the mountains of Western North Carolina at FallintheMountains.com.
New! Smartphone Optimized Scenic Drives: Stop by the Asheville Visitors Center for exclusive area drives, designed specifically for travelers on the go and selected weekly to showcase the best fall color.
Follow the Color Hunter: Asheville's fall color experts will also be tweeting up-to-the-minute color updates, travel tips and deals at @FallColorHunter on Twitter.
About
Located along the Blue Ridge Parkway and just outside Great Smoky Mountains National Park, the Asheville area is steeped in natural history and full of fall adventure. With elevations that range from 1,500 feet in the valleys to 6,684 feet at Mount Mitchell (the highest peak east of the Mississippi River), the Blue Ridge Mountains are a fall leaf kaleidoscope from late September through early November. FallintheMountains.com
Fall Events
Tiffany at Biltmore | Biltmore | now-Oct. 23
Salute to F. Scott Fitzgerald Weekend | The Grove Park Inn Resort & Spa | Sept. 23-25
Oktoberfest | Downtown Asheville | Oct. 8
Lake Eden Arts Festival | Black Mountain | Oct. 20-23
The Craft Fair of the Southern Highlands | US Cellular Center | Oct. 20-23
Moogfest | Downtown Asheville | Oct. 28-30
River Arts District Studio Stroll | River Arts District | Nov. 12-13
Multimedia
Media Contact
Dodie Stephens, Asheville Convention & Visitors Bureau, 828.257.4959, dstephens@exploreasheville.com, @AshevilleTravel
###