Sound Trek: A Music Lover's Guide to Asheville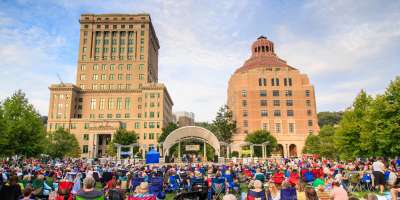 Tuning Into Asheville's Music Scene
Asheville's known for many things: natural beauty, an historic downtown, craft beer and great food. The local music scene is equally deserving of a top-10 list mention. Though hard to explain, Asheville's multi-genre, boundary-pushing sound is underscored by its eclecticism. From Appalachian ballads and old-time picking to fierce funk, sultry soul, edgy hip-hop and far-flung world music, there's plenty of sonic exploration to be done.
Streets and Beats
9:30 a.m. Coffee at High Five — Get caffeinated in preparation for the day ahead: This locally owned coffee shop features adventurous Barista's Specials that are always worth trying.
10:00 a.m. Visit the Moog Factory — Just next door to High Five, the company, founded by electronic music pioneer Robert Moog, builds synthesizers, effects pedals, theremins and more. Visitors can take a free tour of the factory. Or, head to the Moogseum -- an interactive experience that gives you access to a treasure trove of memorabilia, documents and photographs. See our Moog Music in Asheville guide for more information. 
11:30 a.m. Woodrow Instrument Co. in the Grove Arcade — For a different instrument-making experience, this local company offers handcrafted instruments such as upright dulcimers, ukuleles and guitars.
12:30 p.m. Lunch at The Noodle Shop (Pack Square) or Mayfel's (College Street) — While there's no limit to delicious dining options around downtown Asheville, these two locations provide outdoor seating within earshot of the city's most popular busking (street performing) spots.  Where to begin? The sidewalks of downtown Asheville offer plenty of free music, thanks to an array of buskers. While retro jazz and bluegrass acts often draw large crowds, seek out the singer-songwriters and handpan players, too. Like what you hear? Tipping is encouraged. 
Evening Songs
4:00-5:00 p.m. Stake out a spot for your lawn chair — Highland Brewing Company opens an outdoor stage from spring to fall, with live music in a meadow setting. The warm months bring plenty of free outdoor festivals, too, such as Downtown After 5 (the third Friday of the month, May through September) and Shindig on the Green (monthly, May through October).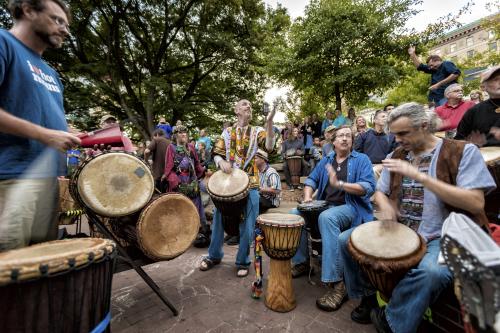 5:00 p.m. Drum Circle — During warm-weather months, the community-oriented event drum circle starts around 5 p.m. at Pritchard Park every Friday. No need to ask for directions, just follow the syncopated rhythms — and feel free to join in. Need something to play? Visit Skinny Beats Drum Shop & Gallery, which sells an array of percussion instruments and also offers lessons. 
7:00 p.m. Dinner and a show  — Enjoy a special dinner menu for theater lovers at Posana in downtown before checking out a symphony at Harrah's or Wortham. 
9:00 p.m. Rock out — The Grey Eagle, in The River Arts District, is known for its excellent sound and busy calendar of roots, rock, Americana and other acts. It's worth a stop to view the venue's extensive collection of portraits, by photographer and bartender Sandlin Gaither, of the bands that have graced its stage. The River Arts District is also home to the ultra-cool Asheville Guitar Bar and the indoor/outdoor music venue by the river, Salvage Station. Meanwhile, downtown Asheville's popular venues include The Orange Peel — highlighted in Travel and Leisure, Rolling Stone, and GQ, among other publications — and Jack of the Wood. The latter, a pub with a traditional British Isles feel, hosts bands most nights and offers weekly Irish sessions.
Don't want to commit to one locale? Then hop on the bus. LaZoom, featuring rolling comedy shows, also offers the Band & Beer Bus Tour, matching local musicians with stops at three of Asheville's breweries. It's a perfect pairing.
Updated December 22, 2022