10 Cant-Miss Vegetarian and Vegan Latin Food Spots in Asheville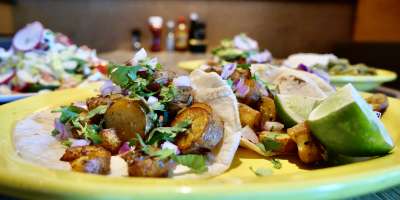 Welcome to Asheville's foodie paradise, aka Foodtopia. And here in Foodtopia you can find just about anything. In this bilingual guide — la versión en español está abajo — we've discovered the intersection of two fan favorites: Latin food and vegetarian and vegan food. 
Below you'll find various categories from food trucks to fine dining, but no matter what you choose, these are some of the healthiest and most delicious Latin and vegetarian/vegan options you'll find in Asheville. 
La Rumba
If you took your favorite cheerful neighborhood Tex-Mex haunt but reimagined it with healthier, homemade dishes and some thoughtful vegetarian options, that's the vibe at La Rumba. In lieu of tortilla chips, start off with a healthier option with delicious elote (Mexican street corn).  
Vegetarian options include enfrijoladas: corn tortillas dipped in black bean puree, topped with onion, radish, avocado, queso fresco and vegan chorizo as well as street tacos with sautéed potatoes. They also have potent mezcal margaritas and serve lunch menu items all day.  
Abejas House Café
Abeja's House Café is all about healthy eating as they blend tastes from their Mexican family culture with other favorites from around the world. 
We're talking homemade croissant breakfast sandwiches, huevos rancheros and chiliaquiles and eggs. For dessert, think focaccia, tres leches, rosca de reyes, and nutella pound cake, with plenty of vegan and gluten-free options.
The Trashy Vegan 
The Trashy Vegan is what you might imagine if you crossed hangover food with healthy plant-based eating. Try their quesadilla with sautéed veggies, shredded cheese and quesadilla sauce with a side of soy curls. A cool afternoon hangout to enjoy with an adult beverage.
In the heart of Biltmore Village, The Cantina has a pleasant outdoor patio and a variety of Mexican food favorites like quesadillas and burritos with a special emphasis on vegetarian and gluten-free options. Try the stuffed grilled avocado, which pairs perfectly with their avocado margarita or the AshVeggie quesadilla and burrito.
This might not fit into the Latin food mold, but if your vegetarian heart wants to try something unique, check out Rosetta's Kitchen. An Asheville institution since 2002, they serve Southern soul like the Family Favorite: peanut butter-baked organic tofu, sautéed kale, and smashed potatoes with granny's gravy along with their special beans and rice plate where you pay what you want, with anything over $6 going to feed the community. 
Rosetta's brews their own delicious kombucha as well, and it pairs perfectly no matter whether you're having its Korean BBQ tempeh sandwich or their veggie reuben! 
Taco Temple and Mamacitas 
Local favorites for Mexican cuisine with best burrito, best taco, best Mexican restaurant wins by local readers, Mamamacitas and Taco Temple use heirloom Oaxacan corn for their tortillas. 
Some special vegetarian callouts: the classic veggie mama burrito at Mamacitas and the vegano vegan breakfast taco at Taco Temple.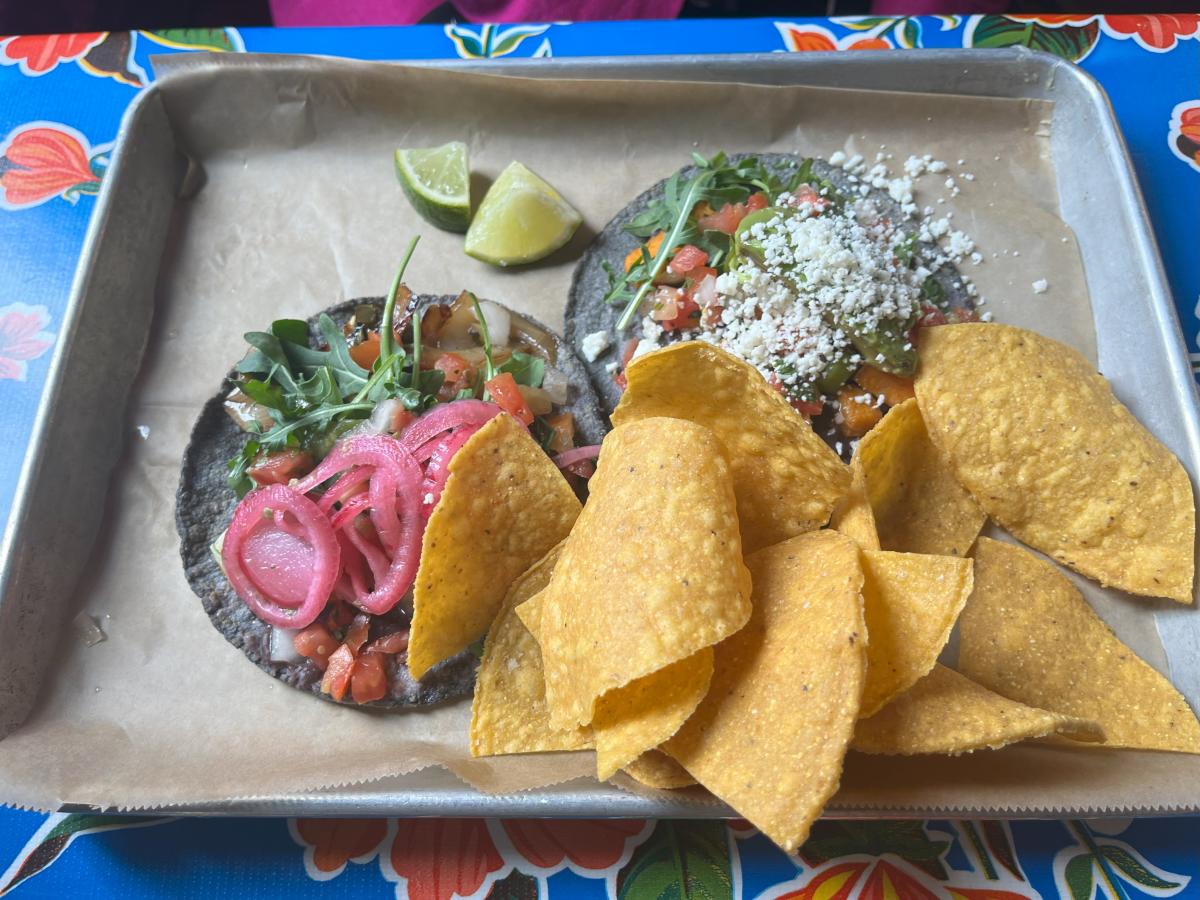 Little Chango 
Little Chango is a cute and colorful South Slope destination where craft kitchen meets casual cuisine favorites from across Latin America.  It's hard to top its arrepas — the Jibarra is vegetarian — and great sides like sweet fried plantains, yucca fries make it a can't miss spot. Try the coconut cardamom flan for dessert! 
Cecilia's Kitchen   
Cecilia's has been serving authentic Argentinian empanadas and other Latin food in Asheville for decades. Check out their convenient North Asheville location if you're looking to meet up with friends for a sophisticated, café culture vibe. 
Some vegetarian options include the mushroom tamal with button mushrooms, onions, tomato, mole sauce served with homemade cilantro salsa and a side salad. Try the the ratatouille crepe, a blend of zucchini, eggplant, roasted peppers, onions and tomatoes with swiss cheese and cream. Don't forget about the empanadas de tomate, a delicious blend of tomatoes, basil, swiss, mozzarella and parmesan cheese.
Laughing Seed is a true Asheville vegetarian institution that focuses on international flavors with everything from their own in-house vegan chorizo to house cured sweet potato pastrami.
For Latin-inspired flavors, try the tostada ensalada: crispy corn tortillas layered with organic salad greens, black beans, brown rice, and the house made "chorizo," topped with cheddar/jack, salsa, guacamole, grape tomatoes, red onion, corn and house pickled jalapeños. Served with chipotle ranch.  They also have amazing southwest fries, a dish pilled high with hand-cut russet vegan chorizo, vegan queso, black beans, jalapenos and green onions.
LIMAQ Catering
Limaq is a caterer with super healthy,  vegan versions of Peruvian favorites like anticuchos and ceviche. With some true food wizardry, LIMAQ is reimagining how to cook with local ingredients, bringing Peru's complex combinations of flavors to life for vegans. 
Updated June 12, 2023