Sam Knob at Black Balsam Trail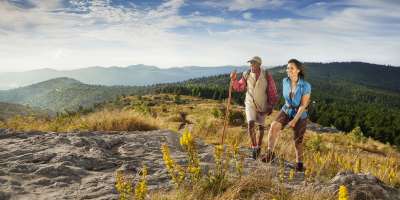 Hike to views that will make your heart sing
An alternative to the popular Black Balsam Knob hike that can be accessed from the same parking lot off the Blue Ridge Parkway, Sam Knob will win your heart with high mountain meadows and long-range wilderness views that rival any in the region.
What To Expect
When you arrive in the Black Balsam parking lot, you'll see a sign for Sam Knob to the right of the pit toilet and left of the information board. The trail goes through sparse forest before opening onto a meadow. Starting down the wooden boardwalk steps into the open meadow that leads to the knob, you might just be moved to a Julie Andrews moment of spontaneous song. The scenery is nearly alpine and alive with wildflowers in the spring and summer, tinted with gentle color in the fall. Sam Knob is straight ahead.
After you cross the meadow, the trail splits, with the left side heading down the Flat Laurel Creek (a great, add-on trail that lets you loop back to the parking lot for a total of 5.3 miles). To reach the summit of Sam Knob, take the Sam Knob Trail to the right, which takes you .6 mile up with a few switchbacks at the start. The trail is mostly wooded, with a few wooden steps in particularly steep areas. There are several rocky overlooks along the way. At the top, you'll get ultimate serenity and views of Middle Prong and Shining Rock Wilderness. There are several flat rocks for picnicking. While Sam Knob doesn't have the highest concentration of blueberries in the area, you'll find bushes here that ripen around mid-August.
When you come back down to the intersection of the two trails, you can go back to the parking lot or make a loop by going left to the Flat Laurel Creek trail. Camping is allowed anywhere except within 500 feet of the road or in closed areas.
Hike Details
Difficulty: Moderate

Distance from Asheville: About 53 miles; 60-70-minute drive 

Length: 2.2 miles

Region: Blue Ridge Parkway

Duration of Hike: 1 hour each way to the summit and back

Elevation Gain: 570 feet, from 5,850 feet to 6,050 feet 

Pet-Friendly? Leashed dogs welcome 

Multiple Use? No

Blazes? Infrequent blue blazes

Facilities & Parking: Parking lot; compost toilet

Natural Features: High mountain meadows, panoramic views
Directions
From downtown, take I-240 West to I-26 East. Take Exit 33 (marked Blue Ridge Parkway-Brevard Road-Hwy 191). Turn left (south) onto Highway 191 and go 2.1 miles, passing brown signs for Blue Ridge Parkway and NC Arboretum. Turn right at the entrance to The North Carolina Arboretum and follow signs for the Blue Ridge Parkway. Turn south on the parkway and drive to Milepost 420, Black Balsam. Turn right onto Black Balsam Road and go 2 miles to the parking lot.
GPS Coordinates
N35.325617, W82.881987
Updated February 18, 2019