Pinnacle Park Hike
Pinnacle Park Hike Details
Difficulty:
Difficult
Length: 7.6 miles round trip
Region: Sylva
Duration of hike: 4 to 5 hours
Elevation gain: 2100 Feet
Type: Out & Back
Blazes: Gold and purple
Facilities & Parking: Parking lot; no facilities
Features:
Pet Friendly,
Views
This classic hike near Western Carolina University delivers a workout
Looking for a challenge? Dramatic views await at The Pinnacle, a rock outcropping that sits at elevation 5,008 feet. When you reach the summit, you'll see the town of Sylva below, with the Smokies in the distance and the Plott Balsam mountain range in the foreground.
You'll get a serious workout on this uphill-all-the-way hike, which is especially popular with students at Western Carolina University (located just 15 minutes away).

LEAVE NO TRACE TIP
The rocky, steep trail makes it especially important to prepare for this hike. Make sure to carry lots of water and allow for extra time, especially on the way up.
What to Expect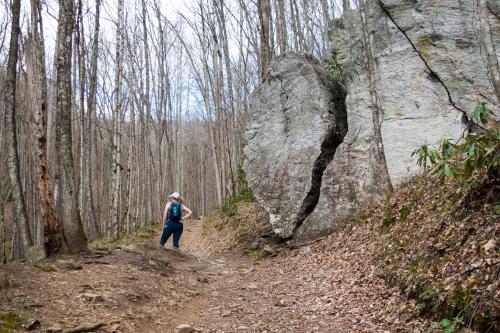 The trail starts at the entrance to Pinnacle Park from a wooden signpost with maps and information. All hikers are required to register here by filling out a registration card.
Roughly .25 miles up the trail, you'll see a sign indicating your choice of trails. While you can get to the top with either the East or West Fork Trail, take the West Fork Trail on the left for the most direct route to The Pinnacle.
For most of the climb, you'll be on a steep and rocky former logging road. There are a few easy creek hops across Fisher Creek along the way. Points of interest on the trail include Split Rock and Ship Rock, dramatic formations you'll pass on your hike.
About 2 miles into your hike, you'll see another sign indicating your choice between Blackrock and the Pinnacle Trail. Turn left to take the trail to The Pinnacle.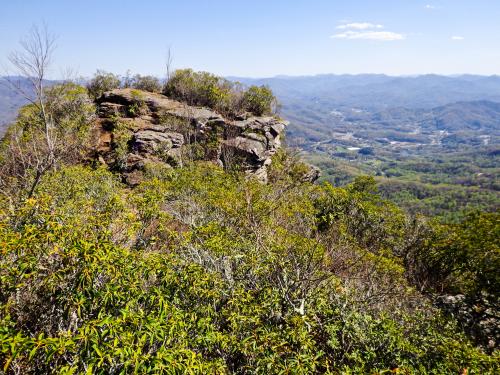 After another mile, you'll reach a more level, open area and a campsite. This is where you'll look for the narrow trail to The Pinnacle (the trail may not be immediately obvious). Look for a break in the rhododendron on the left. Walk through the rhododendrons and emerge to see your destination. Walk out onto The Pinnacle to enjoy the views. But, be very careful of the sharp drop offs. 
Know Before You Go
Because the trails here are so relentlessly uphill and frequently rocky, a walking stick or poles would be a great idea.
Some serious hikers may choose to extend their hike by hiking back to the main trail from The Pinnacle and following the trail to Blackrock. However, Blackrock does not offer the same kind of open, sweeping view as The Pinnacle.
Directions
From Asheville, take I-240 to I-40 West. From I-40, take exit 27 and follow US 74 West to Sylva. Take exit 85 and turn west on Skyland Drive (Old 19-23). Turn right onto Fisher Creek Road near the Parkway underpass and take it until it dead ends into the parking area.
GPS Coordinates
35°25'21.4"N 83°11'28.6"W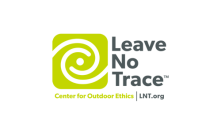 We all love the Blue Ridge Mountains! By working together, we can keep these incredible outdoor spaces beautiful and pristine for years to come. Make it your nature to Leave No Trace: Leave what you find, pack out what you pack in, stay on designated trails and plan ahead. To learn more about the 7 Principles of Leave No Trace, CLICK HERE >>.
Photos by Jason Tarr of ExploreAsheville.com.