Mt. Mitchell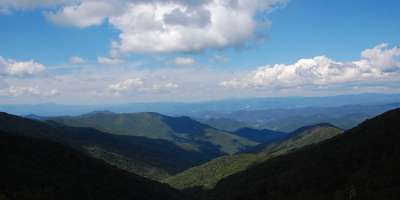 At 6,684, Mount Mitchell is the highest peak east of the Mississippi River. At its summit you'll find a 360° panoramic view of the surrounding Appalachian landscape, filled with mountains and valleys. Experience the gradual change in plant life as you ascend this epic mountain.
Mount Mitchell State Park offers several different hiking options, a short loop (less than a mile), a ridgeline hike with endless spectacular views and, for the most rugged adventurer, there is a trail that goes all the way to Black Mountain Campground. A trail map is available on the park's website.
In addition to hiking, the 1,946-acre park also features an exhibit hall filled with fascinating details about the area, a concession stand and gift shop, and a restaurant where hungry hikers and view-seekers can enjoy a relaxed meal, surrounded by scenic vistas.
Length: 46.5 total miles
Elevation Gain: up to 4,235 feet
Trail Type: Many options
Skill Level: Easy to Strenuous
Summit Elevation: 6,684 feet
ALTERNATE DIRECTIONS FROM ASHEVILLE
Take I-40E to Exit 72 at Old Fort.
Continue on US-70E for 9.6 miles, then turn left onto NC-80N/Lake Tahoma Rd.
Follow NC-80N for 12 miles, then turn left to enter the Blue Ridge Parkway.
Take the Blue Ridge Parkway south for 11.2 miles, then turn right onto NC-128 N.
---
Length: 4 miles round-trip
Elevation Gain: 975 feet
Trail Type: Out-and-back
Skill Level:Strenuous