Where to Find Farmers Markets and Local Harvest in Asheville, N.C.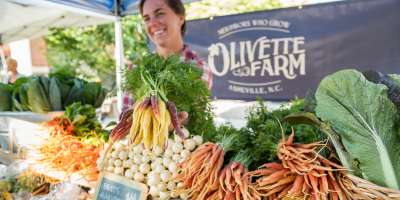 An Emphasis on Fresh, Local Products from Asheville Area Farms
Nearly 100 tailgate markets can be found in the Southern Appalachians and a whopping 20 of them are located in the greater Asheville area.
Shop at one of these many markets and odds are you'll be shopping alongside chefs from the best Asheville restaurants. Eateries like Tupelo Honey Café , Sovereign Remedies and The Market Place are just a few of the many places where you can savor meals prepared with farm fresh food.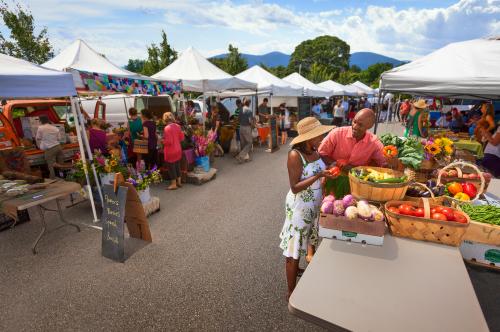 There are markets that are open year-round. The largest being the Western North Carolina Farmers Market; open year-round and seven days a week. There are also indoor markets and special holiday markets that are open seasonally.
Most of Asheville's tailgate markets open for the year in the spring, typically in April or May. These early spring markets offer an array of produce, including colorful root vegetables like carrots and radishes, tender lettuces and salad greens, cold-hardy greens like kale and spinach, mushrooms and spring alliums. In addition to produce, pick from a selection of meats, cheese, eggs, bread, and prepared foods, as well as a wide selection of starter plants.
May is Wellness Month at Farmers Markets in the Asheville area, which, in the past, has included activities like kids yoga, community workouts, cooking demos, health screenings and chiropractic evaluations.
Fall is an especially great time to experience these locals markets. During the harvest, tailgates and roadside stands are stocked with edible and decorative gourds, autumn harvest arrangements and wreaths, various vegetables and more than enough jarred and packaged goods.
Visit the Appalachian Sustainable Agriculture Project's (ASAP) website to find tailgate markets, farm stands and holiday markets.

For a list of local tailgate markets, and the days and times they are open, click HERE.
The tailgate markets value the safety and health of customers. In line with state and local guidelines, these markets have taken steps to keep shoppers safe. These steps may include social distancing, limiting the number of shoppers, and mask requirements. Check individual market websites and signage for details and updates.
Tour Asheville's Farm-to-Table Restaurants
Asheville is known as the Paris of the South for its galleries, cafes and world-class food scene. Get an insider's view of the city's many farm-to-table restaurants through some of the local walking tours. There's Eating Asheville Walking Food Tours, created by two local restaurant veterans, offering tours from the basic to the posh (with five whole drink pairings).
Asheville Food Tours, many led by well-respected local food writer Stu Helm, visits six or seven handpicked restaurants and food shops. 
In a sipping and sitting mood? Try Brews Cruise, which wheels you around the area's bevy of breweries. Or check out Brew-ED, which is a brewery tour with a strong educational element.
Asheville Honey in Bee City USA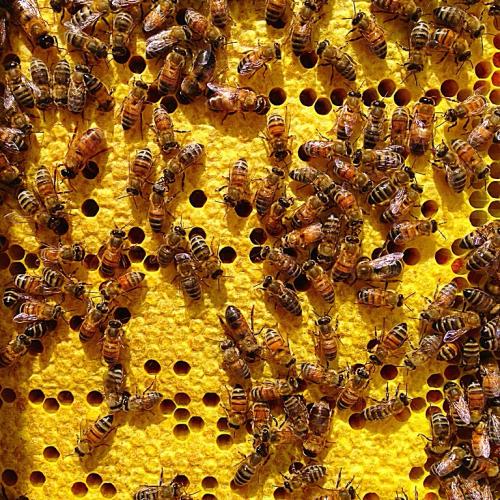 Asheville is also Bee City USA. The area loves its pollinators, which make possible up to two-thirds of what we eat.
The Bee Charmer in downtown Asheville offers a wide selection of raw and pure honey from North Carolina and around the world.
Honey & the Hive is a bee-centric store in nearby Weaverville. The shop offers local honey, beekeeping needs and honey-based beauty products. It also has demonstrations geared toward both the advanced and aspiring beekeeper.
For a different honey experience, visit the WNC Farmers Market, which is brimming with honey and other locally made products (and boasts gorgeous views of the Blue Ridge Mountains).
Find Fresh Food
Each year, the Appalachian Sustainable Agriculture Project (ASAP) publishes its Local Food Guide, a free publication to help you find local food and farms.
This resource lists "Appalachian Grown" certified farms, farmers tailgate markets, and restaurants throughout the area.
Look for the publication at the Asheville Visitor Center or view a digital version on the ASAP website. 
Updated April 11, 2023