Laurel River Trail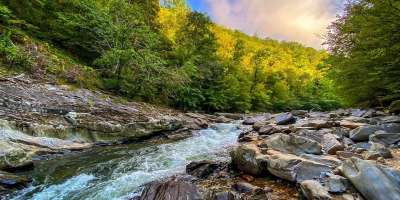 Laurel River Trail Details
Difficulty:
Easy
Length: 3.6 miles to the end, but can be hiked to any length
Region: Near Hot Springs, Madison County
Duration of hike: Up to 2 hours
Elevation gain: 220 Feet
Type: Out & Back
Blazes: Yellow
Facilities & Parking: Small parking area on the side of the road, no facilities
Features:
Wildflowers,
Pet Friendly,
Kid Friendly
Once a rail bed, now an idyllic hike along a mountain creek
There's something about the Laurel River Trail that feels hidden and undiscovered, even if you're sharing this former rail-bed trail with others. Take a picnic, bring your dog and wear your swimsuit if it's summer. There are many places to sit out on the rocks and soak in the sun. This is a family-friendly hike that even small children can handle. Combine it with a visit to Hot Springs just 10 minutes farther away for a full-day outing.

LEAVE NO TRACE TIP
Wildlife make their home under the rocks along the river. Preserve their habitat by leaving rocks where they are. Removing rocks to build a cairn (for example), may prove fatal for the sensitive wildlife who call these spaces home.
What To Expect
The parking lot is along the side of the road and fills up on nice days, so consider getting an early start or waiting until later in the afternoon. Take the trail down through the woods, passing an abandoned rail car on the left (it's private property, so keep away). Big Laurel Creek will be on your right (despite the name 'river' in the trail's title). The trail bears to the right, passing a private home.  Once you round the bend, you'll start to see a few flat rocks in the river that you can wade out to. While the water's not very deep anywhere along the trail, it's deep enough for a dunk in several places. The sides of the trail are shady, so you'll also find some good picnic spots here.
While the trail continues for 3.6 miles, it enters Pisgah National Forest at the 1-mile mark. For families with small children, this can be a good place to turn around. If you continue, you might see the remains of the old logging town of Runion, once serviced by the railroad that came through here. When you get to the end of the trail, you'll actually encounter an active railway.
Hot Springs is a great add-on trip from here: only about 10 minutes away, there are pubs, restaurants, shops and of course the famed hot springs.
Directions
From downtown Asheville, take US 19 N/U.S. 23 N/U.S. 70 W/I- 26 toward Weaverville/Woodfin. Continue onto I-26 W/US-19 N/US-23 N/US-70 W for 8 miles. Take exit 19A and merge onto US-25 N/US-70 W toward Marshall. Stay on this road for 21.3 miles until the just before the intersection with Hwy 208. The parking lot is gravel and will be on the left.
GPS Coordinates
N35.912774, W82.756868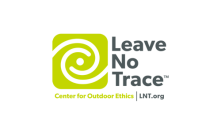 We all love the Blue Ridge Mountains! By working together, we can keep these incredible outdoor spaces beautiful and pristine for years to come. Make it your nature to Leave No Trace: Leave what you find, pack out what you pack in, stay on designated trails and plan ahead. To learn more about the 7 Principles of Leave No Trace, CLICK HERE >>.
Photo credit: @stacig24
Updated April 11, 2023