Hiking Craggy Gardens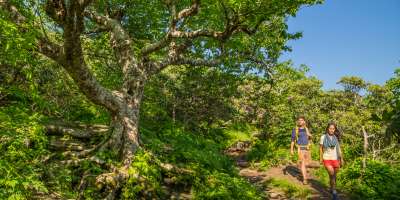 Blue Ridge Heaven Just Miles From Town
Even after 14 years of living in Asheville, just a glimpse of the Blue Ridge Mountains casts a spell on me. It looks so far away but ahh…it is not. Just a short drive from downtown and I'll be at Craggy Gardens (Craggy for short) and a soaring 5,892 foot elevation. This is the locals' favorite spot to head for the hills and get in a quick hike and huge dose of Blue Ridge beauty.
The Blue Ridge Parkway Visitor Center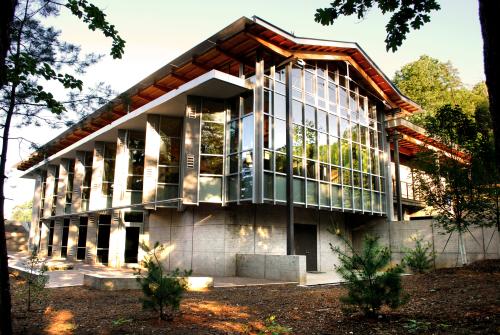 Worthy of a stop along the way is at the Blue Ridge Parkway Visitor Center at Milepost (MP) 384 (a mile south of US 70 intersection), about eight miles east of downtown Asheville.  This is where we start our day and the place to begin any journey along the 469-mile stretch of the Parkway.
Folk Arts Center
Just two miles north of the Visitor Center is the Folk Arts Center offering the finest examples of Southern Appalachian craft on exhibit and for sale. The day we were there we were able to see some of the master crafters at work. Check out the events page, maybe you'll be lucky enough to hear some traditional mountain music.
Exploring "Craggy"
I love Craggy because every season offers a different landscape of color.  An amazing time to visit is in mid-June when there are endless pink and purple blooms of native Catawba rhododendron.  This is home to rare and endangered plants and a NC Natural Heritage Area.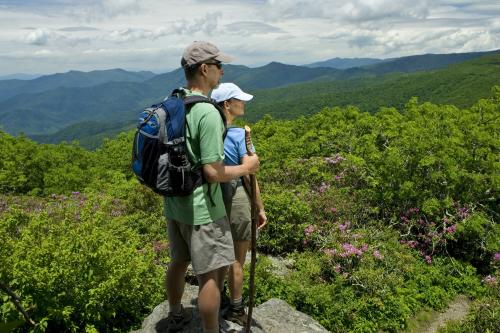 On this trip we skipped The Craggy Gardens Trail, which can be accessed from the south end of the Craggy Garden Visitor Center (open May – Oct.) parking area (MP 364.5) or from the north end of the picnic area (MP 367.6). From the parking area, it is a moderate uphill climb for 0.3 mile that ends at a trail shelter with amazing views.  Spread out your blanket because this is picnic paradise.
Instead we opted for the Craggy Pinnacle trail.  A short hike with big rewards, we embarked at the Pinnacle trailhead that begins at the upper level of Craggy Dome at MP 364.1  My friend Dane (not a big hiker) joins me and a backpack full of locally grown treats from the tailgate market downtown. It will be about 20 minutes before we reach the top and indulge in both lunch and the views.  The (1.4-miles round-trip) trail winds through a canopy of rhododendron, ancient-looking sweet birch and tall rock croppings (kids love them), finally reaching the 5,892-foot summit at Craggy Pinnacle. The 360-degree views will take your breath away – make sure you plan on taking time to linger.
What To Know Before You Go
Bring a jacket, plenty of liquids, food, comfortable shoes and a full tank of gas.
Craggy Gardens often gets lost in cloud coverage but it can clear in minutes – be patient.
Check the Parkway for road closures due to weather or construction.
Print a map of Craggy Gardens.