Glassy Mountain Trail at the Carl Sandburg Home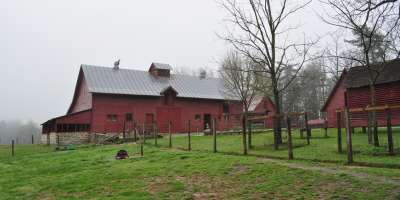 Poetic mountain views at a National Historic Site
Carl Sandburg, "the People's Poet" bought his historic home Connemara in 1945. After he died, his wife donated the property to the National Park Service and now this 267-acre National Historic Site preserves his legacy. This great day trip from Asheville combines history, nature and (especially interesting for kids) lots of goats.
What To Expect
There's no fee to visit the National Historic Site, although tours of the house require a fee. There are five miles of trails on the property, including an idyllic hike to the top of Big Glassy Mountain (the main attraction as far as the hiking trails are concerned). Ask a park ranger for a trail map and they'll be happy to supply one for free.
From the parking lot, you'll follow the path to the front of the small lake (there's a short loop trail around this lake that connects to other trails on the far side). Continue up the path to the house, a climb (but not a steep one) with some shade trees. To the right of the house, you'll see the historic barns where Sandburg's wife Paula operated an acclaimed dairy goat farm.
The Glassy Mountain Trail to the top of Big Glassy starts just behind the house (you can also start it by crossing the field across from the goat barns). This wooded trail is well maintained and moderately steep. Along the way you'll pass a small reservoir and some rock outcroppings. There are benches along the way for resting. The top is a flat, exposed granite slab that's suitable for picnicking. While the mountains in this area aren't as big or dramatic as they are further north, you can see Mount Pisgah in the distance off to the northwest and South Carolina to the south. There are a lot of evergreens at the top, but the fall color is still lovely.
In addition to the Glassy Mountain Trail, there's also the .3-mile moderate Little Glassy Trail, which intersects with the .9-mile Memminger Loop that starts and ends at the woodshed next to the main house. All of these hikes are easy enough to do with older children. 
Directions
From downtown Asheville, take I-240 West to Interstate 26-East to exit 53. Turn right onto Upward Road. At the intersection with 176/Spartanburg Hwy, continue straight. Upward Road turns into Highland Lake Road. At the light at the end of the road, turn left onto 225/Greenville Hwy South. At next light, take a right onto Little River Road. National Historic Site visitor parking is on the left.
GPS Coordinates
N35.273253, W82.445153
Updated July 18, 2019