Douglas Falls Hike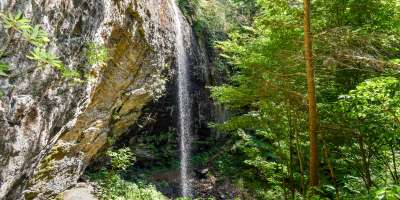 Douglas Falls Hike Details
Difficulty:
Easy Moderate
Length: 1 mile round trip (short); 6.6-miles round trip (long)
Region: Big Ivy, Pisgah National Forest
Duration of hike: 1 hour (short); 6 hours (long)
Elevation gain: 160 feet (short); 2,200 feet (long)
Type: Out & Back
Blazes: Orange
Facilities & Parking: Parking area at both trailheads; facilities available at Craggy Gardens
Features:
Pet Friendly,
Waterfalls
An off-the-beaten path gem with an easy or challenging approach
Tucked away in the beautiful Big Ivy area of Pisgah National Forest, the 70-foot Douglas Falls offers the rare opportunity to walk behind a waterfall. The waterfall drops from an overhanging cliff and features an impressive rock wall in the background.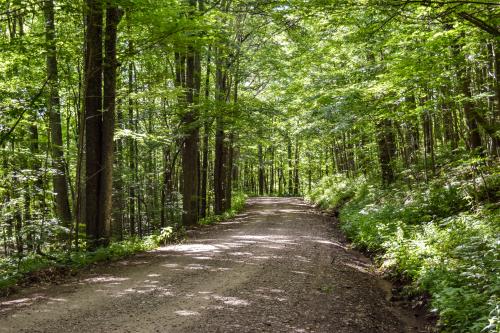 You won't get to Douglas Falls by accident. But you'll be glad you made the effort to get there. You can choose one of the two routes to reach the falls. One includes a challenging hike, the other requires a steep, scenic drive.
Douglas Falls is generally a low flow waterfall (unless after a big rain) but it's a great setting to enjoy the beauty of the forest. 
Douglas Falls are said to have been named for Supreme Court Justice William O. Douglas, who was appointed to the court by Franklin D. Roosevelt and was an active environmentalist.

LEAVE NO TRACE TIP
The remote Big Ivy area, home to Douglas Falls, is known for its wild beauty. Help keep Big Ivy beautiful by packing out your trash.
What to Expect
The most common way to access Douglas Falls is to drive the unpaved Forest Service road and then hike a half-mile each way, out and back. This drive, along Forest Service 74, passes several other roadside small cascades and waterfalls, including Walker Falls. Once you reach the parking area, look for the trail at the far end. The trail is a gradual downhill slope, making it great for families and people of nearly all fitness levels.
The other way to reach the falls is from the Craggy Gardens Visitor Center on the Blue Ridge Parkway at Milepost 364.6. This is a 6.6-mile strenuous hike on a rugged trail that is only recommended for experienced hikers.
Directions
From Asheville, take US 19/23 North/I-26 west to exit 15 for Jupiter/Barnardsville NC Hwy 197. Turn right toward Barnardsville and follow NC 197 about 6 miles to the town. Turn right onto Dillingham Road. Stay on this road, which will turn to gravel once it becomes FS 74. From here, it's 8 miles to the Douglas Falls parking area.
To access the Douglas Falls Trail (also known as the Carter Creek Falls Trails) from the Craggy Gardens Visitor Center, follow the Mountains-to-Sea Trail (MTS) south for 1 mile to the intersection with the Falls Trail. From here, it's another 3 miles past several other cascades. There are maps available at the Visitor's Center.
Know Before You Go
If you do choose to walk behind the waterfall, exercise extreme caution as the rocks may be more slippery than they appear.
GPS Coordinates
35.728815, -82.374353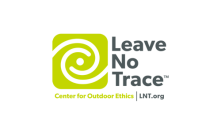 We all love the Blue Ridge Mountains! By working together, we can keep these incredible outdoor spaces beautiful and pristine for years to come. Make it your nature to Leave No Trace: Leave what you find, pack out what you pack in, stay on designated trails and plan ahead. To learn more about the 7 Principles of Leave No Trace, CLICK HERE >>.
Photos by Jason Tarr of ExploreAsheville.com.
Updated July 26, 2021