Devils Courthouse Hike on Blue Ridge Parkway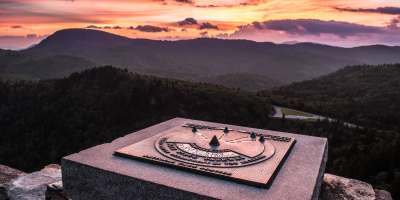 Devil's Courthouse Hike on Blue Ridge Parkway Details
Difficulty:
Moderate Difficult
Length: 1 mile round trip
Region: Blue Ridge Parkway
Duration of hike: 1 Hour
Elevation gain: 272 Feet
Type: Out & Back
Blazes: Blue
Facilities & Parking: Parking lot off Blue Ridge Parkway; no facilities
Features:
Pet Friendly,
Views,
Wildflowers
Intriguing name, spectacular sunsets
From the parking area at Devil's Courthouse Blue Ridge Parkway, you can see your destination above you: an imposing rock outcropping that dares you to climb it. Rise to the challenge: from atop this edifice, you'll have the world at your feet, with views to the north, south and west. After all, the summit of Devil's Courthouse is at 5,720 feet.
The area is said to have gotten its nickname because the features of the rocks resembled a menacing face or because legend holds the devil held court in the cave that lies beneath the rock. According to Cherokee legend, the cave is the private dancing chamber and dwelling place of the giant, Judaculla.
What to Expect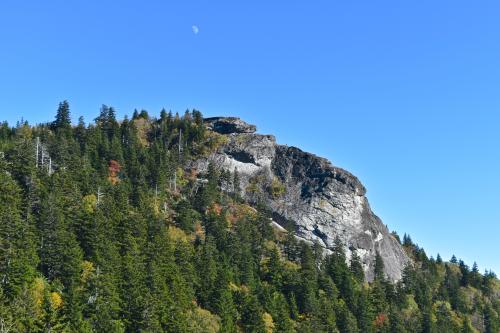 When you pull into the Devil's Courthouse overlook, you'll find a paved parking lot that's unlikely to be full. From here, you can see the striking rock outcropping looming above you.
Most of this trail is paved. But, it's steep and uphill with no flat or level breaks. Toward the end (when the trail enters a forested area), the pavement ends. Here there's a spur trail that connects to the Mountains to Sea Trail going to the left. Continue up the Devil's Courthouse Trail to the right and follow it to the overlook.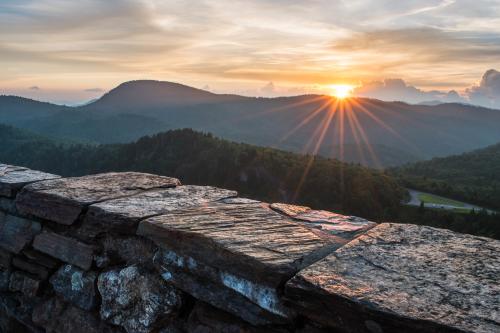 Stay on the trail and do not climb over the rock wall of the overlook. The area beyond the overlook is a fragile nesting area for Peregrine Falcons. 
On a clear day, the summit will offer you views into Georgia, South Carolina and Tennessee. There are bronze plaques that help you identify what you're seeing. It's a great spot for watching the sunset! 
Directions
From downtown, take I-240 West to I-26 East. Take Exit 33 (marked Blue Ridge Parkway-Brevard Road-Hwy 191). Turn left (south) onto Highway 191 and go 2.1 miles, passing brown signs for Blue Ridge Parkway and NC Arboretum. Turn right at the entrance to The North Carolina Arboretum and follow signs for the Blue Ridge Parkway. Turn south on the parkway to Milepost 422, then continue .4 mile beyond that.
Know Before You Go
The trail is steep, especially the final stretch to the summit. Despite the steepness, this is a trail that most children and those with a reasonable level of fitness can accomplish. Bring a jacket with you as the wide, rocky outcropping at the top is exposed to wind and the elements. 
GPS Coordinates
35.305131, -82.899732
Photos by Jason Tarr of ExploreAsheville.com.