Daniel Ridge Loop Trail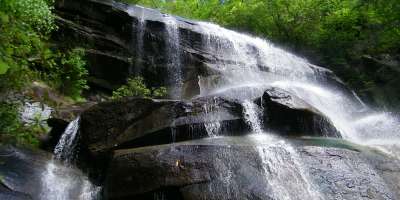 Daniel Ridge Loop Trail Details
Difficulty:
Moderate
Length: 4-mile loop
Region: Pisgah National Forest, Brevard
Duration of hike: 2.5-3 hours
Elevation gain: 800 Feet
Type: Loop
Blazes: Red
Facilities & Parking: Gravel parking lot, no facilities
Features:
Pet Friendly,
Waterfalls
Mountain streams and mountain bikes
With so many waterfalls in the Brevard area, Daniel Ridge Falls (a 150-foot cascade on Lanning Branch that's also called Tom Spring Falls and less frequently, Jackson Falls) is often overlooked. Take advantage of its relative obscurity to have this peaceful riverside loop trail all to yourself. A mountain biker may whizz by you, but otherwise, all you'll hear is rushing water and birdsongs along your way.
What To Expect
Since the trail is a loop, you can do it either way, but most hikers and bikers start with the route described here.
From the parking lot, head toward the Davidson River and cross the bridge. Soon after, you'll see a few primitive camping spots. You'll see the sign for the Daniel Ridge Trail just past this on the left. The trail follows the Davidson River upstream, passing small waterfalls along the way. You have the option of a spur trail that goes close to the river and rejoins the main trail up ahead or staying on the main trail. Follow the red-blazed main trail as it forks to the right along Lanning Branch. The trail is fairly rough with roots and rocks at this point, which is one reason it's popular with mountain bikers.
You'll climb for about 1 mile to the intersection with the Farlow Gap Trail. Continue to the right through a forested area with some winter views, then through a series of meadows. Finally, you'll get to a right turn that takes you onto the gravel road. Take this for about .5 mile back to the gate.
You have the option from the parking lot of hiking only to the falls and skipping the loop trail. It's about .5 mile each way. To go straight to the waterfall, cross the bridge and follow the sign to the falls. You can also get on the loop trail just before the falls.
Directions
From downtown Asheville, take I-240 west, to I-26 east Exit 40. Turn right onto Hwy 280 and go for 16 miles to the intersection of US Hwy 276 and 64. Turn right onto US 276 and go for 5.2 miles before turning  left on the Forest Road 475 (in the direction of the Pisgah Center for Wildlife Education). Drive 3.9 miles, passing the Cove Creek Group Campground. The parking area will be on right after another .7 mile.
GPS Coordinates
35.284688, -82.828712