Catawba Falls Trail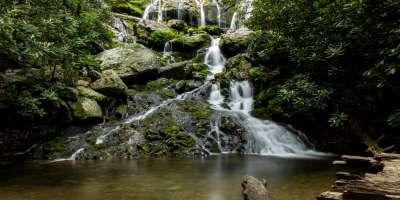 Catawba Falls Trail Details
Difficulty:
Easy
Length: 1.5 miles each way; 3 miles round-trip
Region: Old Fort, McDowell County, Pisgah National Forest
Duration of hike: About 3 hours total
Elevation gain: 465 feet to the falls
Type: Out & Back
Blazes: None
Facilities & Parking: Parking lot and restrooms
Features:
Waterfalls,
Pet Friendly,
Kid Friendly
Catawba Falls is relatively close to downtown Asheville (just 25 miles away) and offers stunning beauty thanks to a series of cascades that, together, are 100 feet tall. The U.S. Forest Service recently has made the easy-to-moderate trail even more enjoyable by adding two new footbridges so that you no longer have to rock hop across the river to enjoy the falls. The hike is just three miles round trip.

LEAVE NO TRACE TIP
Enjoy Catawba Falls' multi-tiered cascades from the base of the falls. Stay off the slippier rocks around the waterfall. Slips on the rocks have led to serious injuries and fatal falls.
What To Expect
From the parking lot, take the nearly flat trail that follows what was once a wagon route from Old Fort to Asheville. There are several stone foundation ruins from the early 1900s along this trail, including the wall of a dam once constructed here in an attempt to create hydropower. Do not stand on the dam wall: it's treacherous.
As you pass through the hardwood forest, the trail stays close to the water the whole way. The sound of the water varies from a light gurgling to a loud rush, but it's always a nice accompaniment to the hike.
360 View - Catawba Falls
Having trouble viewing on mobile? Click here to see the Google Street View version.
360 View - Catawba Falls Trail
Having trouble viewing on mobile? Click here to see the Google Street View version.
When you reach the base of the falls, there's a relatively flat area from which to observe them. The lower portion of the falls consist of many small cascades.
While there is an upper portion of Catawba Falls, emergency management officials urge you not to attempt to reach the upper cascade. There is no trail maintained by the U.S. Forest Service that takes you to the upper falls. Given the upper falls can also be seen from below (especially during the winter months!), it's not necessary to go any farther.
Because this hike is so close to Asheville, it's quite popular and you'll have to share the trail with others on summer weekends. Visit in the fall for lovely foliage.
Directions
From downtown Asheville, take I-240 to I- 40 East, Exit 73 (the second Old Fort exit). Before you get to the end of the exit ramp, turn right onto Catawba River Road. The road ends after three miles at the parking lot for the falls.
GPS Coordinates
35.603858, -82.245154
Photo by Hugo Gutierrez.
Updated July 26, 2021