Asheville's Top Mocktails and Non Alcoholic Beverages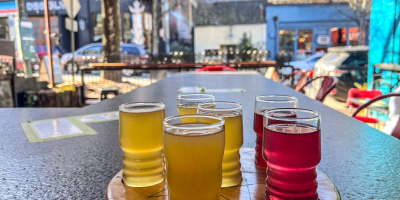 From Dry January to Festive December, Asheville has mocktails, kava, kombucha and more year-round options for alcohol-free imbibing
Since Dry January was officially established a decade ago, the movement to just say no to alcohol for 31 days has increasingly extended throughout the year. That has sparked demand for alternatives that don't leave people who are sober-curious or mindfully moderating sitting solo at the bar nursing a club soda as their pals engage in spirited socializing.
While Asheville, North Carolina values its reputation as Beer City, the emergence of its regional wine, cider and spirit distilleries has garnered even more national kudos for its creative food and beverage culture. But above all, Asheville is a community that is welcoming for all, no matter how one chooses to dine or imbibe. The city's drinking and dining establishments now offer multiple options for zero-proof imbibing that are 100 percent delicious.
Check out this guide to the top mocktails, non-alcoholic beers and alcohol-free bars in Asheville, NC.
Little Jumbo | Five Points
Just two years after it opened, Little Jumbo was named one of the Best Cocktail Bars of the South by Garden & Gun magazine. It was also an early devotee to creating sophisticated spirit free cocktails -- the first bar on the Eastern Seaboard to embrace Britain's Seedlip products -- and has greatly expanded its repertoire of NA spirits since. Slip into a seat in the intimate room evocative of a Prohibition speakeasy, sip a snazzy Jazzhands mocktail while enjoying live jazz every Monday and Tuesday night.
Golden Pineapple | West Asheville
A quirky little corner bar in one of the oldest buildings in quirky West Asheville, the Golden Pineapple is bartender owned and operated. The master mixologists at the helm make their own alcohol-free spirits using herbs, aromatics and an immersion circulator. The finished product serves as the foundation for a dedicated section of their cocktail menu called No Grav, which includes the Casamara Cosmo, the Cutecumber and the faux vermouth/faux gin/truly tasty NoGroni.
Mountain Madre | Downtown
A margarita without tequila is just a limeade and what fun is that?  An non-alcoholic margarita at Mountain Madre Mexican Kitchen & Agave Bar trades the Reposado for zero-alcohol Ritual Tequila, Monday Mezcal and Fleure Smoked Agave to shake up with their handmade margarita mixes like Blackberry Smoke or Spice of Life. Salt the rim, add a slice of lime and have yourself a mockarita in Asheville.
The Pot Stirred | Downtown
Walking the steep streets of downtown Asheville can work up a powerful thirst and there are countless options for quenching, but none as unique as The Pot Stirred, an alcohol-free mushroom and botanical bar. In a cozy corner of the Carolina Hemp Company retail store, the fungi and other plant-based product and botanicals are served in the form of hot and cold beverages, formulated in three purposeful categories – elevated, euphoric or grounded.
The Whale | West Asheville
Non-alcoholic beer has come a long way in the last several years and that's good news for people who crave a cold one but want to forego the alcohol.  At The Whale Craft Beer Collective craft beer lovers who want all the ABV and craft beer lovers who want 0.5% ABV (the upper limit to be an NA beer) can clink respective pint glasses and say Prost! The Whale pulls a rotation of national and international brews on tap and stocks nearly 100 more by the bottle. But booze-less beers are not an afterthought at this indoor/outdoor gathering spot – there are regularly eight or more non-alcholic IPAs, stouts, pilsners and sours; bonus points for the NA cider from Normandy. Photo credit: @DanConerd
Saint Brighid's | River Arts District
Inside the Marquee, Asheville's design-centric market located in the River Arts District, is Saint Brighid's, a posh bar that serves beer, wine, mead and cider to enjoy at the bar or sip while browsing wares from dozens of artists and makers in the ginormous building. Saint Brighid's has devoted one wall of their lounge to NOLO Bottle Shop's extensive inventory of everything non-alcoholic, from beer to bubbles, wine in all the colors, bottled Phony Negronis and canned highballs, spirit-free spirits, botanical elixirs and aperitifs and CBD-infused seltzer. Saint Brighid's bartenders will make an NA cocktail, pour a Phony Negroni over ice, a beer in a glass or package your selection to take home.
Rosetta's Kitchen & The Buchi Bar | Downtown
When Rosetta Baun relocated her iconic 20-year-old restaurant and bar from its original location on Lexington Avenue to a more spacious location just up the street, she assured regulars The Buchi Bar was part of the package. Since the founders of Asheville-based Buchi kombucha first poured samples of their fizzy home brew for her more than 10 years ago, Baun has carried the local favorite in kombucha flights and six flavors on tap.
Sovereign Kava | Downtown
Kava curious? You're not alone. Kombucha is often stocked among soft drinks and flavored seltzers in retail beverage cases, but kava remains somewhat mysterious. Brewed from the root of a plant from the South Pacific, at Sovereign Kava the somewhat bitter beverage can be taken straight up or mixed with flavor enhancers like chocolate and ginger. Take a mellow little walk on the weird side of Asheville at the city's first kava bar which also hosts weekly open mic poetry nights, live music and ping pong tournaments.
Asheville Rooftop Bar Tours | Downtown
Hiking is not required for panoramic views of Asheville and its surrounding mountains. Since 2018, Asheville Rooftop Bar Tours has offered several options for enjoying craft cocktails and beverages from the city's well-known urban peaks. There's the Sunset & City Lights Tour, the Rooftop Sunset Tour, the Sky is the Limit Tour and every January, the Mocktail Tour – three destinations and three alcohol free hand-crafted mocktails, as well as a non-alcoholic beverage and recipe to go. All tours offer options for boozeless beverages at every stop.
Updated December 29, 2022