Asheville's Literary Connections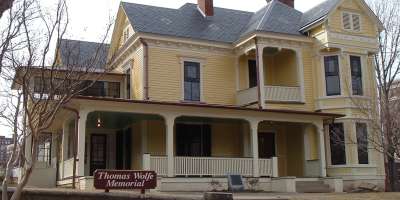 Asheville's literary heritage stretches across the 20th century and contemporary authors continue to be drawn here. These well-known novelists, poets, essayists and storytellers have ties to Asheville:
F. Scott Fitzgerald, who spent two summers at the Omni Grove Park Inn
Thomas Wolfe, Asheville native and author of Look Homeward, Angel
Carl Sandburg, poet and biographer
O. Henry, short story writer buried in Riverside Cemetery
Wilma Dykeman, essayist and environmental pioneer
Gail Godwin, contemporary novelist
John Ehle, Western N.C. novelist
Sarah Gruen, author of Water for Elephants
Patricia Cornwell, crime writer who grew up in nearby Montreat
Charles Frazier, Asheville native known for Cold Mountain and other regional novels
Ron Rash, local writer who weaves regional history into his tales.
Authors with Asheville Connections
F. SCOTT FITZGERALD, author of The Great Gatsby and Tender is the Night, spent time enjoying a luxurious stay at the Grove Park Inn while his wife, Zelda, received psychiatric treatment at nearby Highland Hospital. His most famous novels detailed the lavish lifestyles of the late 1920s, and he wrote a short story or two while in Asheville, but drinking and womanizing earned him dubious repute in the mountains.
THOMAS WOLFE, celebrated author of Look Homeward, Angel and You Can't Go Home Again, retained a stormy relationship with the mountain city he called home. His mother, Julia Westall Wolfe, operated a 29-room boarding house on Woodfin Street called the Old Kentucky Home, now preserved as a state historic site open to the public as the Thomas Wolfe Memorial.
Published in 1929, Look Homeward, Angel was not well-received by Asheville residents, who felt the book portrayed them as ignorant and unfriendly. The negative reviews, overall hostility, and even threats on his life confused Wolfe, keeping him away from home until 1937. Eventually, Wolfe's success softened Asheville's indignation, fostering the author's gradual acceptance as a favorite son.
O. HENRY, born William Henry Porter in Greensboro in 1862, established ties to the area by marrying Asheville native Sarah Coleman, his second wife. The famed writer's life was a series of numerous disasters and failures, including a stint in prison for embezzlement. While in prison, he wrote stories to occupy his time and found success until his death from cirrhosis of the liver in 1910. O. Henry was buried at Asheville's Riverside Cemetery not far from the grave of Thomas Wolfe.
CARL SANDBURG ventured to Flat Rock, near Hendersonville, in 1945 and purchased a farm he named Connemara, where he lived until his death in 1967. The popular poet and Lincoln biographer judged this place perfect for his family and for writing. Sandburg's wife Lilian realized the land to be ideal for her 200 purebred, prize-winning goats.
During his time at Connemara, Sandburg created such memorable works as Remembrance Rock and Always the Young Strangers. He often wrote in his third floor study, but at other times he ventured behind Connemara to write while sitting on a large stone ledge, a perch you can walk to today at the National Historic Site.
WILMA DYKEMAN, a prolific novelist, columnist, historian and lecturer, was inspired by her Asheville home at the head of Beaverdam in north Asheville. Author of 16 books, Guggenheim Fellow, and winner of many literary recognitions and awards, Dykeman was also a strong advocate for protection of the French Broad River and was an active figure during Asheville's riverfront revitalization efforts. Among her best-known titles are The French Broad and The Tall Woman.
GAIL GODWIN, contemporary novelist and Asheville native, makes many allusions to her hometown in her books. Her novel entitled Father Melancholy's Daughter was published in 1991 and contains such themes as religion, depression and relationships. "Sometimes at night, if I'm tired, I'll snatch up some pages and kind of surprise them. Sometimes I'm surprised it's so good. Sometimes I have to start over again," Godwin said in a May 1, 1991 Asheville Citizen-Times article. 
JOHN EHLE, Asheville native, was born on December 13, 1925. His novels covered topics ranging from civil rights to Parisian culture. His 1961 novel, Lion in the Hearth, details the struggles of a Western North Carolina family and The Road, a 1967 novel, reveals the hardships endured by those constructing the railroad from Old Fort to Ridgecrest—two small communities not far from Asheville.
Learn More About Asheville's Literary Life
Pick up the guidebook, North Carolina Literary Trails, to learn more about the area's writers, their homes, and the inspiration they found in Western North Carolina. You can find it at the Asheville Visitor Center and at many local bookstores. You just might be charmed enough to delve more deeply into the local literary scene by visiting these favorite downtown Asheville hangouts like Malaprop's Bookstore & Cafe and the Battery Park Book Exchange.
Take an Asheville Literary Tour
Allow local experts with AVL Lit Tours to lead you on a journey through local literary history. Whether you're interested in a passing glimpse of Asheville's great authors or you want to dive deep into some of the area's literary mysteries, AVL Lit Tours has an experience for you! 
Asheville's Collegiate Legacy
Warren Wilson College, a small liberal arts college 10 miles east of Asheville, frequently features lectures and readings by prominent contemporary authors.
Although it closed its doors in 1957, Black Mountain College, 15 miles east of Asheville, attracted avant-garde poets, artists and writers from all over the world, seeking intellectual freedom. Its students and professors still influence education and the arts today, including Anni and Josef Albers, Merce Cunningham, Willem de Kooning, and Buckminster Fuller.
The mingling of literary treasures from the past with prize-winning pieces of today's celebrated authors lends to Asheville's distinction as a city of writing. Undoubtedly, Asheville's rich tradition in literature will continue to strengthen with each passing generation.