Asheville Venue Guide: Places to Eat, Drink and Dance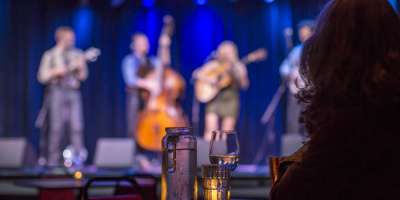 Dinner and dancing are not mutually exclusive in Asheville. Many of our music halls double as a restaurant, or offer ways to nosh before catching a show. If you're looking for the best all-in-one spots for your night on the town, then check out one of these top-notch venues.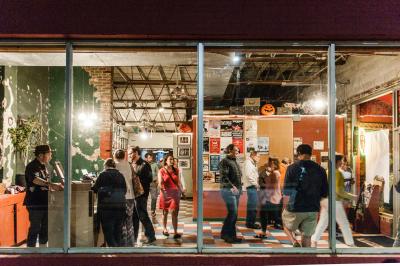 Grey Eagle
One of the old vanguards of the Asheville venues, the Grey Eagle was a major player in the development of the music scene in Asheville. It's a guaranteed place to find the next up and coming acts before they hit the mainstream, and it's one place where you can dine alongside your favorite musical acts. The Grey Eagle Taqueria, which adjoins the venue's bar, serves up scratch made arepas, cemitas, and burritos, as well as a variety of vegetarian and vegan options. The Taqueria is open from noon-11pm, with extended service for ticket holders for shows.
Asheville's original local brewery, Highland's brewery features two stages, indoor and outdoor, which regularly host the best local and nationally touring bands each weekend. The tasting room offers dozens of the brewery's newest flavors and local favorites. If you're hungry, then there's always a local food truck available on weekends. Check Highland's website to see the full list of food trucks along with their music calendar.
An essential stop in West Asheville, the Westville Pub has been a neighborhood favorite since 2002. Featuring weekly trivia nights, blues jams, and weekend performances by regional bands in a range of styles including bluegrass, blues, rock, and old time. Serving up the usual pub fare, the Pub also offers daily brunch for the early riser looking for a brew with breakfast.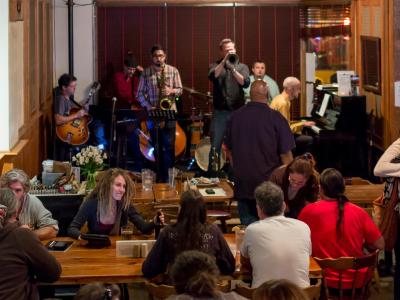 Barley's
Opened in 1994, Barley's is practically an Asheville institution, and were among the first draft houses in the city. A little known fact is that Barley's was the birthplace of Highland Brewing, which began as a small operation in their basement. With 57 taps, pizzas, and pub grub galore, it's an easy place to pull up a stool, try a few local pints, and enjoy a show. Music covers a wide gamut of genres including Jazz, folk, and Americana. 
Just outside the city sits one of Asheville's largest and most picturesque outdoor stages. Pisgah Brewing, known for it's incredible organic beers, plays host to major acts like Dark Star Orchestra, Punch Brothers, Lake Street Dive, and the Jam in the Trees bluegrass and Americana festival. Their smaller tasting room stage hosts nightly performances by local acts. The brewery has become a regular hangout for locals on the east side of the city. Their web page lists the rotations of food trucks serving up everything from pizza to tacos, and the wide span of beer styles crafted by Pisgah is sure to find you the perfect pairing to go with your outdoor tunes.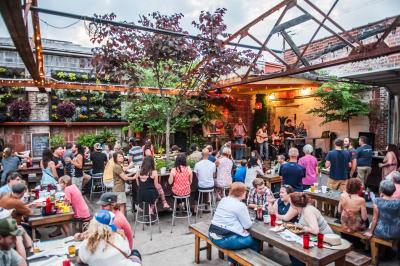 Ben's Tune Up
One of Asheville's most beautiful and quirky spaces, Ben's is an old auto garage turned artsy indoor/outdoor open-air beer garden. Their music lineup includes performances from local favorites like Woody Wood and reggae act Dub Cartel. Their menu leans heavily towards Asian inspired bar food with a range of Ramen bowls and dumplings, while also offering more standard fare like burgers and wings. And did we mention that they brew their own sake? The sprawling venue has two bars and a tiki-inspired courtyard with a thriving garden sprouting up through old garage.
Isis Restaurant and Music Hall
Proudly bearing the name of the 1930s movie theater that once occupied the building, the renovated space holds a restaurant, dining room, lounge and concert hall. The upstairs lounge has become a mainstay for smaller acts, singers, songwriters, and jazz quartets. Downstairs a mix of regional bluegrass, weekly jazz performances, and folk acts like Merlefest on the Road take center stage in the main dining hall. Chef creations are sure to please, with menu items like local seared trout, fried chicken, and Thai style Drunken Noodles to tempt your palate. Be sure to make reservations in advance for evening shows, especially on the weekends. Tables for shows in both the lounge and the music hall tend go quickly.
This Celtic themed Irish pub is the original home of Green Man Brewing, and doubles as an intimate spot to catch your favorite band. Each week they host singer songwriter nights, bluegrass jams, and set the stage for some of the region's best music artists like Dick Dale, the Avett Brothers, and Steep Canyon Rangers. Try one of their old English style beers and enjoy a shepherds pie or fish & chips - all within close proximity to the stage.
Updated May 24, 2022