Asheville's African-American History Tours Uncover Voices from Past & Present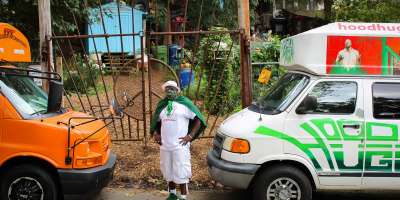 Take A Walk Around "The Block" With Hood Tours Founder DeWayne Barton
It's a festive Saturday afternoon in Asheville, N.C.'s Triangle Park on South Market Street, just a few blocks from the city center, and we are greeted by the smell of fish frying, the booming sounds of hip hop, and friendly faces, all set against the backdrop of a vibrantly colored mural.
"This weekly gathering, free and open to the public, is hosted by the Just Folks Organization, a group that is holding up the history of The Block," our guide DeWayne Barton, founder of Hood Tours, says enthusiastically.
The area south of Pack Square known as "The Block" was the central business district for the African-American community from the late 19th through the early 20th centuries. During that time, it was home to many enterprises.
"It was like a city unto itself, complete with doctors offices, restaurants, a drug store, a boarding house, and a library," says Barton. "From the 1950s  through the 70s, Urban Renewal projects contributed to the demise of this formerly flourishing area."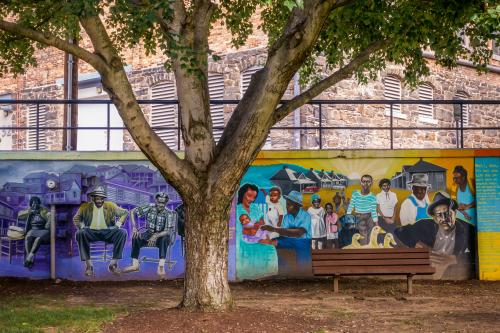 Just as he would with one of his Asheville tour groups, Barton points to the historical figures that seem to jump out from the walls of the mural around us and smiles at the fact that "Just Folks created this beautiful mural, a timeline of the history of The Block's East End/Valley Street neighborhood and of African-Americans in Asheville." The Triangle Park mural was painted by artist Molly Must, in collaboration with Just Folks and the non-profit Asheville Design Center.
In early 2015, Barton founded Hood Tours in order to share stories like this that can often be overlooked. "I take groups on interactive driving or walking tours of historically African-American neighborhoods that showcase our vibrant history, present day power, and future plans," he explains. "As part of our commitment to these communities, we take a percentage of our profits to invest back into these areas." 
Like many of the stops on his tours, "The Block is a place with layers of resistance and layers of resilience," Barton states. "As you learn, you see the policies that destroyed it, and you also see the organizations like Just Folks that are trying to hold on to it."
A Surviving Cultural Cornerstone
We walk north on South Market Street to the YMI Cultural Center. Originally the Young Men's Institute, "The YMI opened in 1893 and was the jewel of The Block, a structure designed to give African-American males a platform for business, entertainment, and education," Barton says. "It first took root through the efforts of African-American leaders who solicited money from George Vanderbilt to build it." In 1906, the YMI Board of Directors paid Vanderbilt to take over the ownership of the building.
Today, the YMI holds cultural events and art exhibits in its lovely auditorium and gallery. The building also houses Penny Cup Coffee Co and Noir Collective.
By highlighting places like the YMI, Barton hopes that "Hood Tours can help jumpstart historical landmarks throughout the city to hopefully reconnect them back to today's African-American community." One way he makes that connection is with the Hood Huggers Green Book, a directory of Asheville's African-American businesses and organizations he gives to tour groups.
Looking Down the Road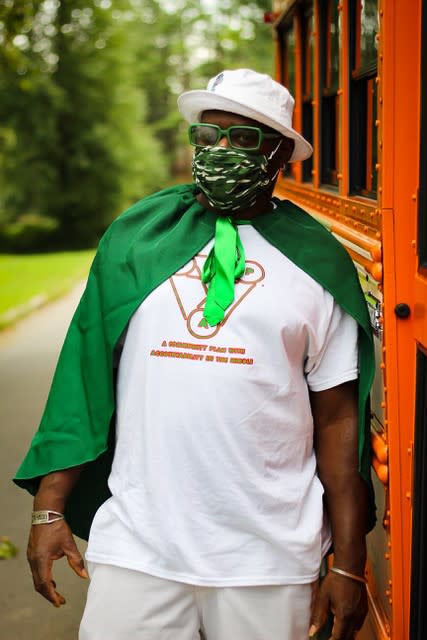 Across the street from the YMI, The Block's future can be seen, with a new complex under construction. The project includes the redevelopment of three historical buildings, the Dr. Collette, Del Cardo, and the Ritz, which housed Asheville's African-American Masonic Temple from 1912 until 1951. Next to the YMI, is The Foundry, a Hilton Hotel.
Taking us around the corner to Eagle Street, Barton points out Mount Zion Missionary Baptist Church, where Dr. John H. Grant is pastor. Started by freedmen in 1880, "the church took a lead role in trying to rebuild the African-American community after slavery," he says. The current church building was built in 1919 by James Vester Miller, who was born into slavery and went on to build a number of notable buildings around Asheville.
Walking back on Eagle Street towards Biltmore Avenue, Barton notes two long-standing African-American-owned businesses, Soce's African Hair Braiding and JR's Barber Shop. "JR's has been on The Block for 22 years," DeWayne shares. "He's seen a lot, and continues to be a voice for the community."
"There are so many buried layers of The Block that could be buried over again," Barton worries. But both through his tours, and now as a member of Asheville's African American Heritage Commission, he seeks to "continually tell that story, so that it will not be lost."
Beyond "The Block"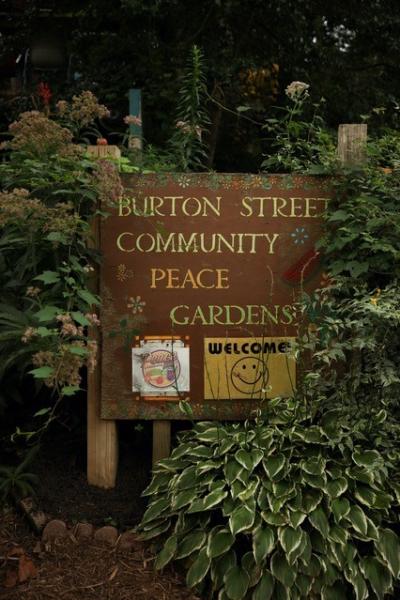 In addition to sharing the rich African-American history of Asheville's downtown, Hood Tours also highlights green spaces and public art in historically African-American communities.
The tour visits community gardens and points out parks named for locally and nationally famous African-Americans including Martin Luther King, Jr. Park, Herbert J. Watts "Wattdaddy" Park, and Owens Bell Park. Public art showcased on the tour includes a number of murals, the Burton Street Community Peace Gardens sculptures, and the future heritage trail in Shiloh.
"It is important to bring value to these places—this is a city that explores art and community and it is good to celebrate the creation of communities that are swimming against the tide when they want to create or explore or just highlight their efforts," says Hood Tours founder DeWayne Barton.
"Part of why we started Hood Tours is that a lot of these efforts have been ignored—no one celebrates what historically African American neighborhoods have been able to do with very little. Many people don't even know that the African American community exists here. Hood Tours shows that they do exist and are as creative and resourceful as ever. I think that's a really big deal - our neighborhoods are using what we have and we are creating."
Photo credits: Top photo and profile photo by Catherine Campbell. Garden photo by Demetria Provatas. Mural photo by Jared Kay.