Appalachian Food Legacies and Mountain Harvest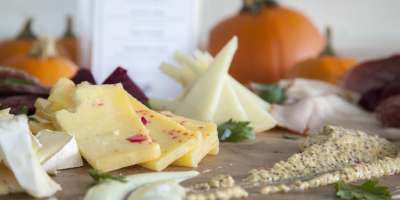 From hand-tied fishing lures to moonshine lore, Appalachia embodies a colorful culture all its own
The Blue Ridge Mountains, the spine of southernmost Appalachia, are gently rolling as ranges go. Some of the oldest mountains in the world, the Blue Ridge and its famous scenic parkway are a source of much of the region's beauty, character—and even cuisine.
Though the autumn trees are best known for their leaf displays, they also burst forth with fruit like apples and pears. The fields, not to be outdone by the hills, brim with pumpkins and produce. Ramps, perennial wild onions with a powerfully pungent scent, are another Appalachian food tradition increasingly coveted by top-tier chefs.
Add to that summer berries, plentiful native trout and abundance from farm and field, and Appalachia has a recipe for culinary richness to rival that of its views.
---
Agrarian Experiences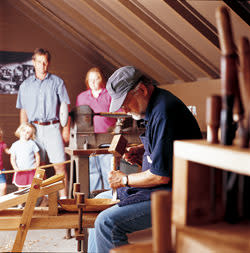 Looking for an authentic Appalachian agrarian antiques? The Apple County Antique Engine and Tractor Association shows off old-timey tractors, corn milling, blacksmithing and other hallmarks of the old-school farm experience during Fall Harvest Days at WNC Agricultural Center.
The Biltmore Estate's Vanderbilt family has a rich farming legacy, too. Those traditions are still alive today, and the Farm in Antler Hill Village on the Estate boasts a historic barn, plus woodworkers, craft demonstrations and a farmyard full of friendly animals.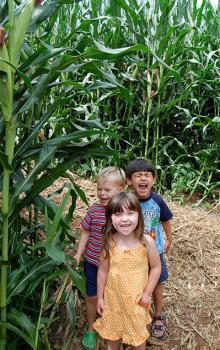 A maze of maize
Where there's corn, you're bound to find corn mazes. The Eliada Annual Corn Maze twists through 12 acres of corn fields with a hay-bale trail geared toward younger kids. Corn cannons, a corn-kernel sandbox and pumpkin patches round out the family-friendly farm fun. 
Speaking of pumpkins, many Asheville-area farms offers U-pick pumpkin patches in addition to other fall produce.
---
Appalachian Harvest Recipes
Whip up your own Appalachian fall foods with recipes for apple stack cake, cast iron-cooked trout with smoked grits or blueberry buttermilk tart.
Apple Stack Cake
Preheat oven to 350° F. Grease, paper and flour 3–9" round pans.
Ingredients
Cake:
4–5 cups (16-20 oz) Flour
1 teaspoon Baking Soda
½ teaspoon Salt
2/3 cup Shortening (5¼oz Butter)
1 cup Sugar (8 oz)
1 cup Molasses (11 oz)
2 Eggs (beaten)
1 cup Buttermilk
Filling:
4 cup Dried Apples
1 cup Brown Sugar
½ teaspoon Cloves
Cover apples with water and cook until soft. Mash with potato masher, then add apples and cloves
Method
Cream together shortening, sugar and molasses
Sift together flour, salt and baking soda
Mix beaten eggs and buttermilk together
Add dry and wet ingredients, alternating in small amount, to creamed mixture
*You may need to add more flour (up to 1 cup) at this point so mixture will not flow.
Divide mixture into 9" round pans, leveling off dough in each pan
Bake at 350° for about 20 min (or until they test done). Cakes will rise very little.
Cool in pans about 10 min then turn onto wire racks until cooled completely
Cut each layer horizontally so you now have 6 layers
Spread approx. ½ cup filling between each layer
*This cake is best when allowed to sit 24–48 hours at room temp. after assembly. Dust with confectioner's sugar when ready to serve.
For more delicious recipes from Asheville area chefs, see our full recipe page!
Blueberry Buttermilk Tart
Recipe created by Bouchon.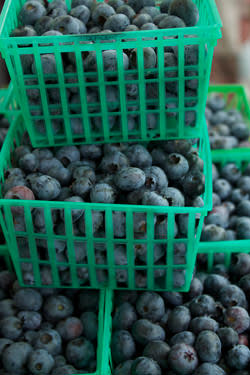 Ingredients
Shell:
1 1/3 cups all-purpose flour
1/4 cup sugar
1/4 teaspoon salt
1 stick (1/2 cup) cold unsalted butter, cut into bits
1 large egg yolk, beaten with 2 tablespoons ice water
raw rice for weighting the shell
Filling:
1 cup buttermilk
3 large egg yolks
1/2 cup granulated sugar
1 tablespoon freshly grated lemon zest
1 tablespoon fresh lemon juice
1/2 stick (1/4 cup) unsalted butter, melted and cooled
1 teaspoon vanilla
1/2 teaspoon salt
2 tablespoons all-purpose flour
2 cups picked over blueberries
confectioners' sugar for sprinkling the tart
blueberry ice cream as an accompaniment if desired
Method
Shell:
In a bowl stir together the flour, the sugar, and the salt, add the butter, and blend the mixture until it resembles coarse meal. Add the yolk mixture, toss the mixture until the liquid is incorporated, and form the dough into a ball. Dust the dough with flour and chill it, wrapped in plastic wrap, for 1 hour. Roll out the dough 1/8 inch thick on a floured surface, fit it into a 10-inch tart pan with a removable fluted rim, and chill the shell for at least 30 minutes or, covered, overnight. Line the shell with foil, fill the foil with the rice, and bake the shell in the middle of a preheated 350°F. oven for 25 minutes. Remove the foil and rice carefully, bake the shell for 5 to 10 minutes more, or until it is pale golden, and let it cool in the pan on a rack.
Filling:
In a blender or food processor blend together the buttermilk, the yolks, the granulated sugar, the zest, the lemon juice, the butter, the vanilla, the salt, and the flour until the mixture is smooth, spread the blueberries evenly over the bottom of the shell, and pour the buttermilk mixture over them. Bake the tart in the middle of a preheated 350°F. oven for 30 to 35 minutes, or until the filling is just set.
Let the tart cool completely in the pan on the rack, sprinkle it with the confectioners' sugar, sifted, and serve it at room temperature or chilled with the ice cream.
For more delicious recipes from Asheville area chefs, see our full recipe page!
Cast Iron Trout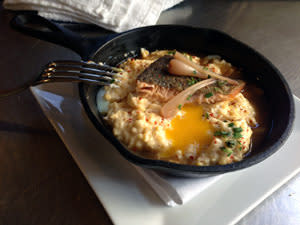 Ingredients
Grits:
2 tbsp. Blended Olive Oil
1/4 cup Red Onion, small dice
1 tbsp. Garlic, minced
2 cups Yellow Corn Grits, coarse ground
8 cups Water
1.5 cups Heavy Cream
1/2 cup Chevre
2 tbsp. Frank's Red Hot Sauce
salt and pepper, to taste
Farm Egg:
6 each, Farm Egg
salt and pepper, to taste
Potlicker Jus:
1.5 quarts Potlicker Jus
1 tbsp. Butter
salt and pepper, to taste
Trout:
1.5 tbsp. Blended Oil
3 each PBO Trout*
salt and pepper, to taste
Garnish:
18 each Pickled Ramp, cut lengthwise on the bias
2 tbsp. Parsley, finely chopped
Aleppo Pepper, as needed
Method
For the grits: In a medium pot, heat the oil over medium high heat and add the onion. Cook until translucent and stir in the garlic. Cook for about 30 seconds and pour in the water. Bring the water to a boil over high heat.
As the water comes to a boil, whisk in the grits, constantly stirring until they come together and begin to bubble—about 3–4 minutes.
As the grits begin to bubble, remove the pot from the heat and immediately cover with plastic wrap and aluminum foil and keep in a warm place. Allow to "steam" for 45–50 minutes.
After the grits have steamed, place the pot back on stove over medium heat. Stir in the heavy cream, chevre, Franks's Red Hot, salt and pepper and bring to a simmer. Taste and re-season as necessary. Serve immediately.
For the farm eggs: Bring an immersion circulator in a water bath to 65°C. Place the eggs in a pasta basket and place in the water bath. Allow to cook for 45–50 minutes. (or you can poach the eggs in acidulated water for 1.5 minutes at a light simmer).
For the potlicker jus: Bring the potlicker jus to a simmer and mount in the butter. Season to taste with salt and pepper.
For the trout: Cut the trout fillets into 2 portions each, discarding the tail end. Season the skin side of the trout with salt and pepper.
In a large cast iron pan, heat the oil over medium high heat and as the oil begins to shimmer, place the trout into the pan (skin side down), and allow to cook until the trout skin is crispy. Gently turn the trout over and reduce the heat to medium. Allow to cook for another 3–4 minutes, or until the trout is cooked through.
To serve: Place a small cast iron serving skillet over a folded napkin on a small square plate. Place a 3" ring mold into the center of the round skillet.
Place a teaspoon of the grits in the center of the ring mold.
Crack a poached egg into a perforated bar straining spoon and place the egg directly on the grits. Gently mound more of the grits over the poached egg. Then place a piece of trout (skin side up) on the grits. Pour approximately 2 oz. of potlicker jus around the outside of the ring mold and garnish the trout with the sliced, pickled ramps. Garnish the plate with the chopped parsley and Aleppo pepper.
Yields 6 Portions
For more delicious recipes from Asheville area chefs, see our full recipe page!