A Day Trip to DuPont
"Hunger Games" setting offers amazing waterfalls, lakes, and trails
Less than an hour's drive south of Asheville between Hendersonville and Brevard, drop-dead gorgeous DuPont State Recreational Forest is a wonderful day trip if you enjoy waterfalls, easy trail access, and beautiful scenery—and who doesn't?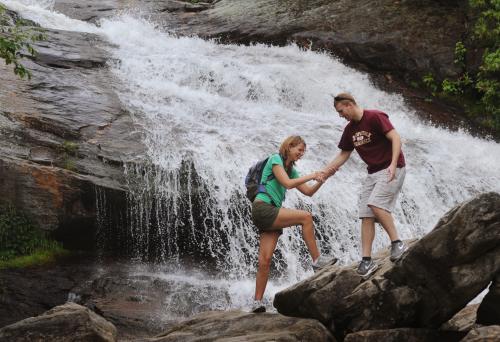 Some 84 miles of well-marked and maintained trails offer easy to strenuous ways to see DuPont; you can download a map here or purchase a digital GPS trail map from Friends of DuPont Forest, a nonprofit that works to protect the Forest's natural resources. All proceeds go back into projects supporting the Forest.
DuPont is increasingly popular among locals and visitors, especially during summer. Forest Supervisor Guidry advises that unless you enjoy crowds, the best times to visit are during the week.  Arranging your visit during early spring, late fall or winter will reward you with the most "get-away-from-it-all" experience.
This 10,400-acre forest has four major waterfalls (including Triple Falls, made famous by its appearance in the first Hunger Games movie) on the Little River and many others on Grassy Creek. There are six parking lots that provide access to various points in the forest—the High Falls entrance is the easiest and closest to see Triple Falls.
"When you go to the High Falls entrance, stop by the visitor's center and pick up a map and then walk the 2.2 miles to Triple Falls and back," said Jason Guidry, Forest Supervisor. "Another great hike or bike trip is the Cedar Rock Trail to Burnt Mountain, that's one of my favorites because of the vistas and the rock granite balds."
Favorite swimming spots
Hooker Falls consists of a wide, gorgeous 12-foot drop. Below that drop there's a swimming hole that's especially popular during the summer due to its easy access. For many visitors and locals, wading in the cool mountain streams is the perfect antidote to a hot day. Access Hooker Falls and several nice streams via the Hooker Falls parking area.
Several lakes in the Forest are also popular destinations for swimming and hiking. On the opposite side of the Forest, Fawn Lake is an easy hike. The largest lake, 100-acre Lake Julia, is about a 2½-mile hike into the forest but the views and clear water are definitely worth it.
"If you have the time, take the hike to Lake Julia. It's not crowded and so worth the walk," said Guidry. "That's what I would do with my family."
Wildlife and wildflowers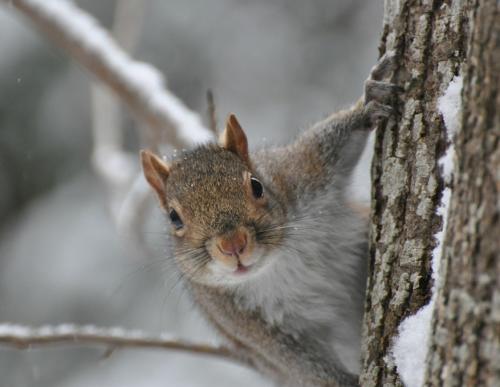 Friends of DuPont Forest President Bev Parlier loves this Forest for hiking, mountain biking and spotting wildflowers and wildlife.
"We have all kinds of wildlife, including deer, turkey, bear and snakes," she said. "And in spring you can find pink and yellow lady's slippers, flame azalea, Turk's Cap lilies and near Fawn Lake you may see yellow fringe orchids."
Most visitors come to DuPont Forest in the spring, summer and fall, but winter there is also very special and rarely crowded. High Falls is spectacular in the winter with all its icicles.
Note that all DuPont Forest trails are multiple use so you are likely to see hikers, runners, bicyclists and people on horseback when you visit. Please be courteous and use caution so that everyone can enjoy the Forest.
Squirrel photo by Del Holston.