Itinerary: Family-Friendly Fun at Chimney Rock Near Asheville, NC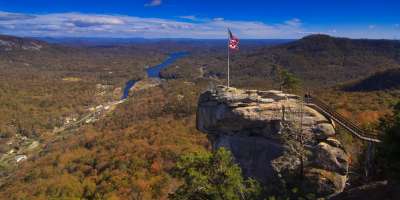 Winding Trails, Wildlife and Waterfalls
The scenery at Chimney Rock State Park possesses a magnetic draw for tourists and locals alike. Over the years, artists, writers and filmmakers taken inspiration from the towering granite monolith and take-your-breath-away rock overhangs and outcroppings that are home to peregrine falcons, rare flowers and endangered species.
The main attraction is Chimney Rock, which features an impressive summit clocking in at an elevation of 2,280 feet and 75-mile views of Hickory Nut Gorge and beautiful Lake Lure (you can even see the Charlotte city skyline on a clear day). The name might ring a bell for fans of The Last of the Mohicans, as the movie's final scenes were captured near Hickory Nut Falls. The films Firestarter and A Breed Apart also offered spectators a glimpse into the beauty of Chimney Rock State Park.
Just a short 40-minute drive from Asheville, the state park offers a delightful day trip for a lone hiker or a family itching to spend some quality time together in nature. I was fortunate enough to have several hours to traverse Chimney Rock State Park with my 5-year-old son and 23-month-old daughter. After a morning of ping-ponging between exploring, hiking, and resting in the shade, a couple of smiling and exhausted children had experienced a day to remember.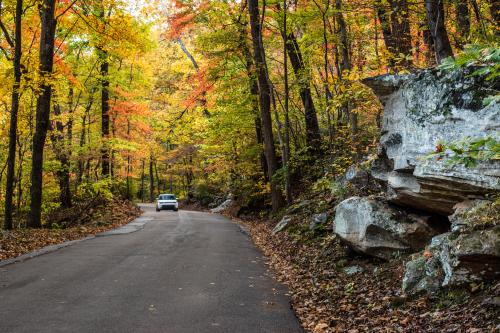 We arrived at the park shortly after the gates opened at 8:30 a.m., and on our drive in we were welcomed by a young deer grazing at the edge of the woods. Our first activity was a gentle, meandering hike to Hickory Nut Falls. This three-quarter-mile trek to the base of the falls took us roughly forty-five minutes. The kids paused frequently to scrutinize and inspect treasures such as wild raspberries and rhododendron flowers in full bloom. After a peaceful morning hike, we reached our destination -- the 404-foot Hickory Nut Falls -- and then settled in on the large rock overlook to savor a revitalizing snack at the base of one of the highest North Carolina waterfalls east of the Mississippi. A rainbow adorning the falling waters made the perfect backdrop to morning snack time with the little ones.
After our hike back from the falls, Great Woodland Adventure was our next stop. I'd heard that this trail was a requisite for families with children. We were not disappointed -- it was a blast. The kids were greeted by Grady Groundhog, the park mascot. They then proceeded to scurry from discovery station to discovery station to see what the trail had in store for us. Each of the twelve discovery stations situated along the trail displayed fun animal facts and an activity for the kids. We all learned some new things on our adventure. Did you know that when you spot a frog with extra legs it is a sign that the ecosystem is polluted? Or, that some spiders use their webs as an instrument? 
By the time we finished our second hike, the kids were ready for a shady break from the sunshine. Fortunately, Grady's Animal Discovery Den offered an air-conditioned reprieve. The cabin-esque den featured exhibits housing local reptiles, amphibians, and mammals. An albino chipmunk named Scurry and Fionna the opossum were instant favorites.
On our way out of the park, we stopped at Old Rock Cafe, located outside the park entrance on Route 74. Notable menu items included coffee from Dynamite Roasting Company, Lusty Monk Mustard, and local brews from Highland Brewery. Each of us enjoyed a hamburger made from grass-fed beef from local Hickory Nut Gap Farm - the perfect way to wrap up our adventure.