Waterfall Safety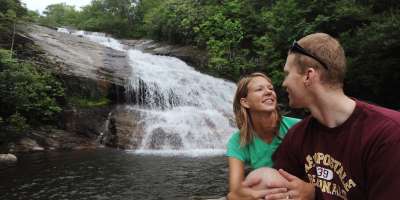 How to safely view the best waterfalls near Asheville, N.C.
The Asheville area is home to hundreds of waterfalls, including some of the most picturesque waterfalls in the country. Exploring these natural wonders can be one of the most exciting and memorable experiences you have during your visit!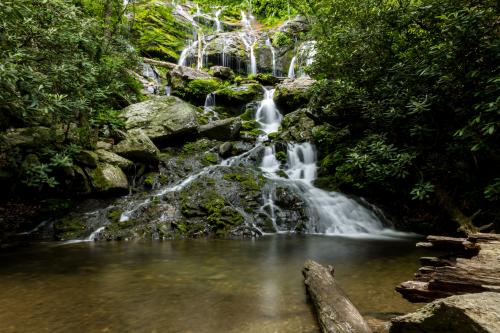 But, we at Explore Asheville want you to make sure it's a memorable experience for all the right reasons. While waterfalls are beautiful, they are also powerful and pose hidden dangers to those who are unprepared and who do not follow basic safety measures.
People are injured or killed at area waterfalls each year. In nearly every case, those accidents have occurred when people ignored posted warnings.
We encourage you to join us in promoting waterfall safety with the help of the following tips:
Stay on designated trails and do not stray from observation decks and platforms.
Follow all posted instructions and warnings. Many trails have signage to tell you where you should be to safely enjoy the falls.
Never climb on or around waterfalls. Even rocks that appear dry can be slippery especially rocks covered with algae.
Do not climb on top of a waterfall. The top of the waterfall is the most dangerous place of all. Also, do not play in the water in the creek or river above a waterfall.
Never jump off a waterfall into a pool below. You have no way of knowing what rocks or other objects are just below the surface. Further, currents in the pool below a waterfall can drag you and keep you under water.
Be overly cautious. Watch your footing and take it slow.
When taking photos, be especially careful and aware of your surroundings. Make sure you are in a solid, safe location on the designated trail before snapping a picture.
Watch children and pets carefully. They can easily underestimate the slickness of rock or the flow of water.
Wear appropriate footwear. When exploring waterfalls, wear hiking shoes with good grip. Do not wear flip flops or sandals.
To ensure your safety, never hike or visit a waterfall alone. Many waterfalls are in areas with little or no cell service so it's important to have a companion who can seek out help in the event of an emergency.
As with any hike, be sure to carry a backpack with a map, water, food and other essentials.
Top photo by John Fletcher. Catawba Falls photo by Hugo Gutierrez. Looking Glass Falls photo by Lynn Seldon.