Walk On the Weird Side: Asheville's Quirkiest Museum Collections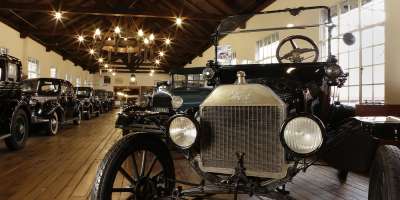 From Vintage to Creepy, These Aren't Your Typical Exhibits
Looking for a walk on the whimsical side? Take a look at some of Asheville's  most pleasantly peculiar museums:
Party like it's 1979 as you play over 30 pinball machines ranging in year of origin from 1960 to 2003. Pay one admission, but play as much as you like. 
Nine Inch Nails' Trent Reznor recently paid a visit, and since this is Beer City, you can buy and drink a beer while you play. Located in downtown Asheville, closed Mondays and Tuesdays. 
Aluminum Christmas Tree Museum, Brevard N.C.
Return to the Atomic Age at this kitschy exhibit that features themed trees (Elvis, Marilyn Monroe), and rotating color wheels to make the sparkly fake forest pop.
Call to check hours, as the world's only museum devoted to the vintage aluminum Christmas tree is open only during the holiday season. Free.
Asheville Mystery Museum, downtown Asheville
Find creepy underground Asheville history here in the private collection of local author and "ghost hunter" Joshua P. Warren, appropriately located in the basement of the historic Masonic Temple built in 1913.
Admission is available only as part of the Haunted Asheville tour, running nightly.
Bob Moog Foundation Minimoogseum, downtown Asheville
Visit this mini-collection of select memorabilia of electronic music pioneer Bob Moog at the Orange Peel, in a 7' x 5' case holding relics from the early development of Moog synthesizers. O is even on display.  
When this small exhibit opened in 2010, the Beastie Boys cut the ribbon. Open during Orange Peel box office hours.
With its vast collection of over 300 rare and historic classic motorcycles, this museum recently attracted none other than motorcycle buff Jay Leno, owner of 90 classic bikes. It's also HQ for the Velocity Channel show What's in the Barn, where museum founder and curator Dale Walksler crisscrosses the country uncovering and restoring decades-old bikes.  
Nearly all of these vintage beauties are in running condition. Open April-November only.
The Antique Car Museum (pictured at the top) in Asheville's Grovewood Village is home to rare and vintage automobiles, horse-drawn carriages, and even an antique fire engine. As with Wheels Through Time, cars are in running condition.
Admission is free, and if you're staying at The Omni Grove Park Inn, this exhibit is right next door.
Photo courtesy of the Grovewood Village.