The Ultimate Guide to Playing Disc Golf in Asheville
Asheville is renowned for its vibrant arts scene, breathtaking landscapes and a wide range of outdoor activities. Among the many hidden gems waiting to be discovered in this charming city, disc golf stands out as a favorite pastime for locals and visitors alike. Join us as we explore the top disc golf courses in Asheville and embark on an exciting journey through the rolling fairways, towering trees, scenic beauty and hopefully low scores that these courses have to offer. To make your experience even better, we've also created a digital map to guide you through your disc golf adventures!
Richmond Hill (300 Richmond Hill Dr.)
Situated on a sprawling 184-acre park, Richmond Hill Park Disc Golf Course is a must-visit for disc golf enthusiasts. This 18-hole course offers a variety of challenges, including elevation changes, tight fairways and strategic basket placements. As you make your way through the course, be prepared to marvel at the stunning views of the city skyline and the surrounding mountains. We recommend wearing long pants just in case an errant throw lands near any poison oak and ivy off the beaten path. 
Pro Tips: Dog-Friendly, cart-friendly, restrooms available near the first hole. This is a mixed-use park so keep an eye out for bikers, runners and hikers.
Sand Hill (58 Apac Dr.)
Known to locals as the Buncombe County Sports Park course, this 18-hole course in Candler is nestled in the serene beauty of the Blue Ridge Mountains and offers a tranquil escape for disc golf enthusiasts. Don't forget to bring your camera, as you'll encounter several breathtaking vistas along the way.
Pro Tips: Holes 2-6 are closed until further notice due to park construction. Dog-friendly and cart friendly course. Drinking water and restrooms available near the first tee.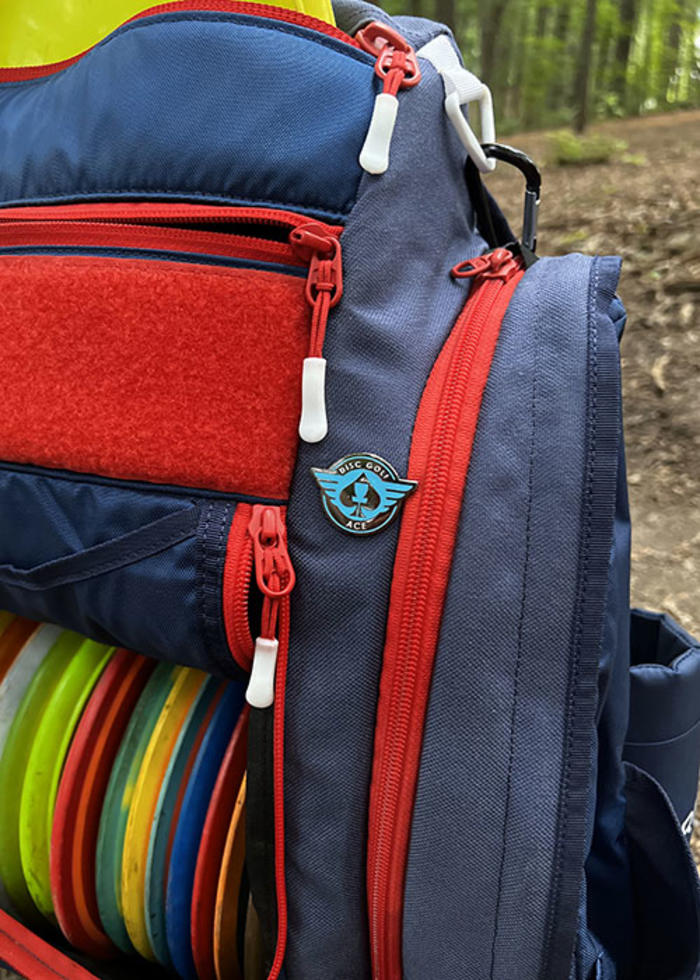 Lake Julian (406 Overlook Road)
For those seeking a fun but challenging disc golf experience, Lake Julian is an excellent choice. Located near the picturesque Lake Julian, this course features 24 holes with a variety of distances and technical challenges. After your game, take a leisurely stroll around the lake or enjoy a picnic in the nearby park. This is a great course to test your mettle with water elements in play on many holes. 
Pro Tips: Dog-friendly but not cart friendly. Mixed use course for hikers and walkers. 
UNC Asheville (1 University Heights, Asheville, NC 28804)
Tucked away on the University of North Carolina Asheville campus, this 5-hole disc golf course offers a convenient and accessible option for students and local residents. The course winds through the campus grounds, providing a mix of open shots and tight fairways. It's a great spot to unwind, enjoy a quick game and soak in the collegiate atmosphere.
Pro Tips: Hole 4 will have you tee off from the parking lot. Dog-Friendly but not cart friendly. No restrooms available. 
Black Mountain Veterans Park (10 Veterans Park Dr., Black Mountain, NC)
Just a short drive from Asheville, Veteran Park awaits avid players looking for a shorter course with hole-in-one opportunities. This 18-hole course takes you through dense forests, open fields, and even across a creek, adding an extra element of adventure to your game. The breathtaking mountain views are a bonus treat that make the drive well worth it. 
Pro Tips: Dog-Friendly and cart friendly. No restrooms available. Very short part 3 course with water coming into play on a few holes on the front 9. 
For a unique disc golf experience combined with craft beer, head over to the Highland Brewery. This 18-hole course offers a perfect blend of recreation and relaxation. Enjoy a round of disc golf while savoring the flavors of locally brewed beers. The front 9 is beginner-intermediate friendly with technical lines, slight elevation changes and convenient re-entry to the "Meadow" where you can purchase beverages before heading to the back 9 or replaying the front from different tee locations. The back 9 features more elevation change, massive trees, water hazards, technical fairways, challenging par 4's and longer holes. 
Pro Tips: No outside alcohol is allowed. We recommend buying a can over draft when it comes to playing. Dog-friendly and cart friendly on the front 9. 
Hall Fletcher (60 Ridgelawn Rd)
This nine-hole course is located at Hall Fletcher Elementary and offers a great jumping off point to an adventurous day in West Asheville. This short course has up to three tee pads for each hole, red white and blue, to give players different distances to play from.
Pro Tips: Dogs are allowed and the course is cart friendly. Because this course is on school property we recommend playing on the weekends or after school hours during the week.
Jackson Park (801 4th E, Hendersonville, NC)
Just a short drive south of Asheville, disc golfers can discover the beauty of Jackson Park. This 18-hole disc golf course offers a mix of open fairways and wooded areas, providing an exciting challenge for players of all levels. As you navigate the course, you'll encounter well-designed holes that require strategic throws and precision. The park itself is a gem, featuring lovely walking paths, picnic areas and a serene lake. After a satisfying game of disc golf, take some time to explore the park and enjoy the tranquil surroundings.
Pro Tips: Great course to take a well-behaved pup. Make sure and pack plenty of water. The opening tee is located on the west side of the parking lot before you get to the tennis courts. 
Pisgah Brewery (2948 US-70, Black Mountain)
Located behind the outdoor stage area at Pisgah Brewing in Black Mountain, this nine-hole course is the perfect way to start and end your day surrounded by delicious craft brews. The course features a variety of hole layouts, incorporating both open fields and wooded areas, providing players with a diverse range of challenges. As you navigate through the course, keep an eye out for the innovative basket placements that make the game even more exciting.
Pro Tips: The course is only open if there are no shows happening at the brewery. Check their events page before showing up.
Where to Purchase Discs
Looking to get into the sport or just need to replenish your bag? You're in luck! Asheville boasts several disc golf specialty shops and sporting goods stores that offer a wide selection of discs for players of all skill levels. Take a trip to these local shops and consult with the knowledgeable staff who can provide valuable insights and recommendations based on your preferences. 
French Broad Outfitters have Western North Carolina's largest selection of disc golf equipment and carry ll the best brands, including Innova, Discraft, Latitude 64, Westside, Dynamic, Gateway, and DGA discs. French Broad Outfitters is conveniently located at the base of Richmond Hill, so stop by on your way to play!
Second Gear is a great source for quality, affordable outdoor gear, and that includes disc golf equipment. 
Another Round Disc Golf and Tap Room is located near Highland Brewery and has a fantastic disc selection as well as beer on tap.
Play It Again Sports has a large selection of used a new discs. 
Updated May 17, 2023